We arrived here after an overnight sail from Kokopo. Of course, just as we were approaching the Albatross channel entrance in late afternoon, a squall came out of nowhere and now we were putting away sails in 25knots and trying to enter in poor visibility and strong wind. The alternative was to wait out the squall in open water overnight which really did not appeal. The wind calmed down as soon as we were inside the channel, so aside from the rain it was a very quiet approach. Once we got internet, we found out that there was a cyclone to the south and a typhoon to the north, which would explain the temperamental weather experienced while we were there.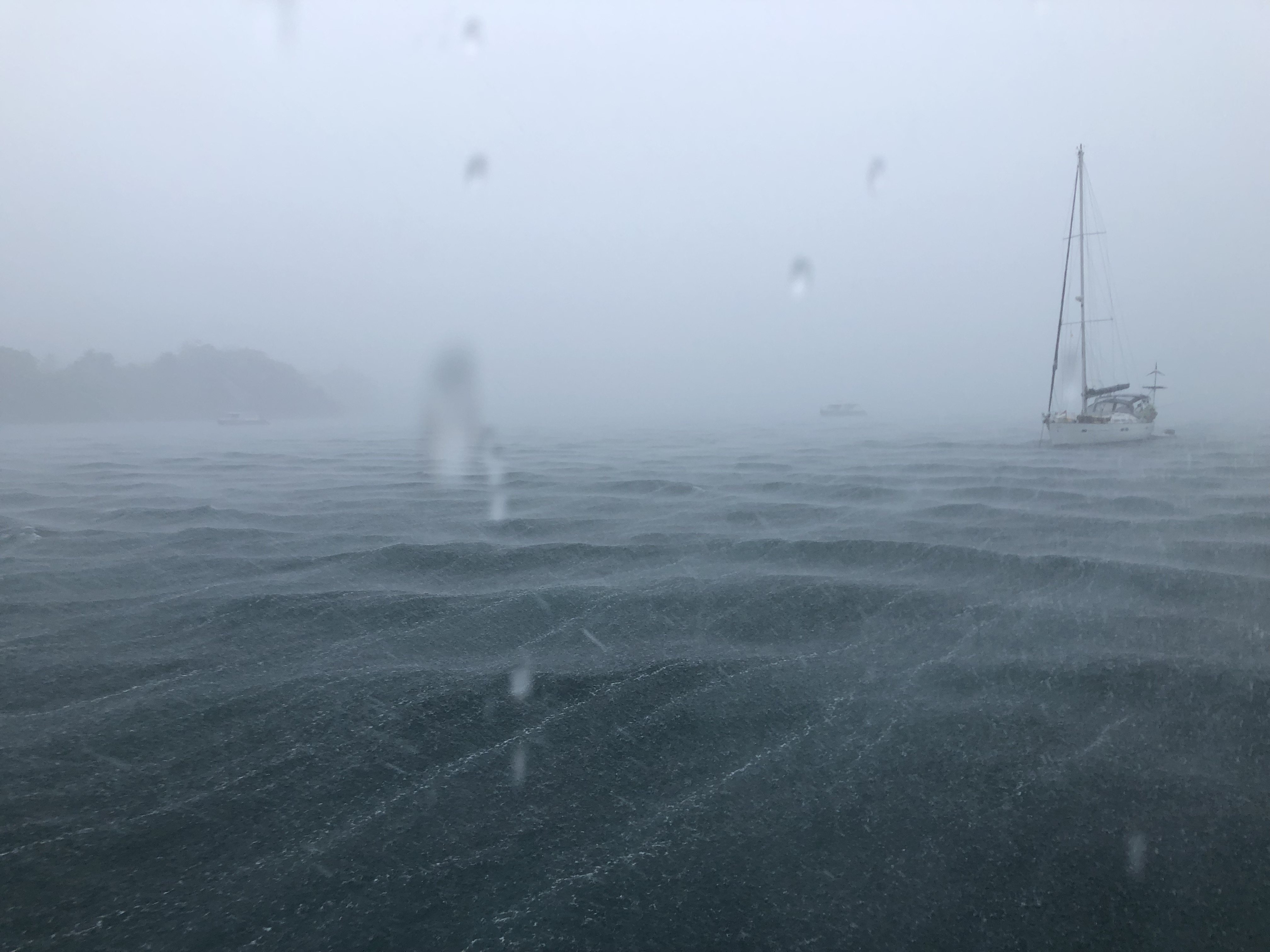 One of many squalls in Kavieng
We anchored outside Nusa resort on Nusalik island, frequented by what seemed to be mainly Australian surfers.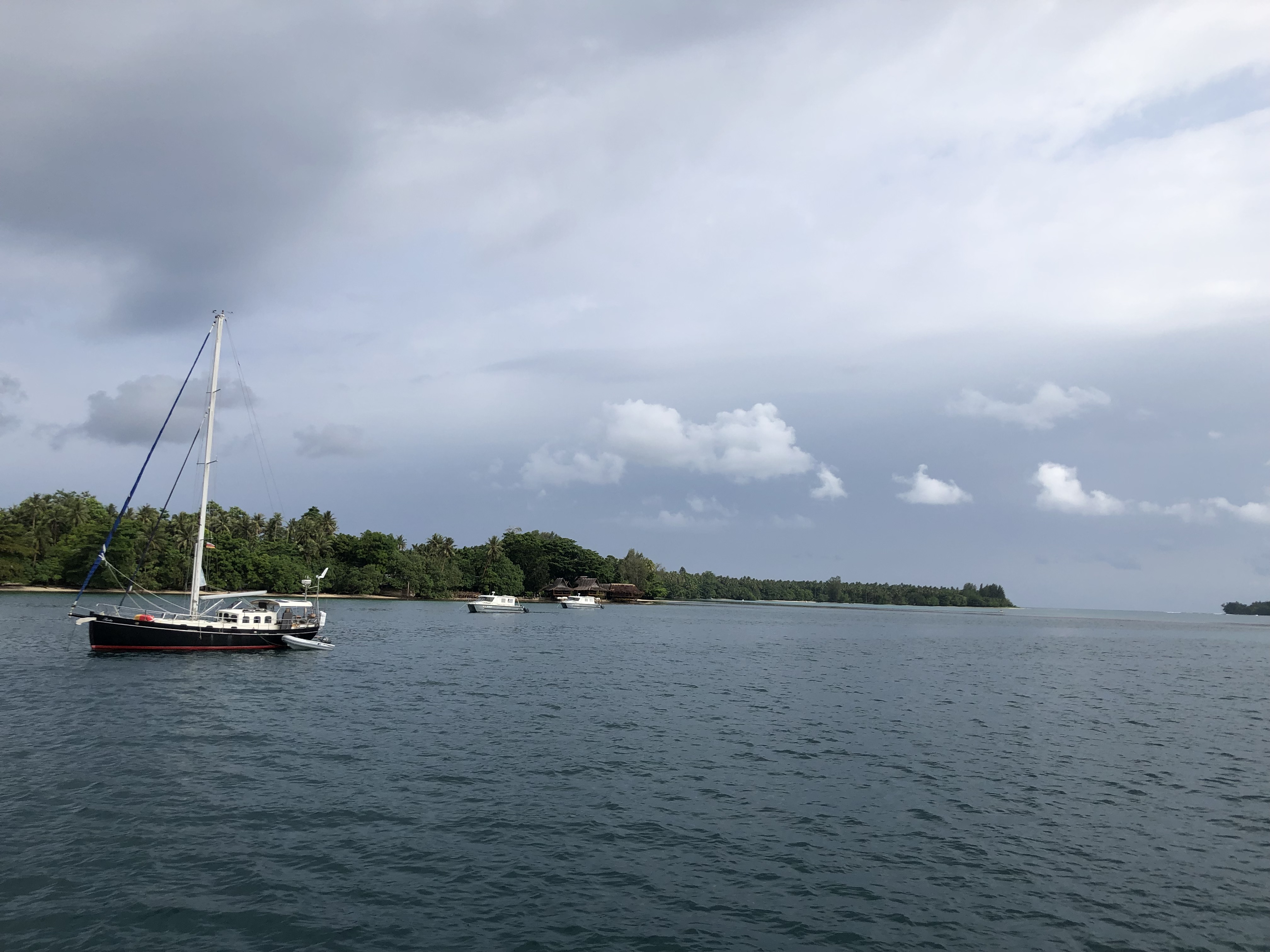 The anchorage
Waves don't come free here as Graham found out from the resort after a couple of surfs on the reef break with Chris from Family Circus. Surfing drama didn't end there either with a punch up on the waves one day, I forget about what ( a wave?) and involving third parties only.
This wasn't the most dramatic thing to mark our Kavieng stay however. This honour goes to Scott from Australia, whose lone and seaweed covered catamaran we found bobbing in the anchorage on arrival. It turns out that Scott had arrived a couple of weeks prior from the Solomons after being forcibly boarded in southeast corner of Bougainville during an impromptu stop in the middle of the night due to some issue with the boat. He wasn't physically hurt but they were armed with a gun and machetes and took everything. He was understandably shaken up and had decided to sell up and go home for Christmas to regroup, then set out again. I really hope he does. Now Scott did not mince words when relaying the incident to us. We took the dingy over to say hi on our way into the resort (yes all four of us) and regretted doing so within the first 30 seconds of grabbing onto his boat. As our dinghy rolled in the waves, kids got the R rated director's-cut version of the incident and Scott is now forever known as 'the guy who got robbed'.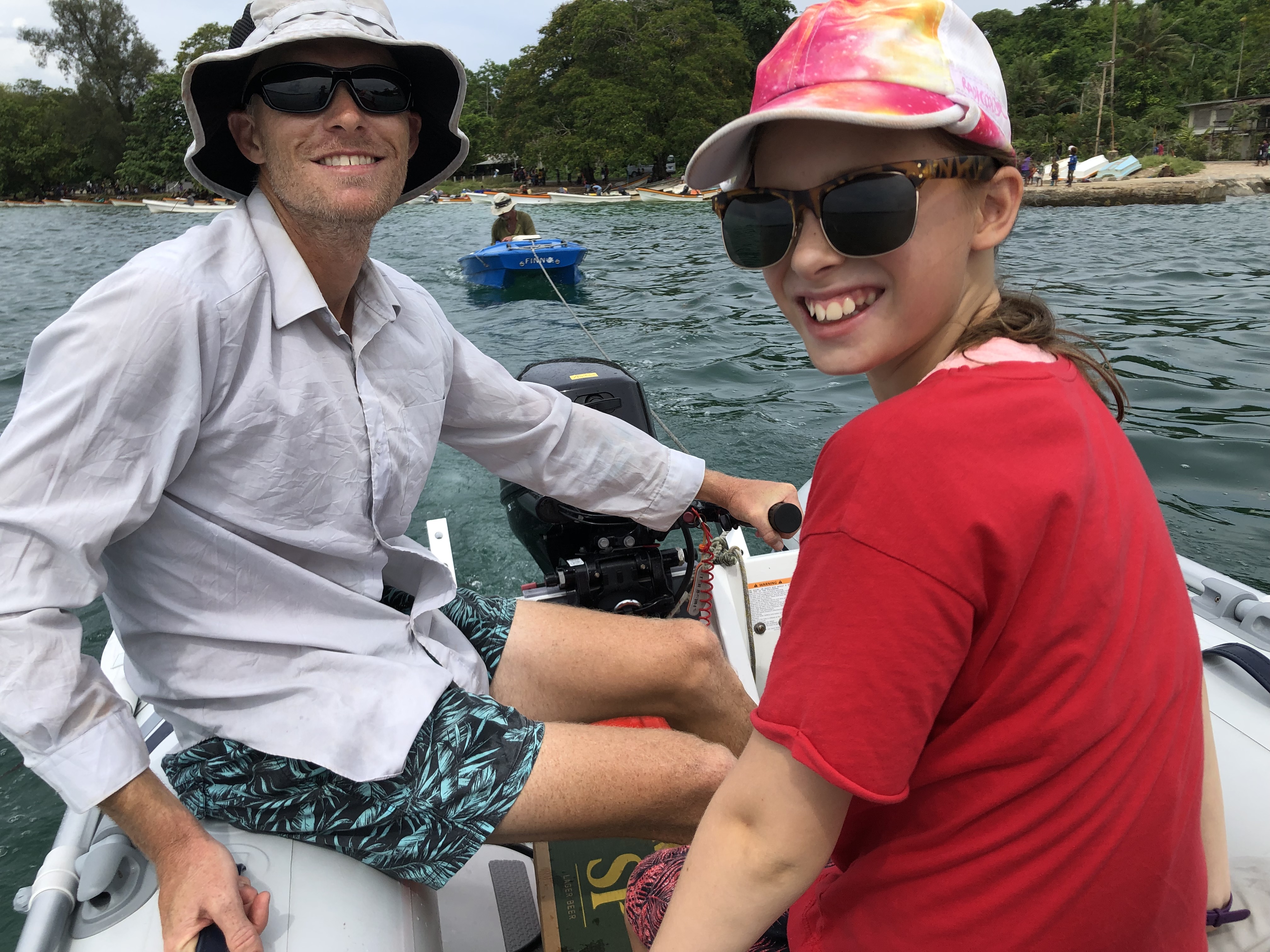 Towing Scott's dingy - his outboard got stolen too
In all honesty, the kids did not seem fazed by the story afterwards and not once did they express any concern that something similar could happen to us. Graham and I were definitely more shaken up by the whole thing. Kavieng is where we encountered two more cruising boats - Zig Zag (another kid boat) and Parotia, both from Germany. We were in heaven for this fact alone - 5 boats in the anchorage total!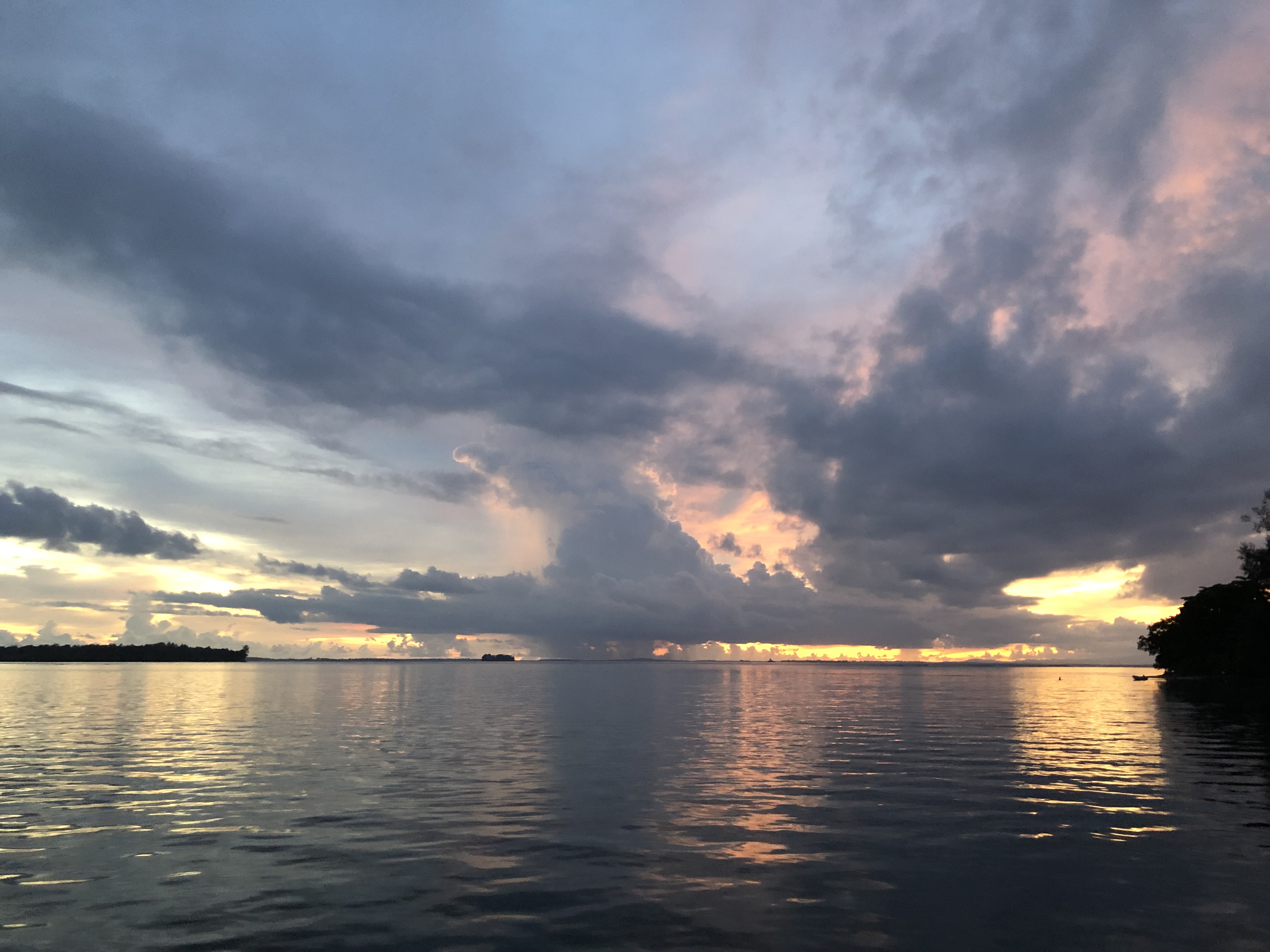 A memorable sunset
Kavieng earns a solid 4/5 for a provisioning stop. The anchorage is fairly idyllic (we've been spoilt), the snorkelling is very nice and there are countless diving options around. The visibility wasn't great while we were there, but I managed to squeeze in a couple of dives, one through caves with many lobster and shark encounters and the other on a WW2 wreck smack in the middle of the harbour. Both excellent! The buffet dinner at the resort although pricey is definitely to be recommended. They also have a big selection of injured animals, mostly birds (including hornbills) and a turtle on a weight-loss regime which are worth checking out.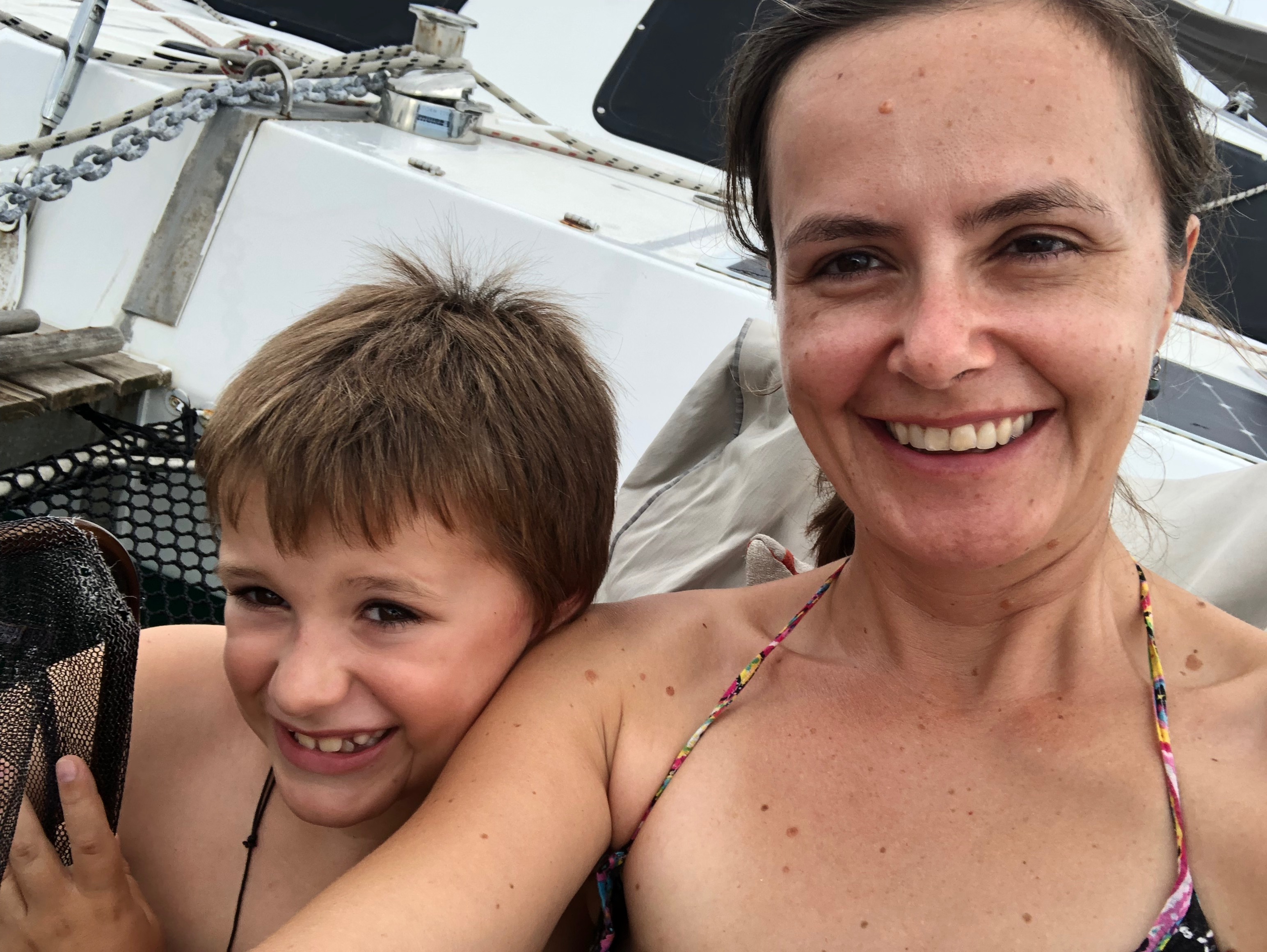 Hanging on the trampolines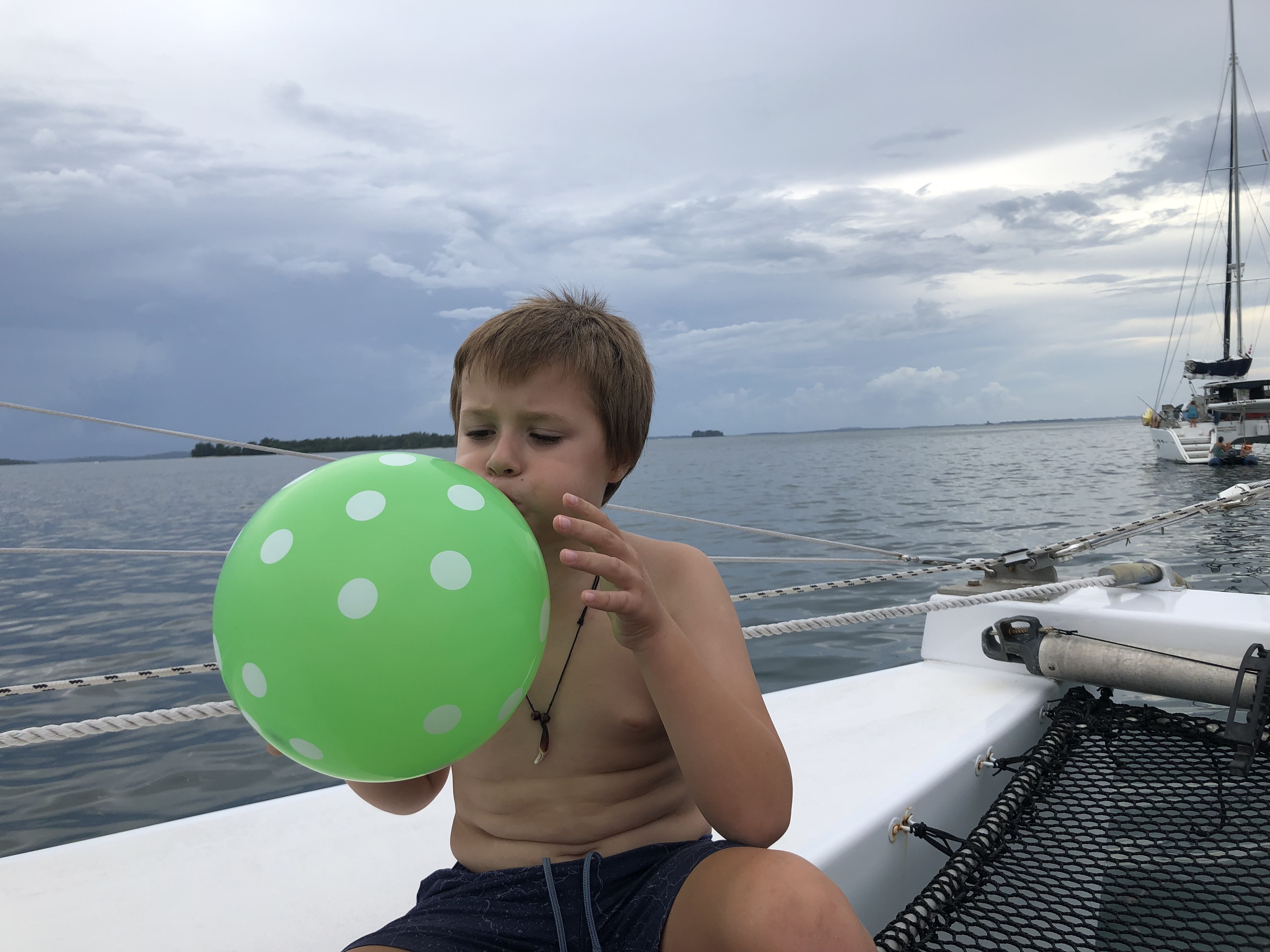 Again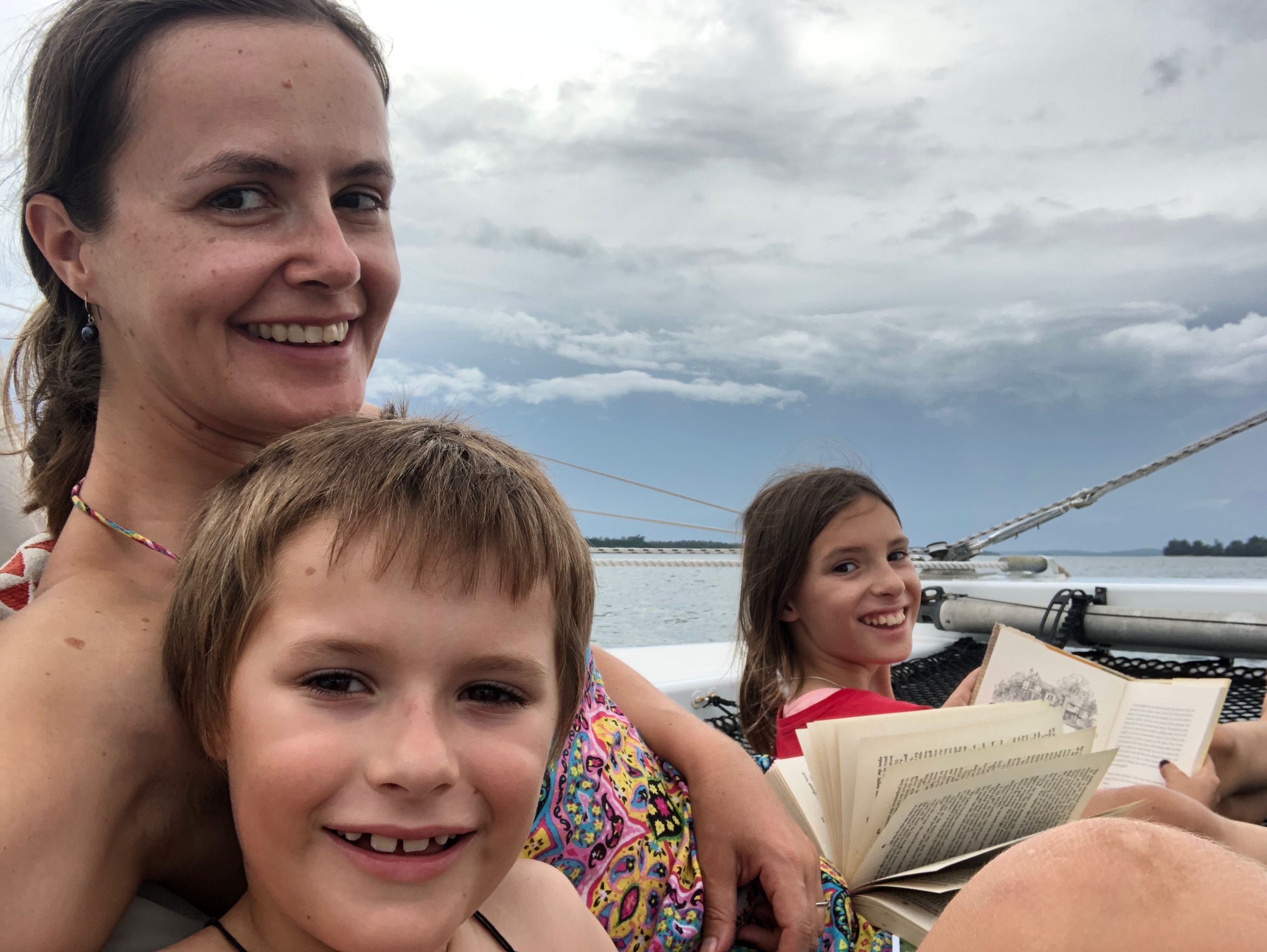 And again
The town gets a fair share of surfing and diving tourists and you can feel it. We never experienced anything overtly unfriendly, there was just a general ambivalence to our presence I guess. After receiving never-ending super star receptions on every island prior, this was just unusual. Don't these people know who we are?!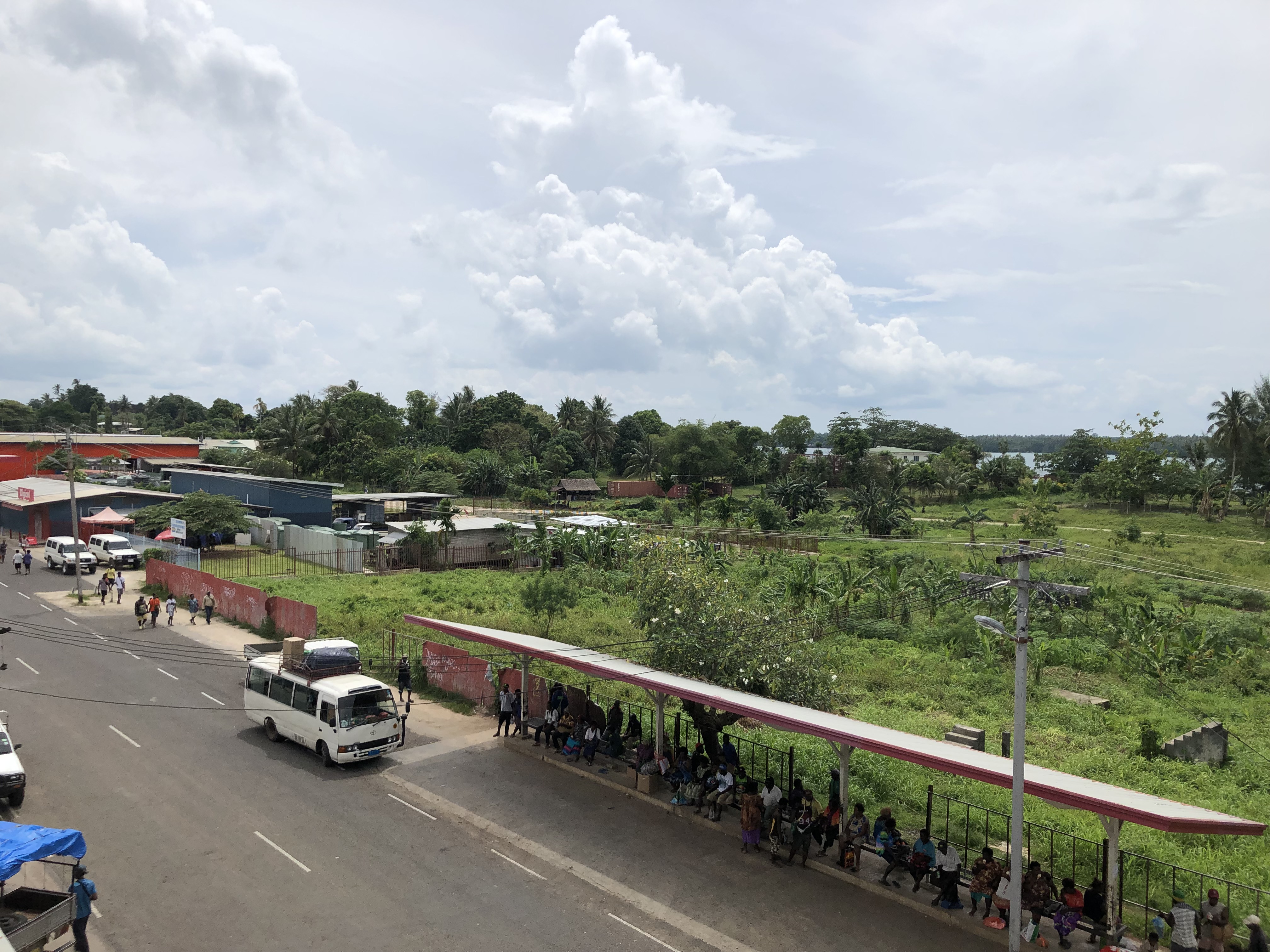 The main drag
In short, if you are cruising you'd probably stop here regardless as you need the diesel. But Kavieng offers more and that's just as well.