From Tunung to Hermits ... is not as quick as it sounds
Dec 1st 2019
Tunung was meant to be an overnight stop on the way to Hermits but proved to be a gem so we stayed a while. It's a small island just off New Hanover with a locally owned surfing resort. It's worth noting that it incorrectly shows up as Dunung on various maps. The surf on the reef looked amazing and that's coming from a surfing ignoramus. Graham and Chris hit the surf a couple of times and Graham earned himself his first reef cut here.


Yup, pretty spesh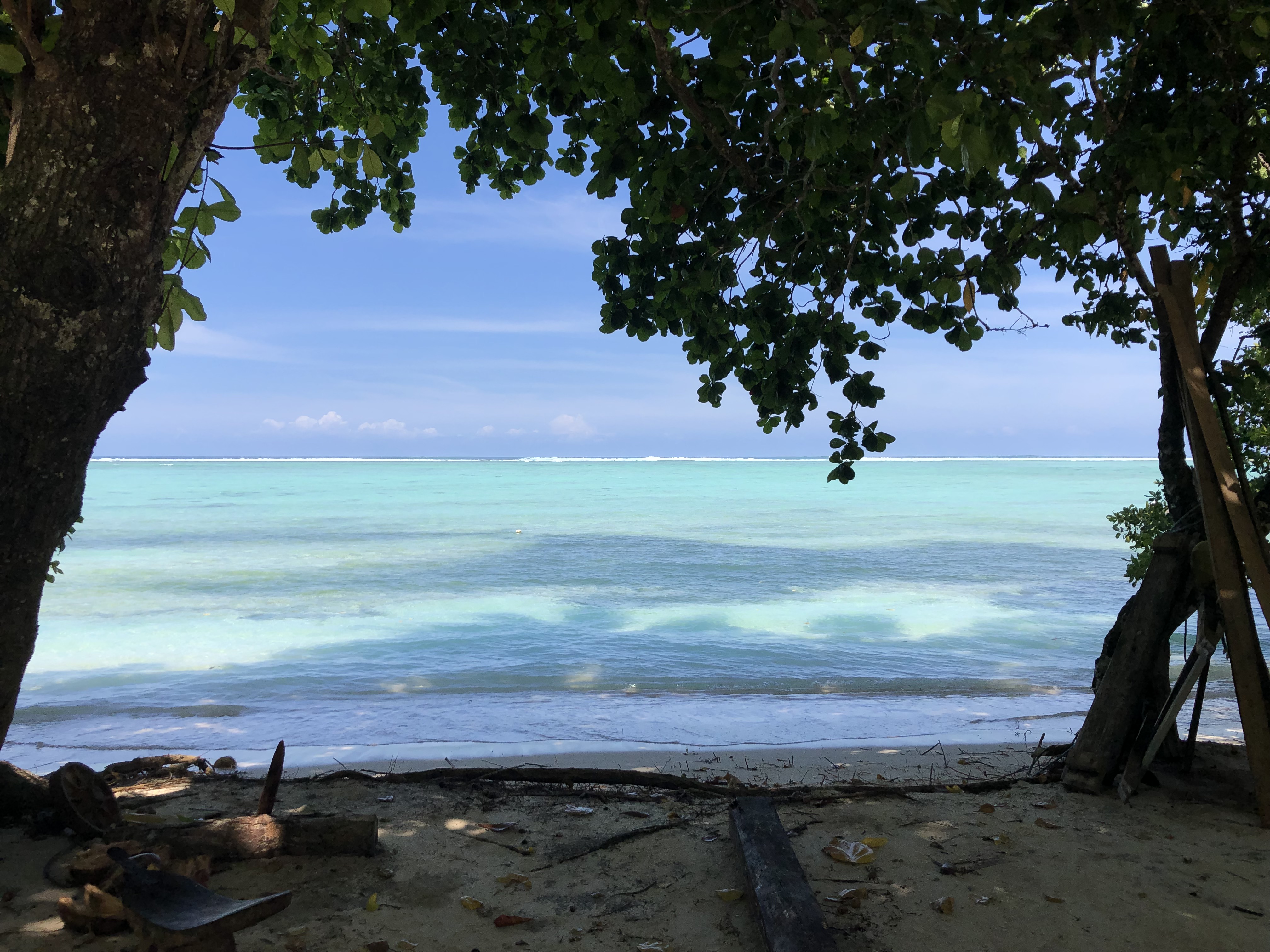 Aah the view
Treating boils was a bit of a theme on Tunung, turning our cockpit into a first aid clinic one morning. Stephen showed up with three daughters to trade and chat when I noticed an infected cut on one of the girls and offered to clean it up. Well that was opening a Pandora's box. Turns out her sister had a huge boil on her leg, then Stephen showed us his two specimen, then another woman showed up with a small boy sporting a huge boil on each foot. Christ! I was sweating like a pig trying to clean weeks worth of caked in sand and puss with Betadine then applying antibiotic powder. Not sure what good one clean will do but anyway. The locals just ignore them - I really do not want to think about the lifecycle of a boil after weeks of neglect.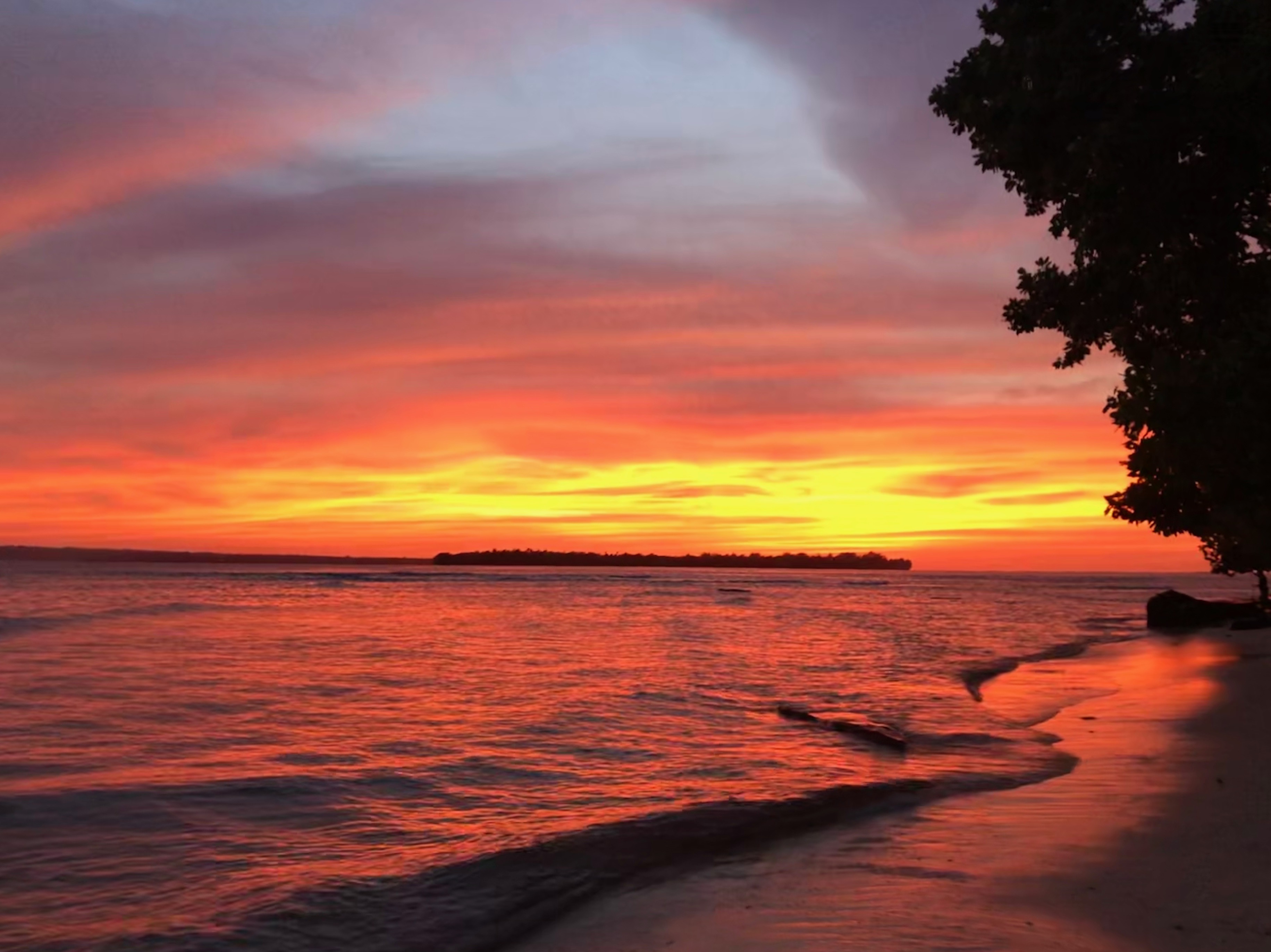 Stop thinking about boils and look at this sunset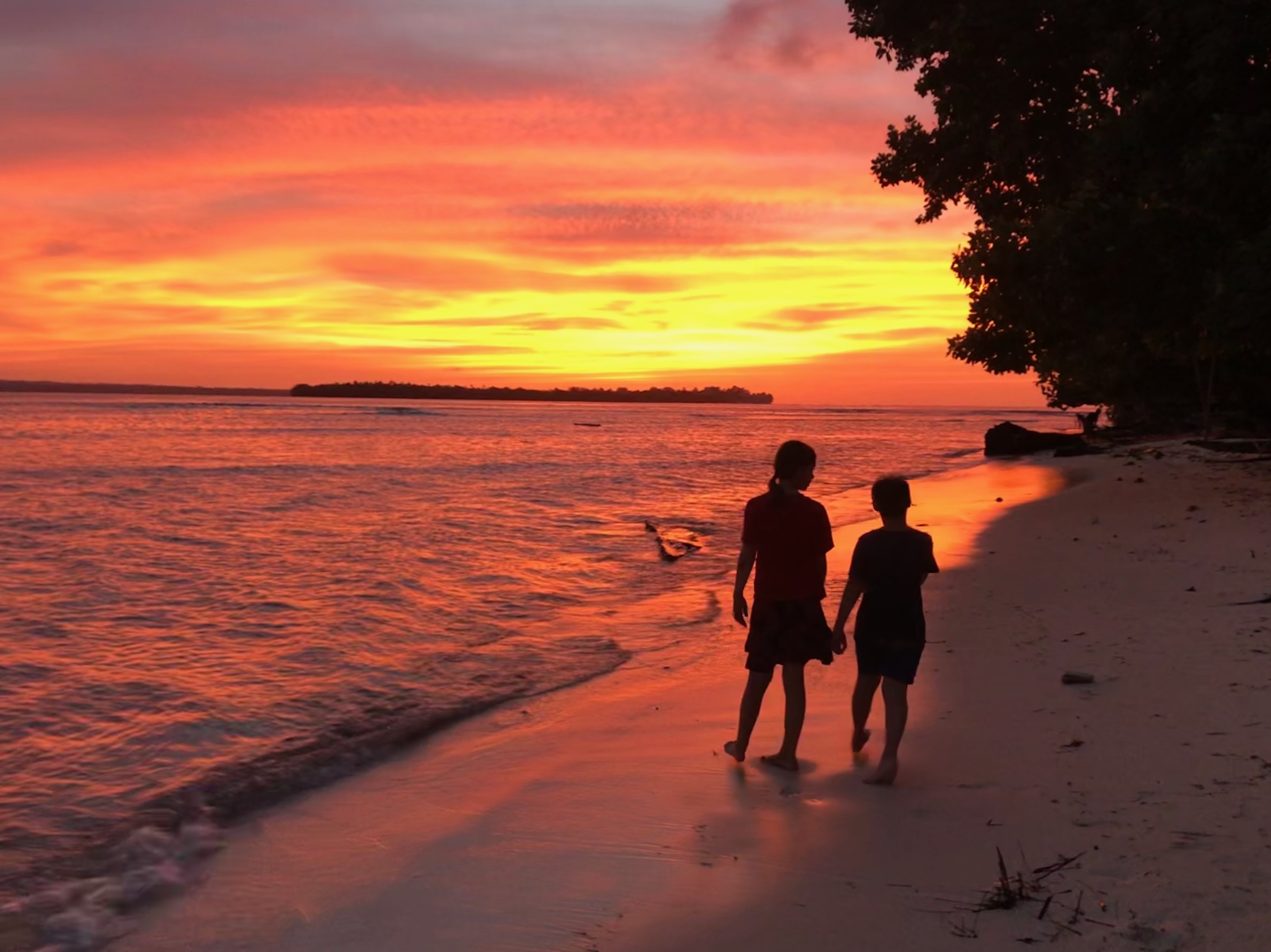 Even the kids noticed - or maybe I made them pose
This island was super in every sense of the word. A tidy village with kind and easygoing hosts (hi Paul), a beautiful reef, a huge WW2 tanker shipwreck and small submarine that I was lucky enough to score a dive on. As I floated alongside the tanker, I would look up to see an abundance of giant red coral fans, the likes of which I've only seen once or twice south of here.
Lara and Jake were a lot more relaxed on our village visit here since we have joined the flotilla with Zig Zag and Family Circus. It's amazing to see the difference other boat kids make, plus puppies.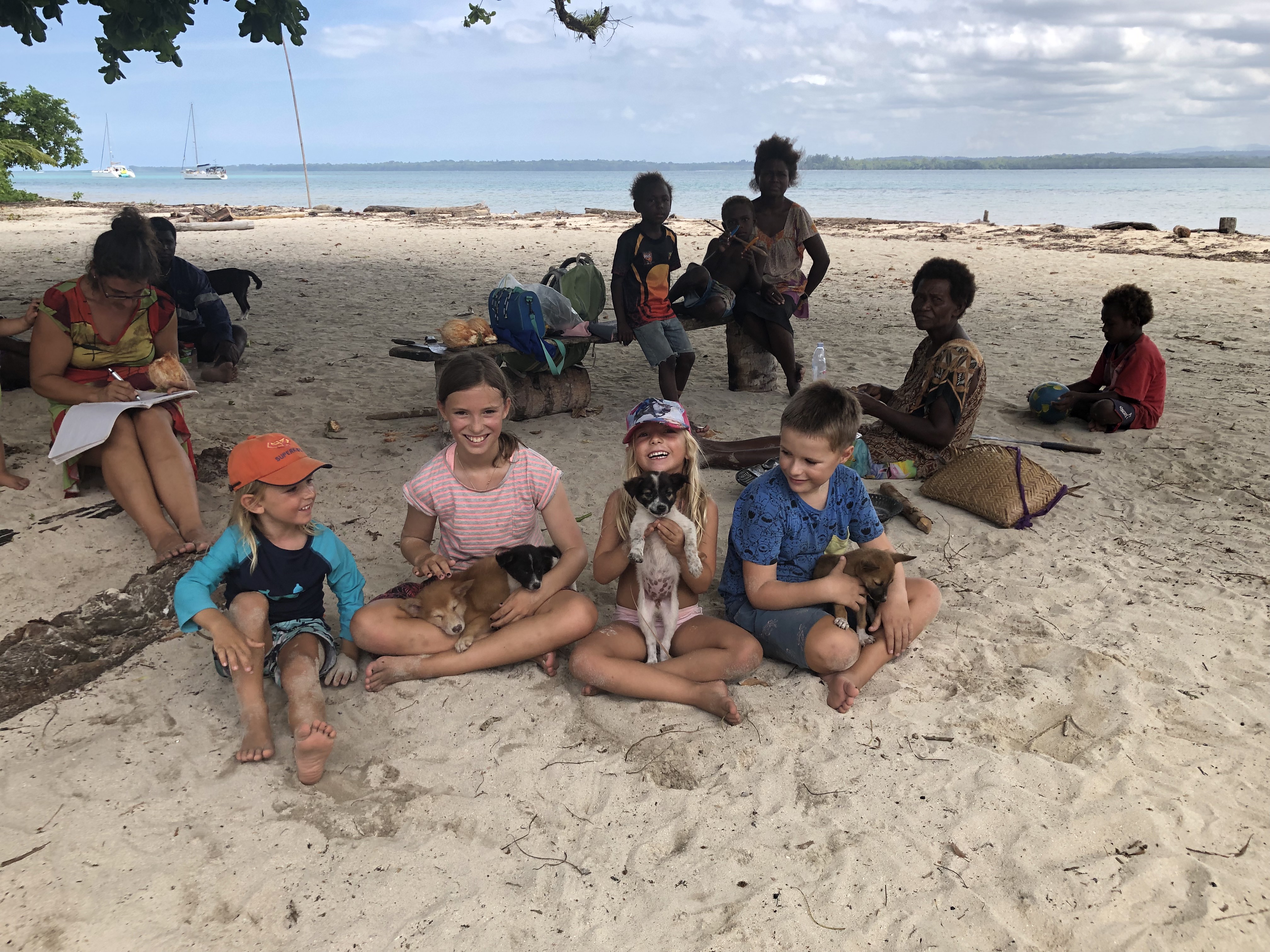 Group shot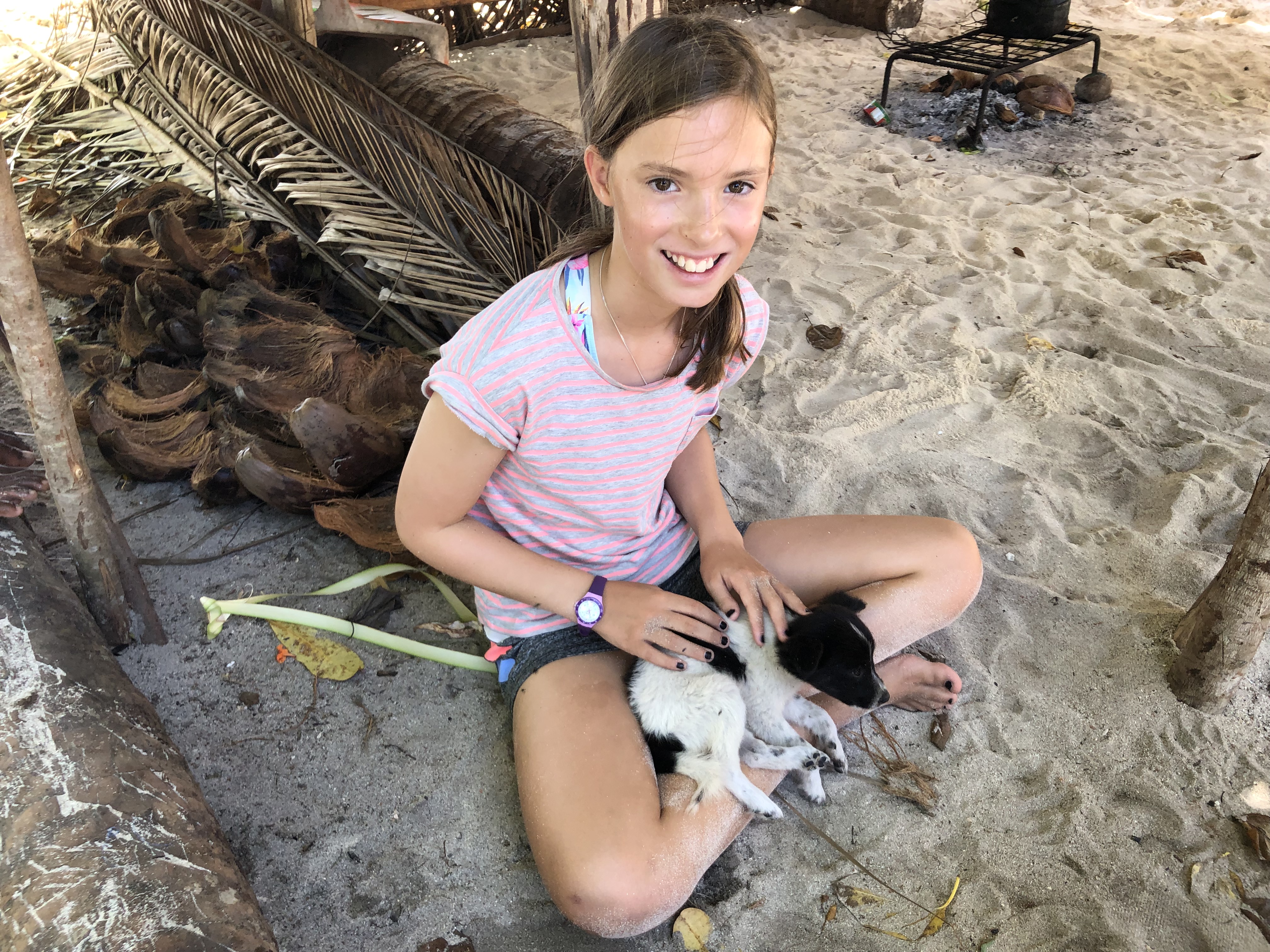 Lara's idea of heaven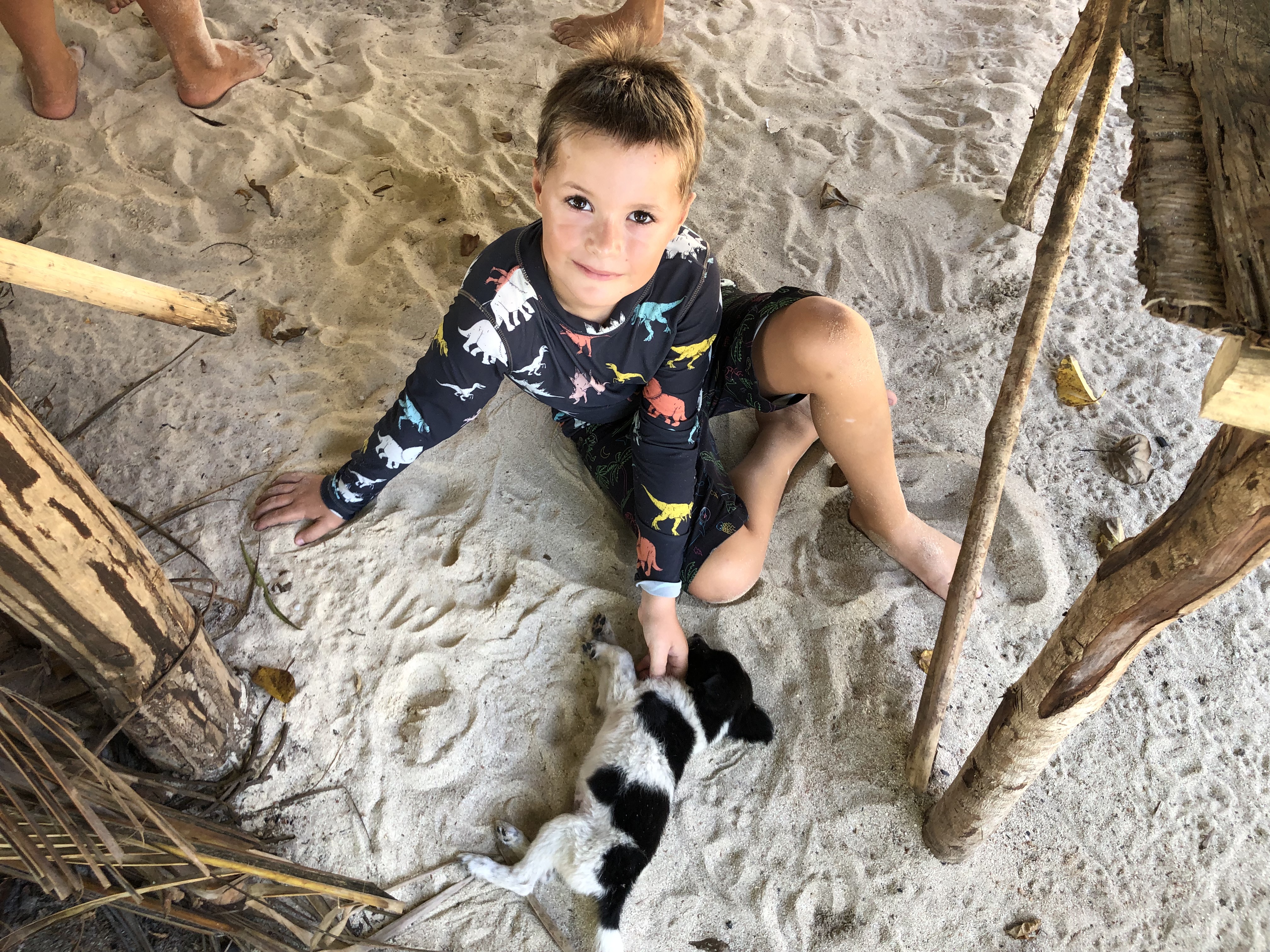 Jake agrees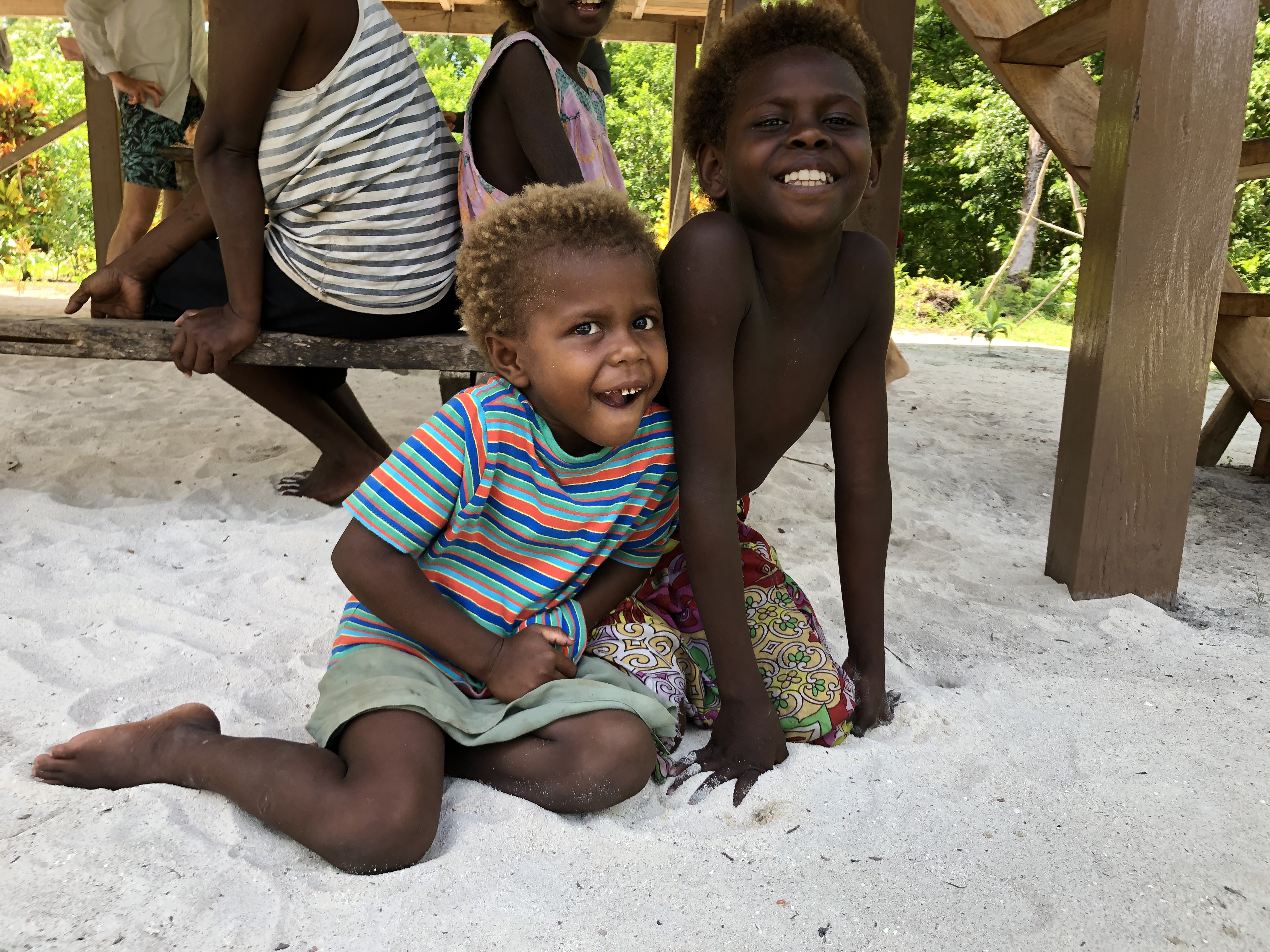 Cuteness central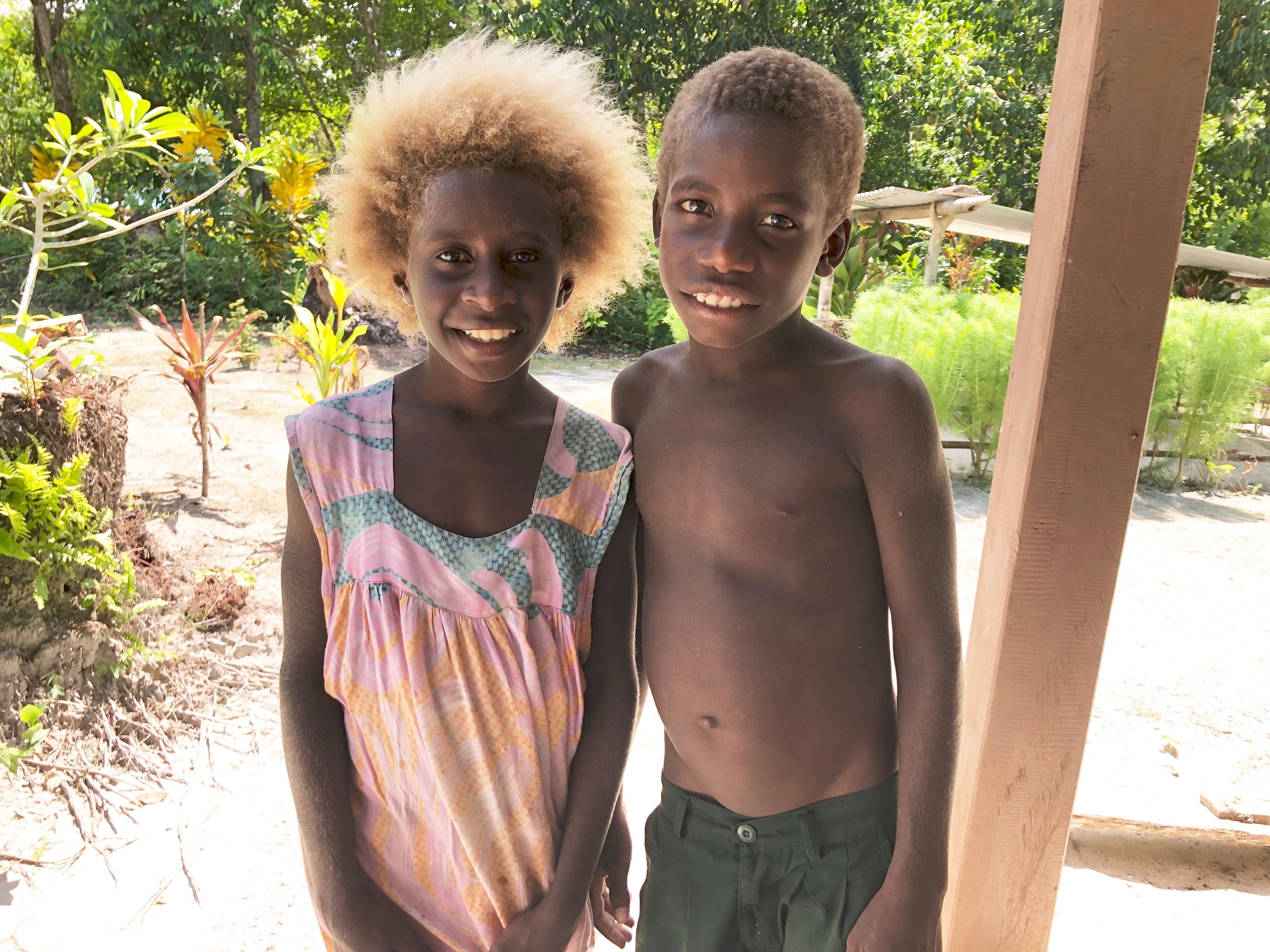 Look at that hair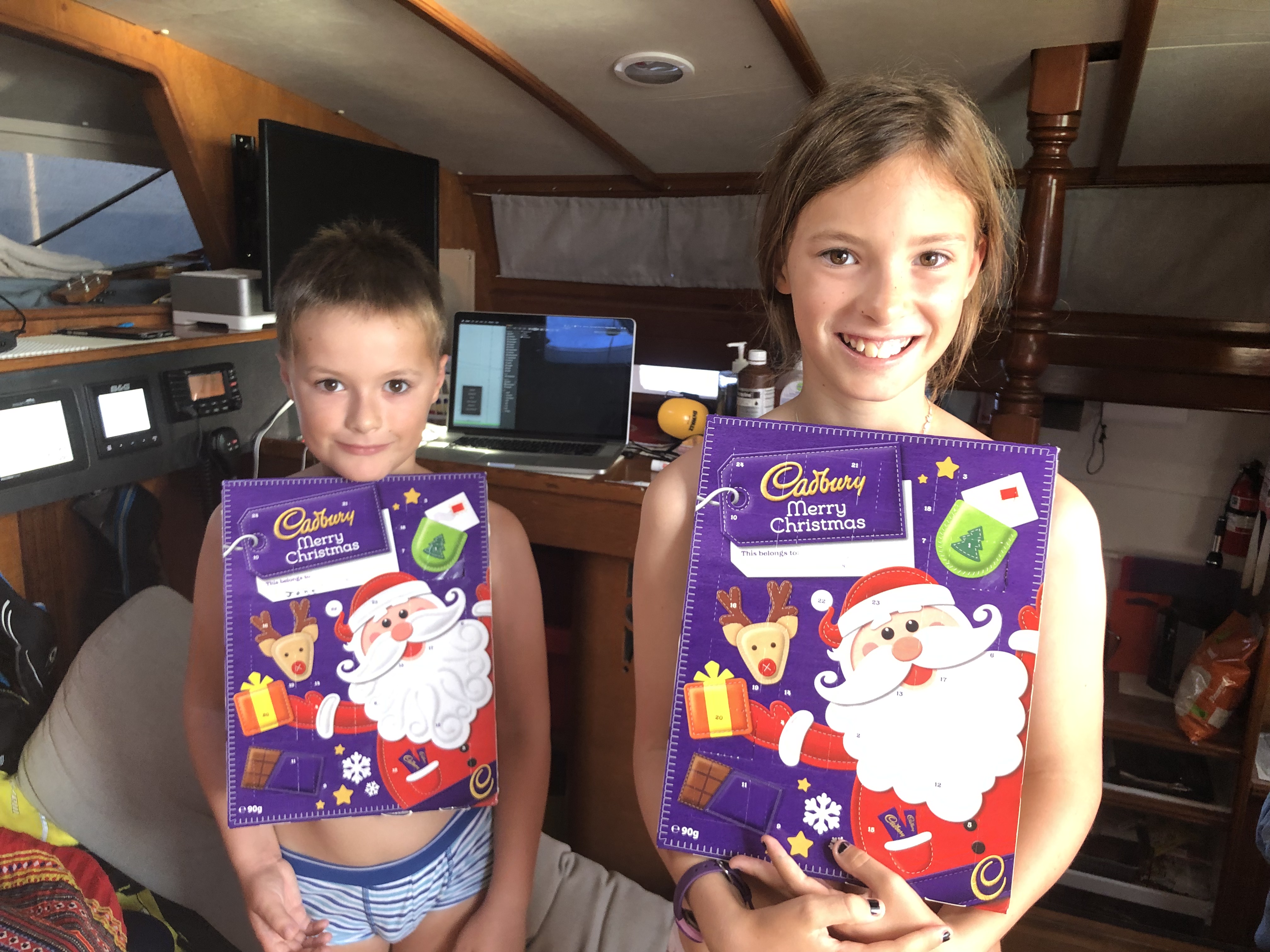 1st of December equals advent calendar happiness - the best $2 we spent in Cairns
They actually begged to go to the village which was nice. We left them with the puppies and their human family one day and went for a walk around the island and no-one batted an eyelid.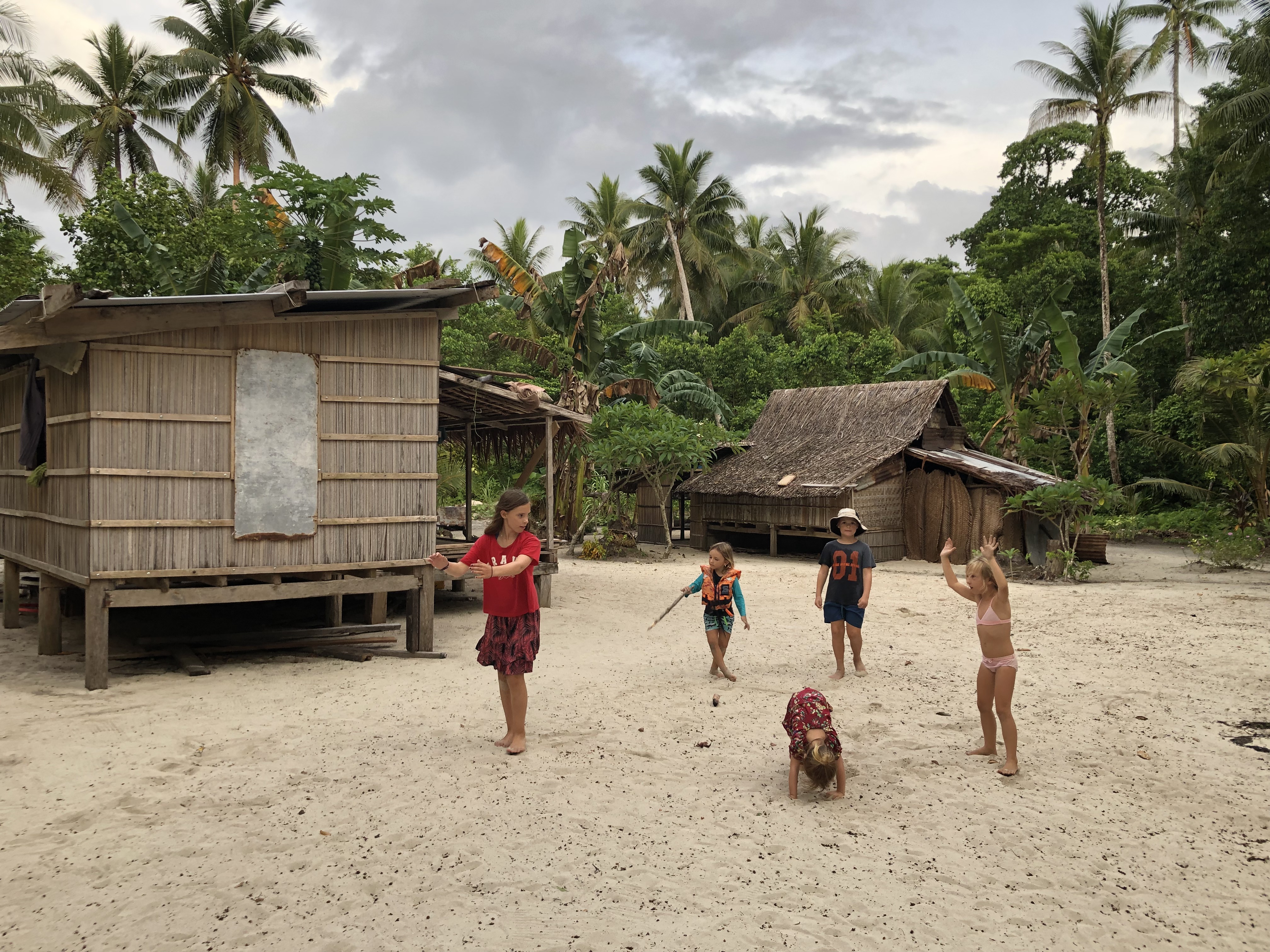 Lara runs a village gymnastics class
PNG people really seem to like kids and even Jake is softening although he's not letting anyone hug him which is fair enough.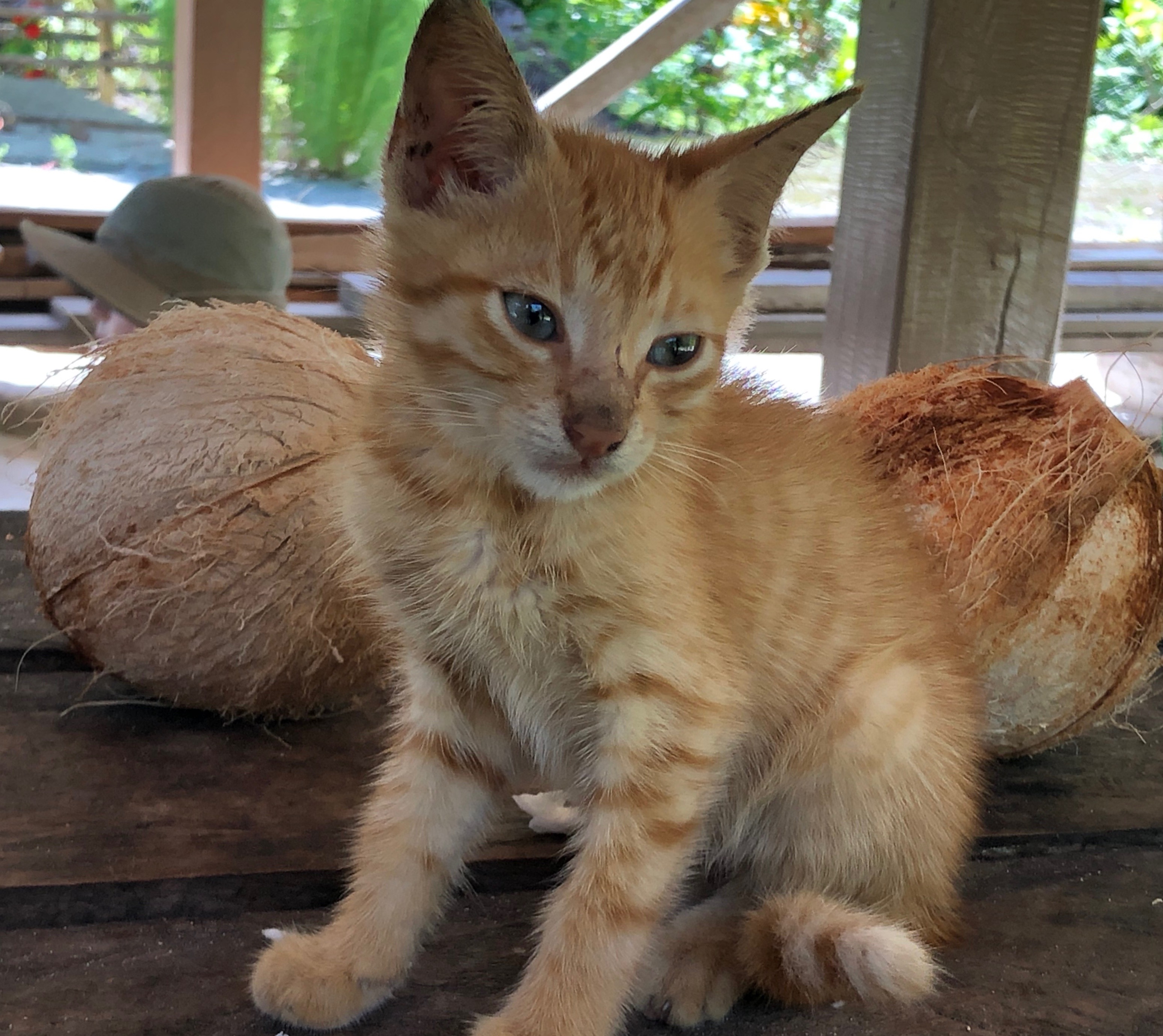 This little one was named Coconut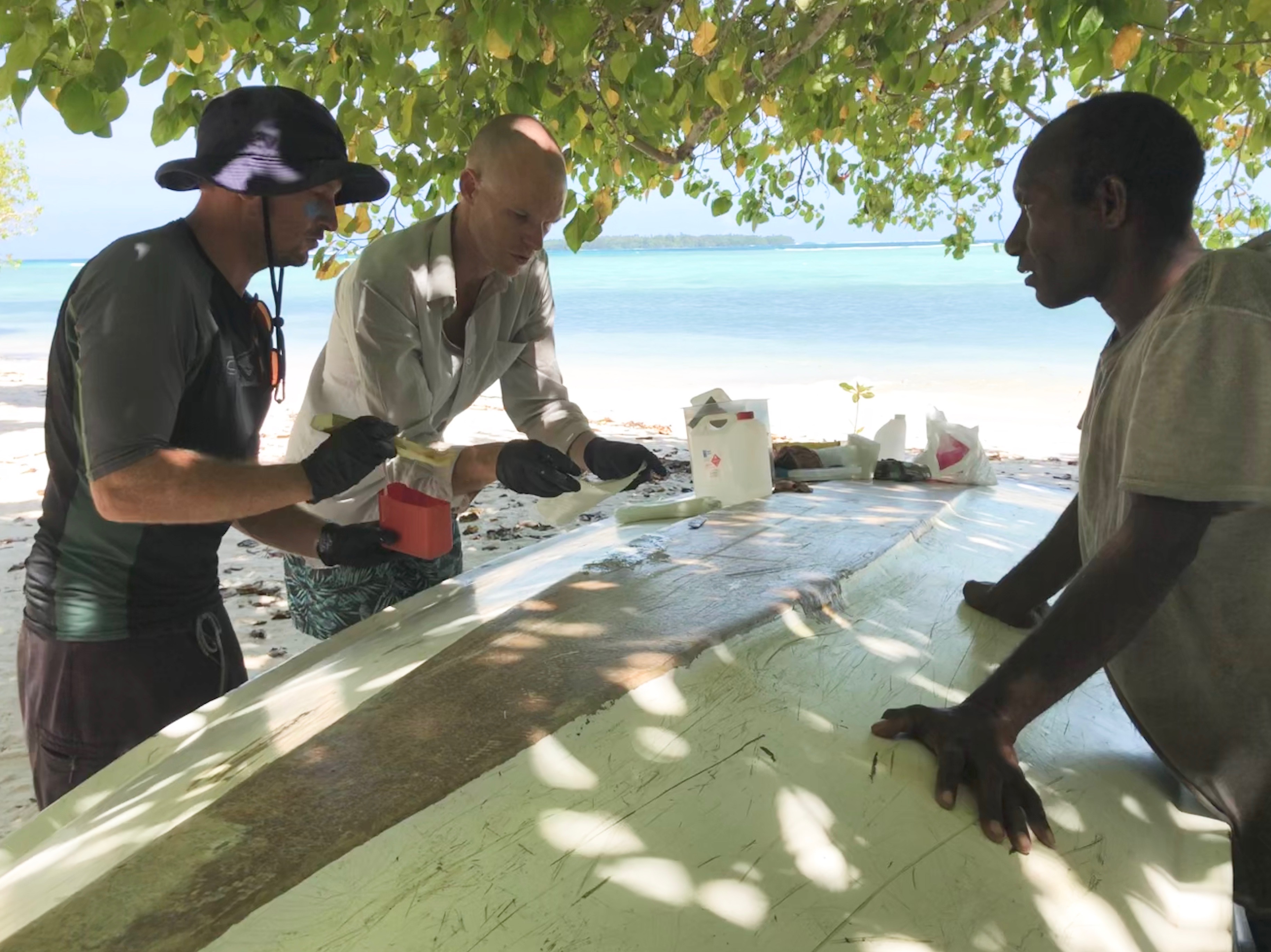 It wasn't all play - Graham and Chris fix Paul's boat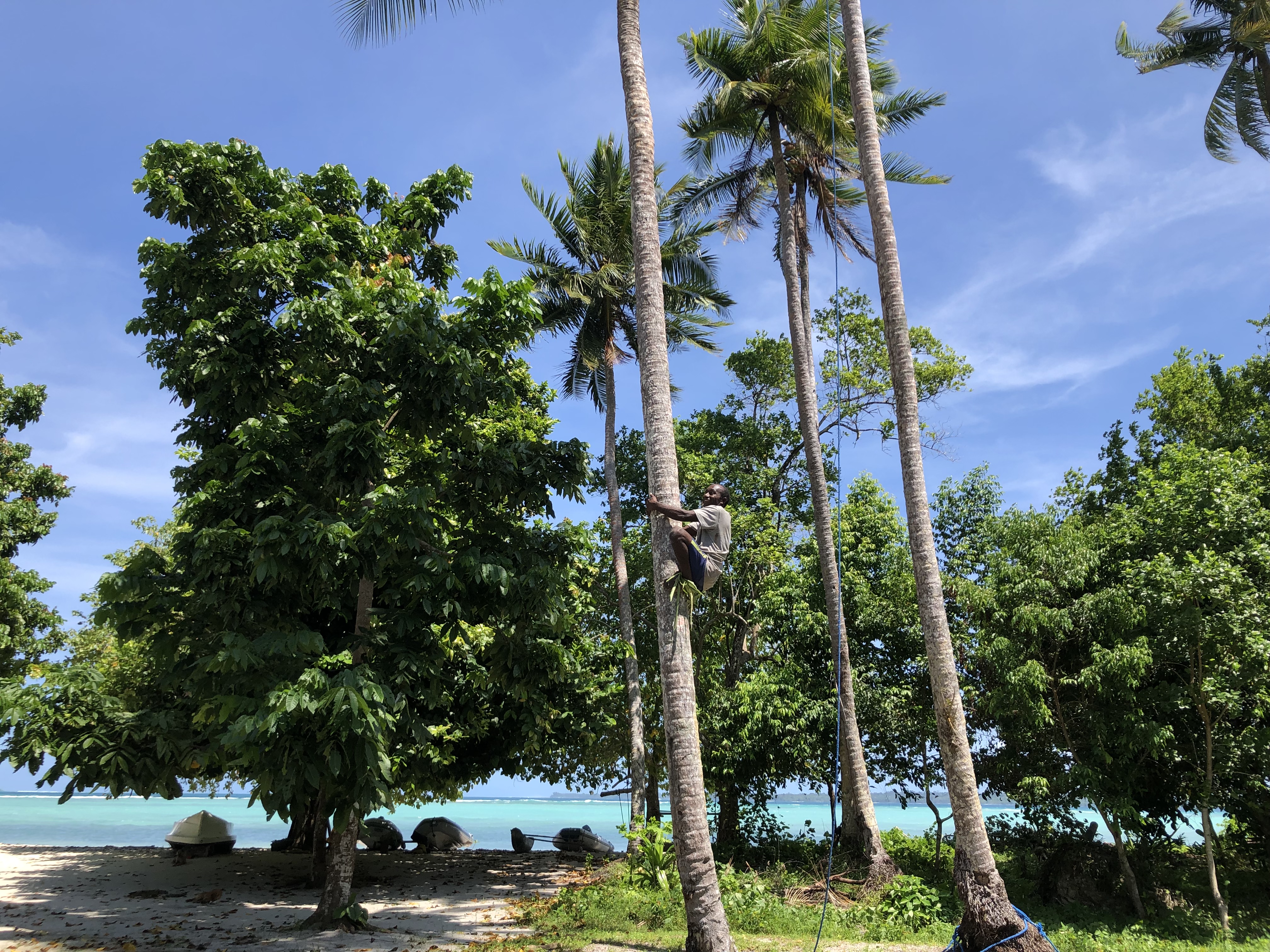 Michael climbs a coconut tree in 20 seconds
Tunung is the first place we got to see how they make the famous shell necklaces.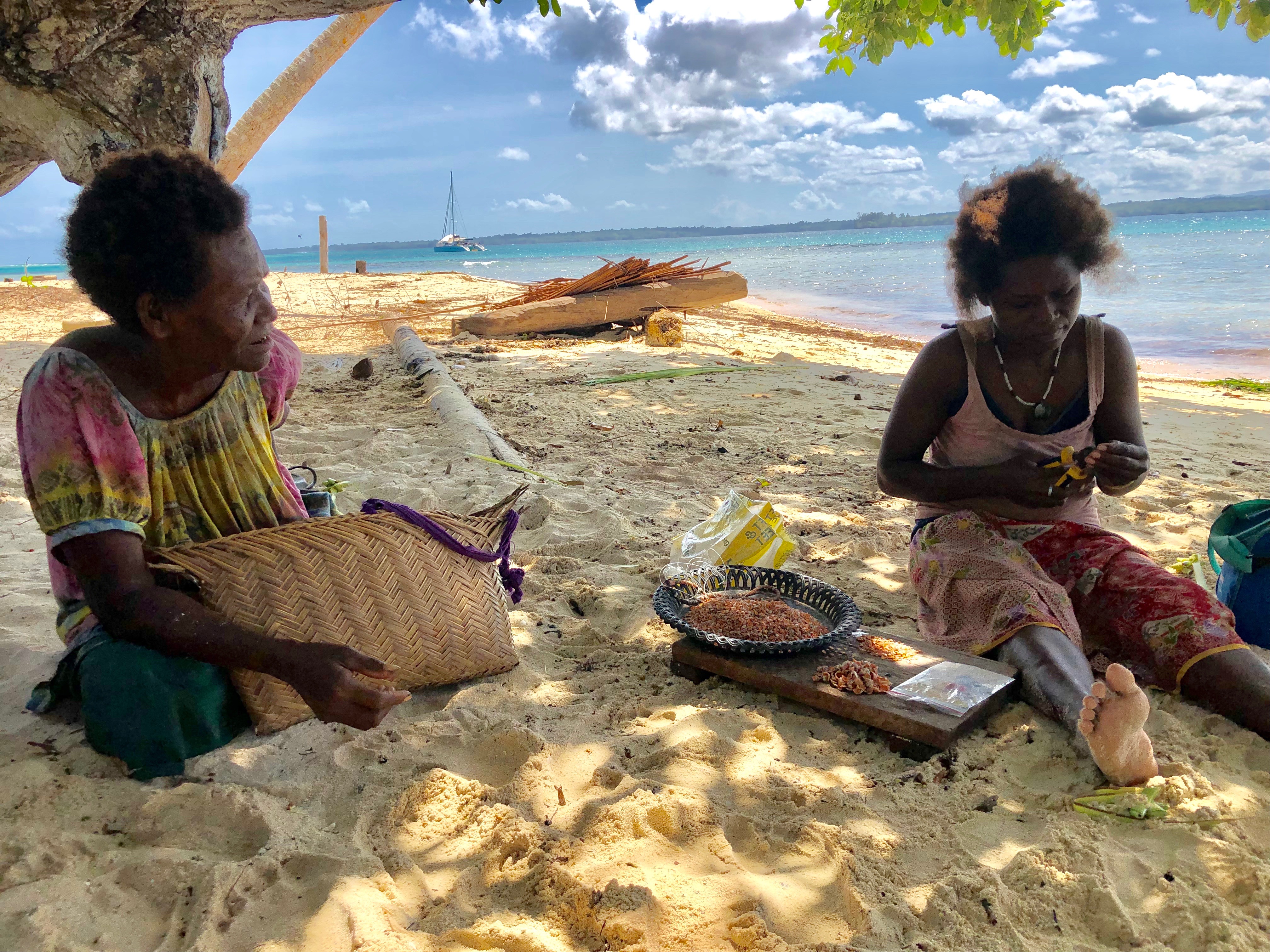 Tracey cutting the shell into tiny little pieces - look in the bowl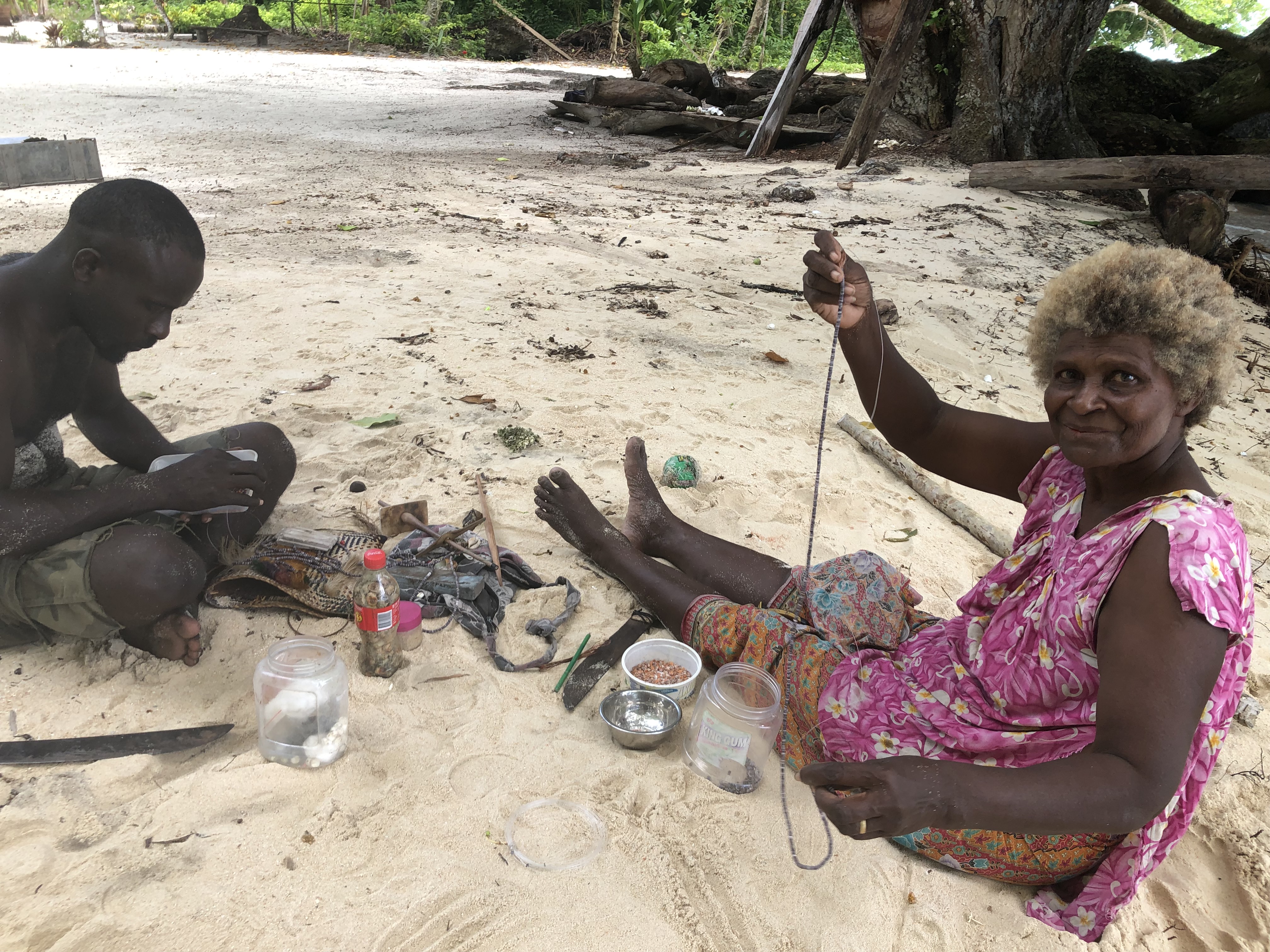 My shell necklace in the making
All the kids gave it a go one day, with a very patient local teaching them how to drill tiny holes. The whole processes is very intricate using purpose built tools. Once each piece is strung, the necklace is sanded to achieve a round shape and desired thickness. Brilliant!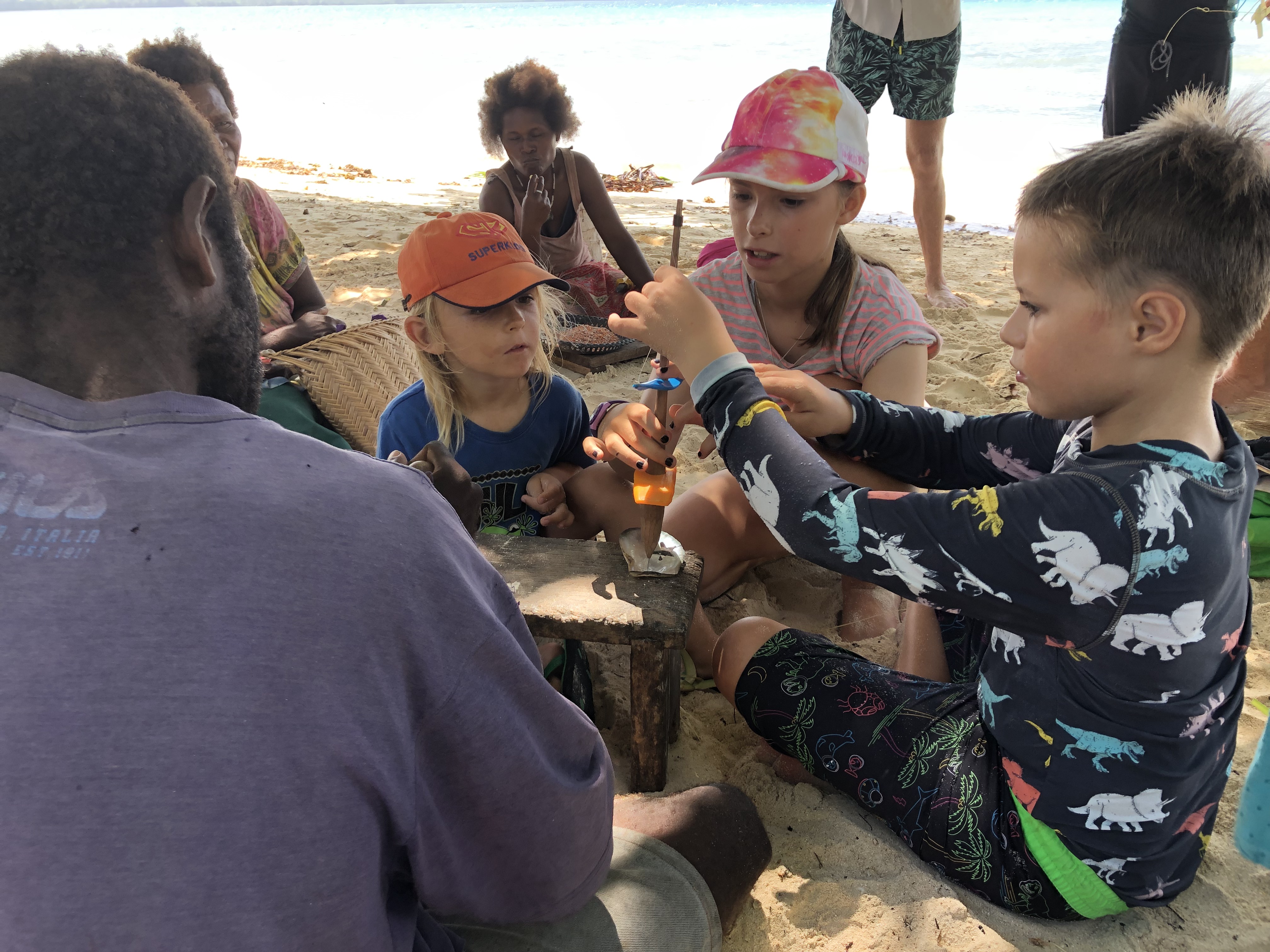 Kids using the purpose made drill - spin to drill
The locals refer to them as shell money and each length is worth a certain amount. It's used to trade amongst villages and also to sell to tourists like us. We could have stayed here for weeks of course but as has been a constant theme on this trip - we are very late in the season and must keep going.
We spent the next 48 hours sailing to Hermit Islands and were welcomed firstly by a huge pod of spinner dolphins, then pygmy killer whales swimming at the bow and smiling at us.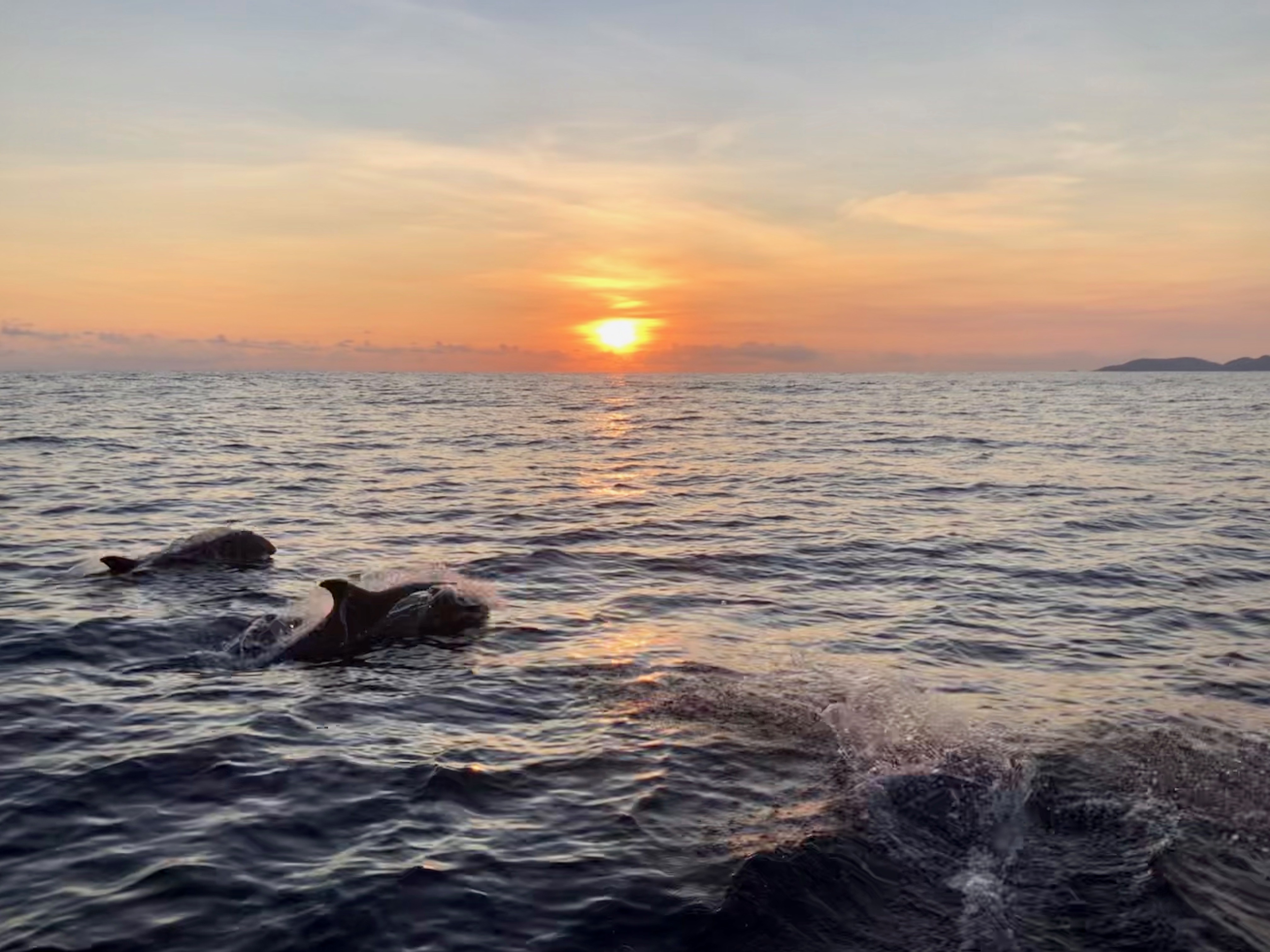 Pygmy killer whale welcoming committee
Unfortunately we timed our arrival to just after sunset - tricky arrival situations seem to be developing into a bit of a theme.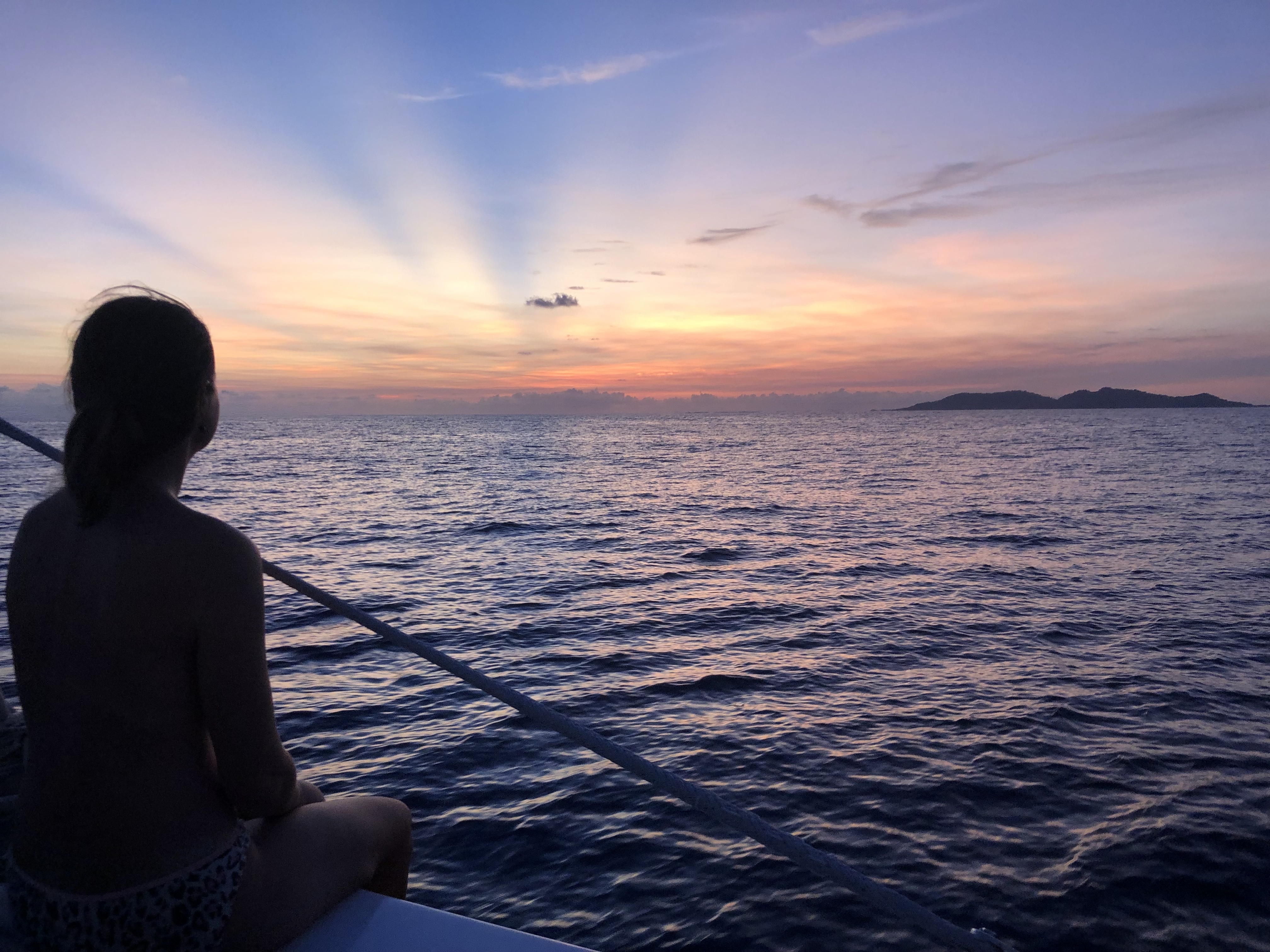 Pre-arrival sunset - Hermits in the background
Now the advantages of travelling with other boats and being the slowest boat in the group start to pay dividends in scenarios exactly like this one. Chris and George from Family Circus / Zig Zag dingied out to us just outside the reef and lead us in by torch and memory. There was a track but as Murphy's law would have it, their iPad restarted itself just as they boarded Toc, then promptly deleted the track. Not to worry. We made it in with Chris's guidance and with only a couple of 'reverse, reverse' moments.
Hermit islands are unbelievably beautiful.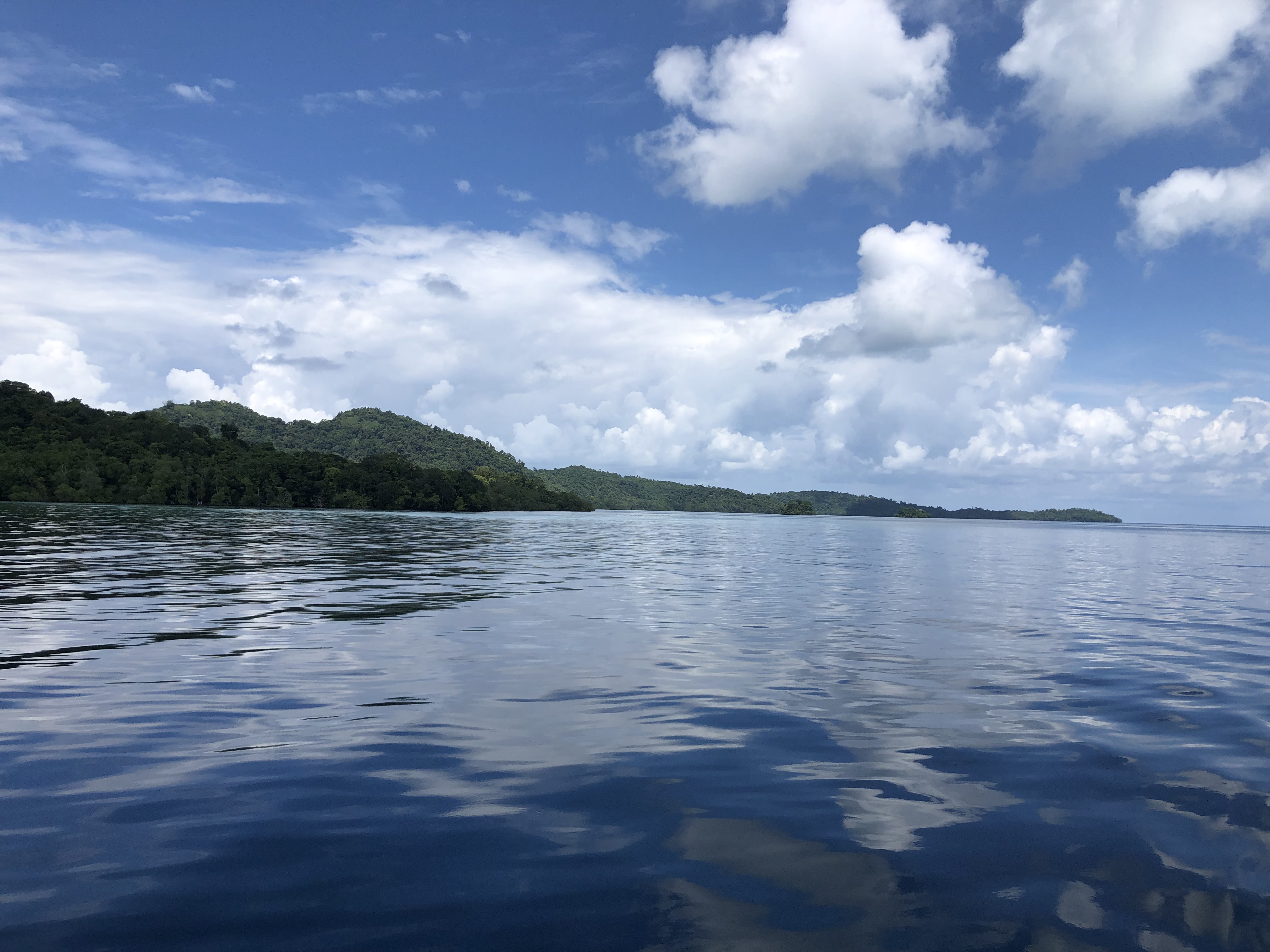 Exibit A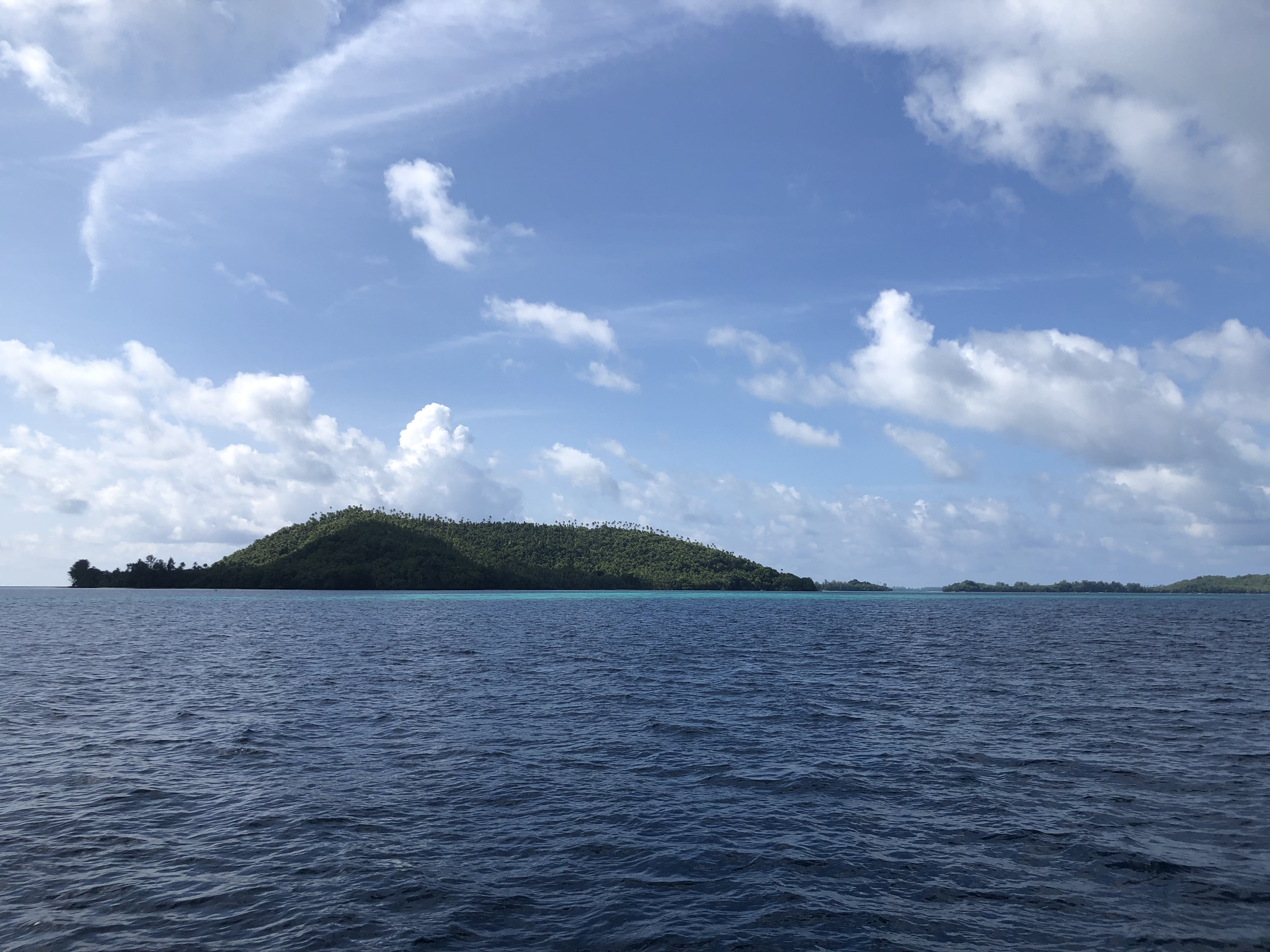 Exibit B
I personally didn't know much about it other than that you could swim with manta rays. We spent a few days just swimming, eating and hanging out.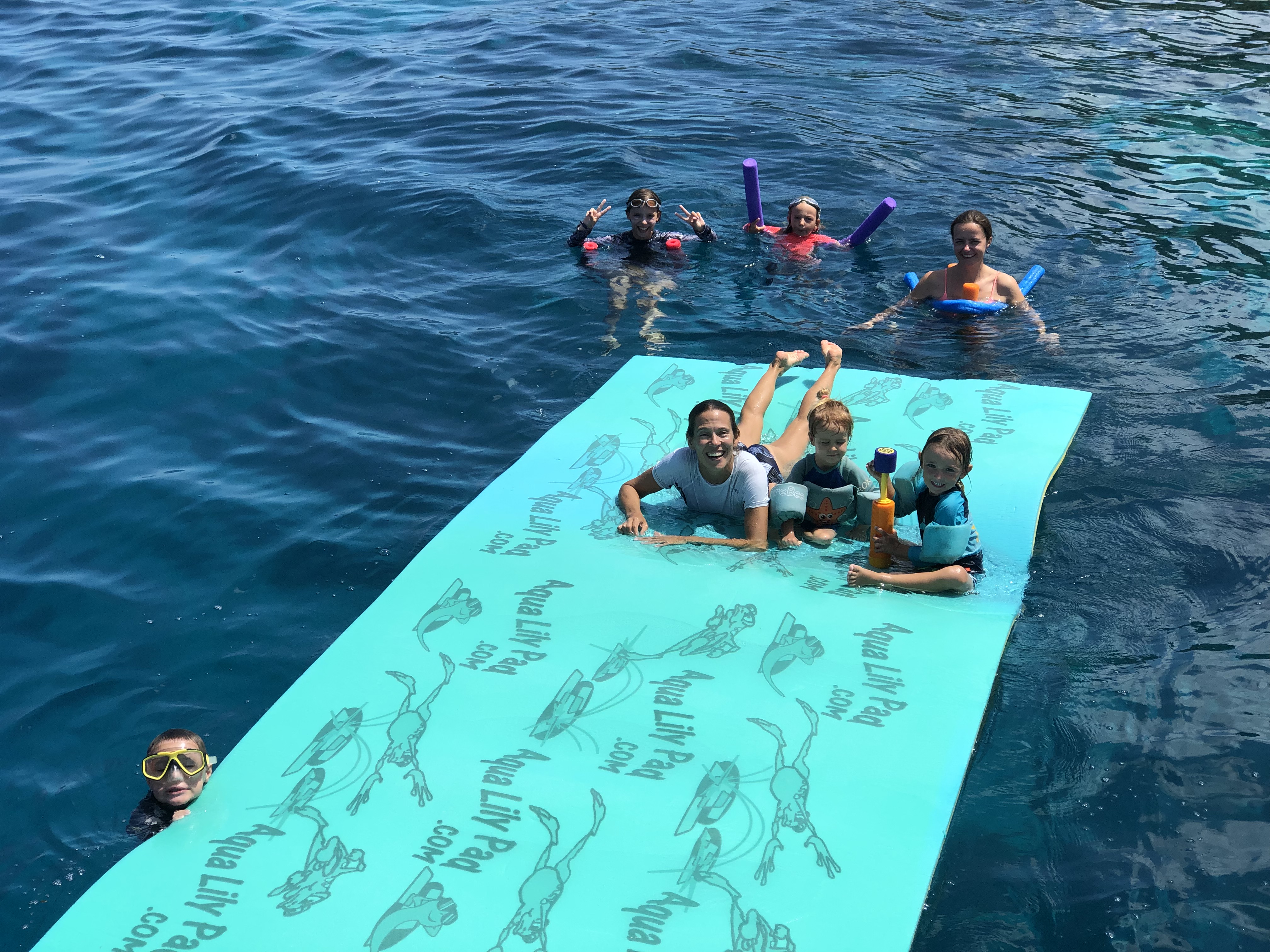 Mat fun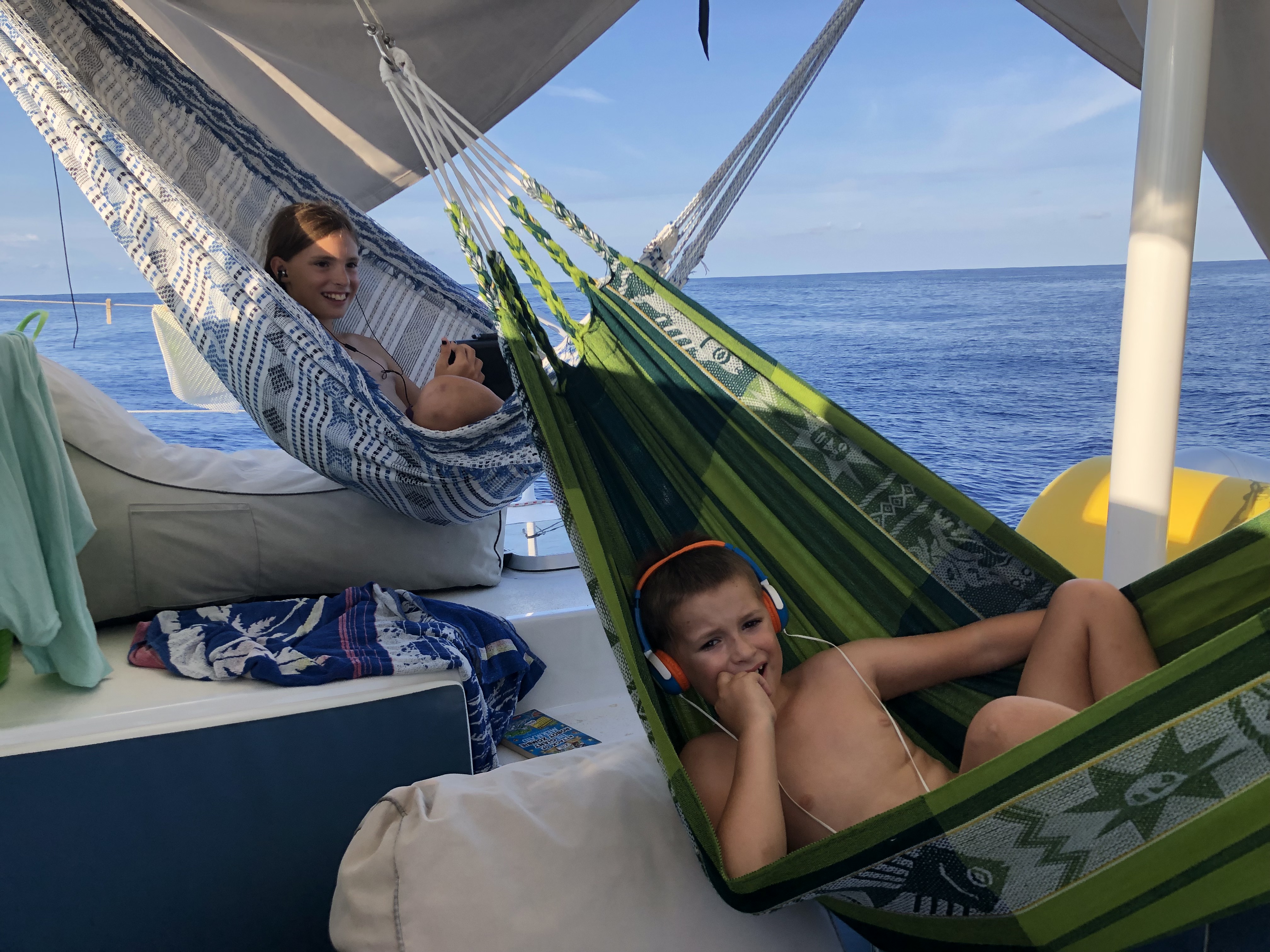 Hammock time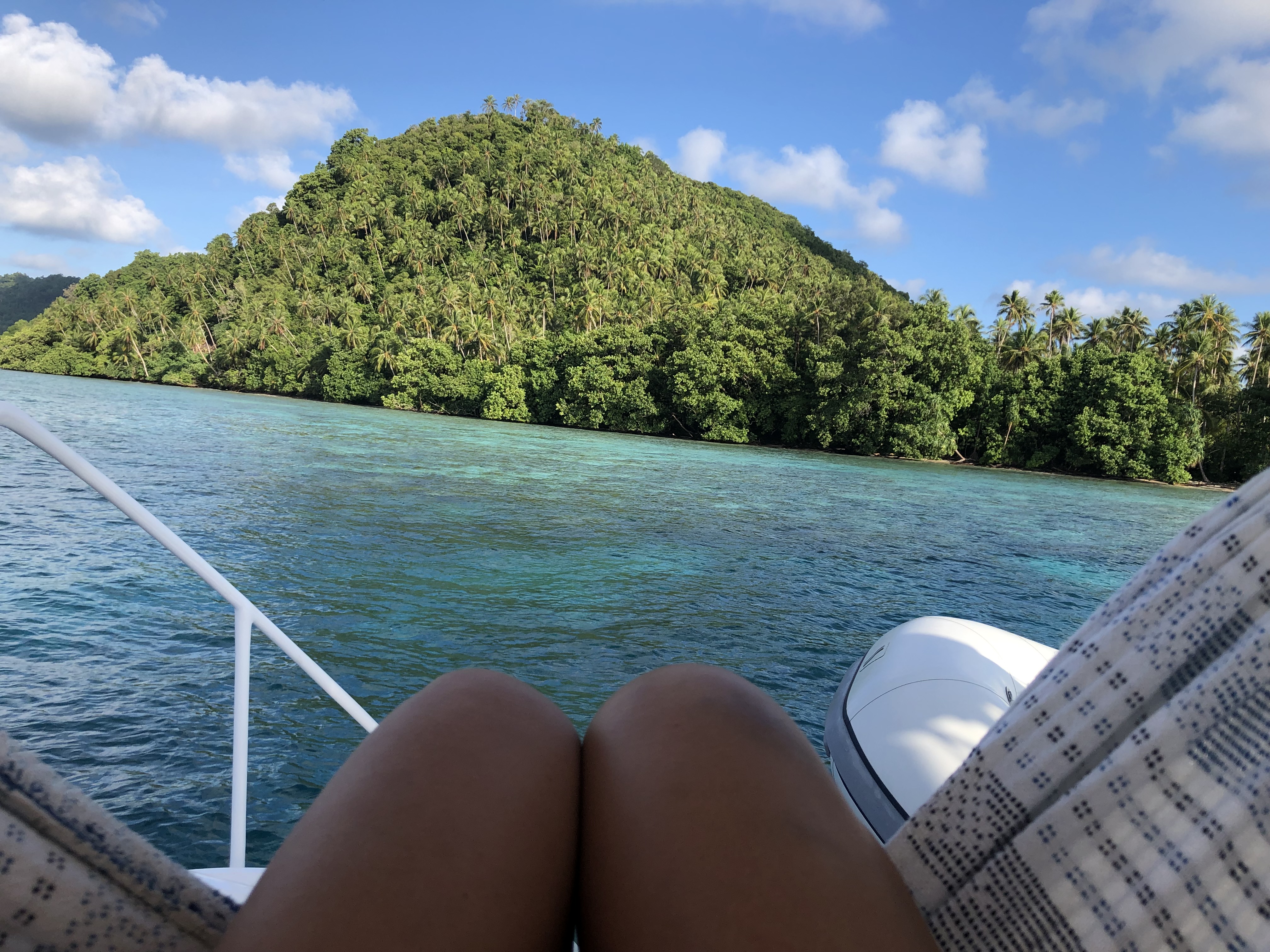 Not the worst hammock view
Minutes after we anchored in the Manta Ray pass, Bob paddled out to inform us about the manta charge, 20 Kina per person. A bit steep but ok. Next morning he is there snorkelling with us, earning his keep I suppose. Swimming with manta rays is amazing and just a little bit terrifying as they seem to show up out of nowhere. The spot where we wait for them just off Bob's hut is marked by a couple of huge rocks in roughly 4 metres of water, where they come to get cleaned by various fish.
When Bob does the collection round afterwards, we pay the charge for one of us and donate some other goods. To be fair to Bob, he also gives us bananas and sweet potatoes after I ask for some. The next morning, after we snorkel with mantas again, Bob paddles out to Family Circus and Zig Zag, demanding to be paid again. This seems excessive and they tell him as much so he paddles back to the beach without coming to see us.
I am not sure what the right answer is here as opportunities to make money are limited out there so it's understandable our boats would be seen as one possibility. We also don't have an issue with paying something for the privilege but Bob's execution left an unfavourable impression. I think he was just trying his luck but it doesn't exactly encourage future visitors. We left soon after as the wind was in our favour, Ninigo bound.
If you are a cruiser, I'd try anchoring elsewhere (although this is difficult in Hermits) or at least swim in the channel well away from Bob's house to see the mantas - we did this as well and saw quite a few. The local village people who came to say hi were very friendly and even invited us for dinner. Definitely don't avoid the Hermits, they are stunning - just be prepared for Bob.