Things heat up in Rabaul and Kokopo
Nov 5th 2019
Well the three day adventure 'across the Solomon Sea' as I so romantically put it in my previous post, sure proved the most trying yet. Weather forecasts were duly pored over before departure of course and 3 / 4 forecasts had us sailing very comfortably with 15 knot winds on the beam pretty much the whole way. Perfect, right? WRONG.
The 4th forecast had predicted some very strong winds on day 3 but after a brief chat we decided to ignore it. WRONG DECISION. Never ignore a bad forecast people, even if it's one out of four. This lesson we learnt the hard way.
Now if you want all the details of points of sail, wind changes and technicalia of the entire trip, head over to Graham's daily log. I will just say that after surviving frequent squalls with 40 knot winds and big seas it came to the dreadful 1am shift change on day 3 of the trip.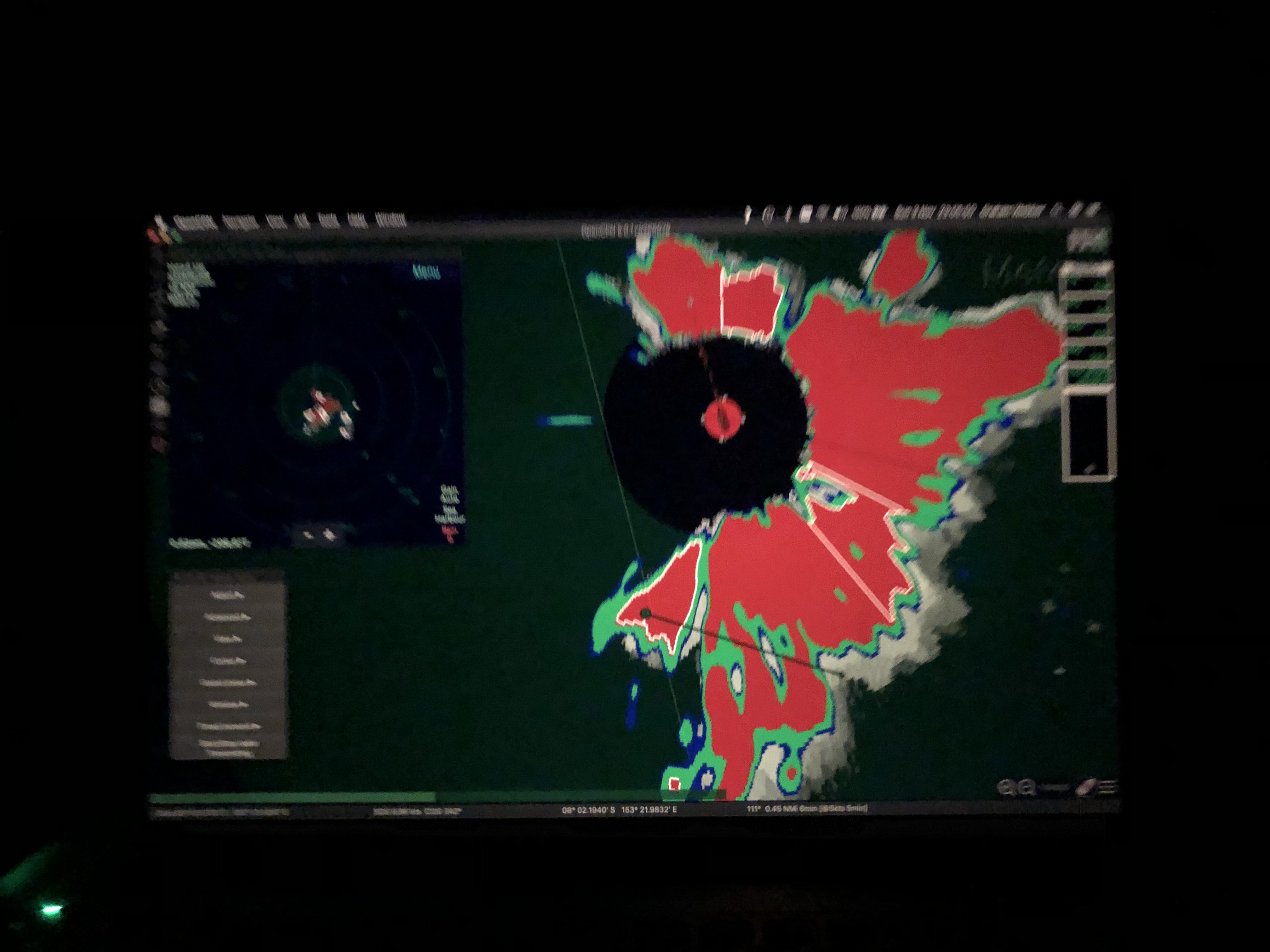 One of the squalls on radar
Wind picked up again into the high 30s and after about an hour we decided this was not a squall but that weather we ignored on forecast number 4. Then we bashed through 16 hours of gale force winds and waves smashing into us from every side.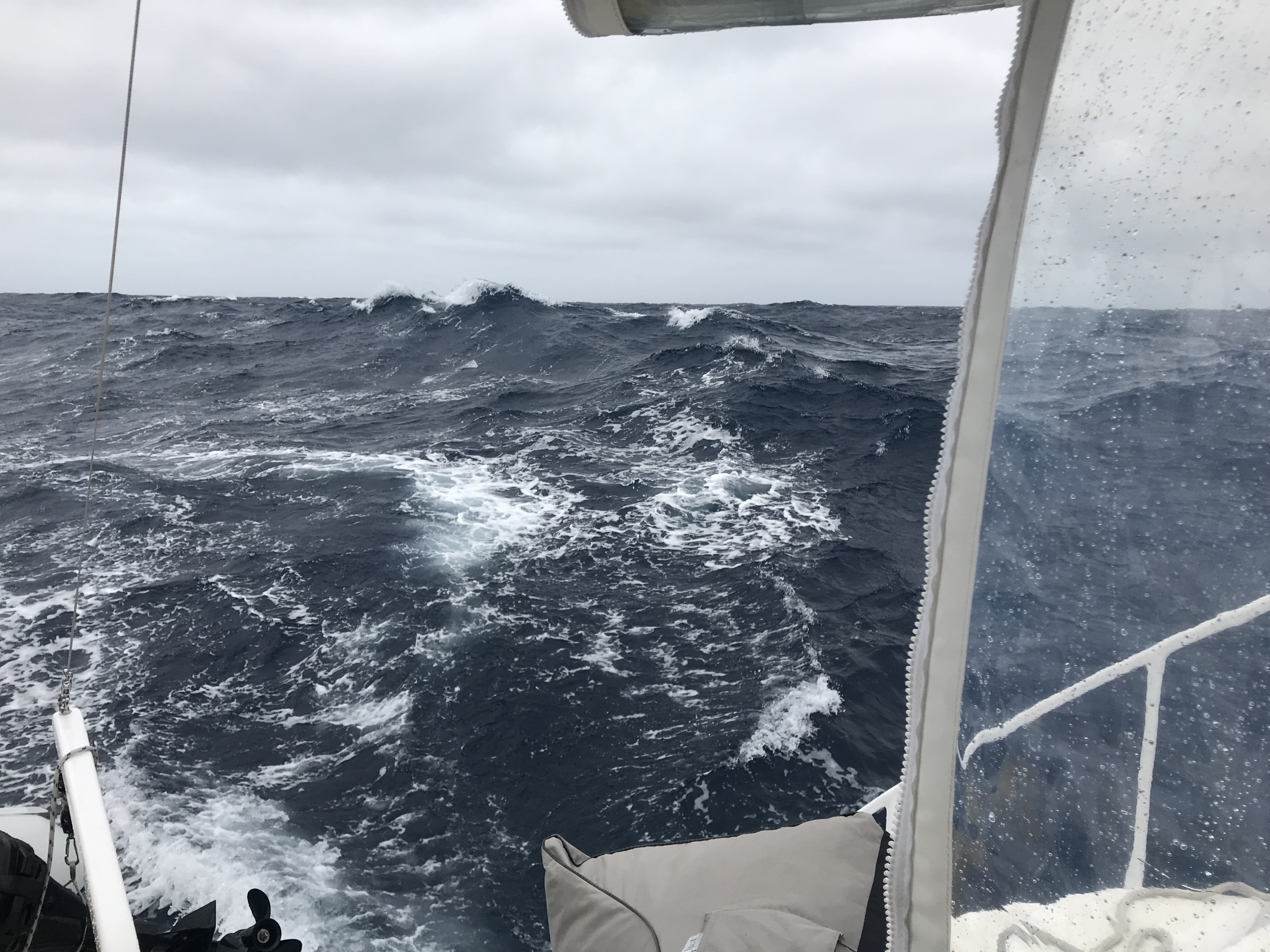 A threatening looking wave
Sails were already away except for about a third of the headsail, which still had us absolutely flying at 7+knots. As we surfed one wave I clocked a boat speed of 16 knots. Our boat is not really supposed to go at that speed. I think we probably should have put all the sail away but it wasn't really an option at 1am in seas like that (and crew like us).
So what did we do? We sat on the sofa in the salon, held hands and hoped for the best. It was the first time I felt truly terrified. But human nature is wonderfully adaptable, so after about an hour or two of this, guess what happened? We figured the boat could take it (we hadn't sunk yet) so we relaxed somewhat. Thankfully the kids somehow slept through the night and when they did wake up early in the morning, the wind had settled to 30ish or so with only occasional spikes which in the daylight didn't seem so bad. Then just like by magic, we chucked a corner into Rabaul harbour and within 5 minutes it was like entering an oasis of calm.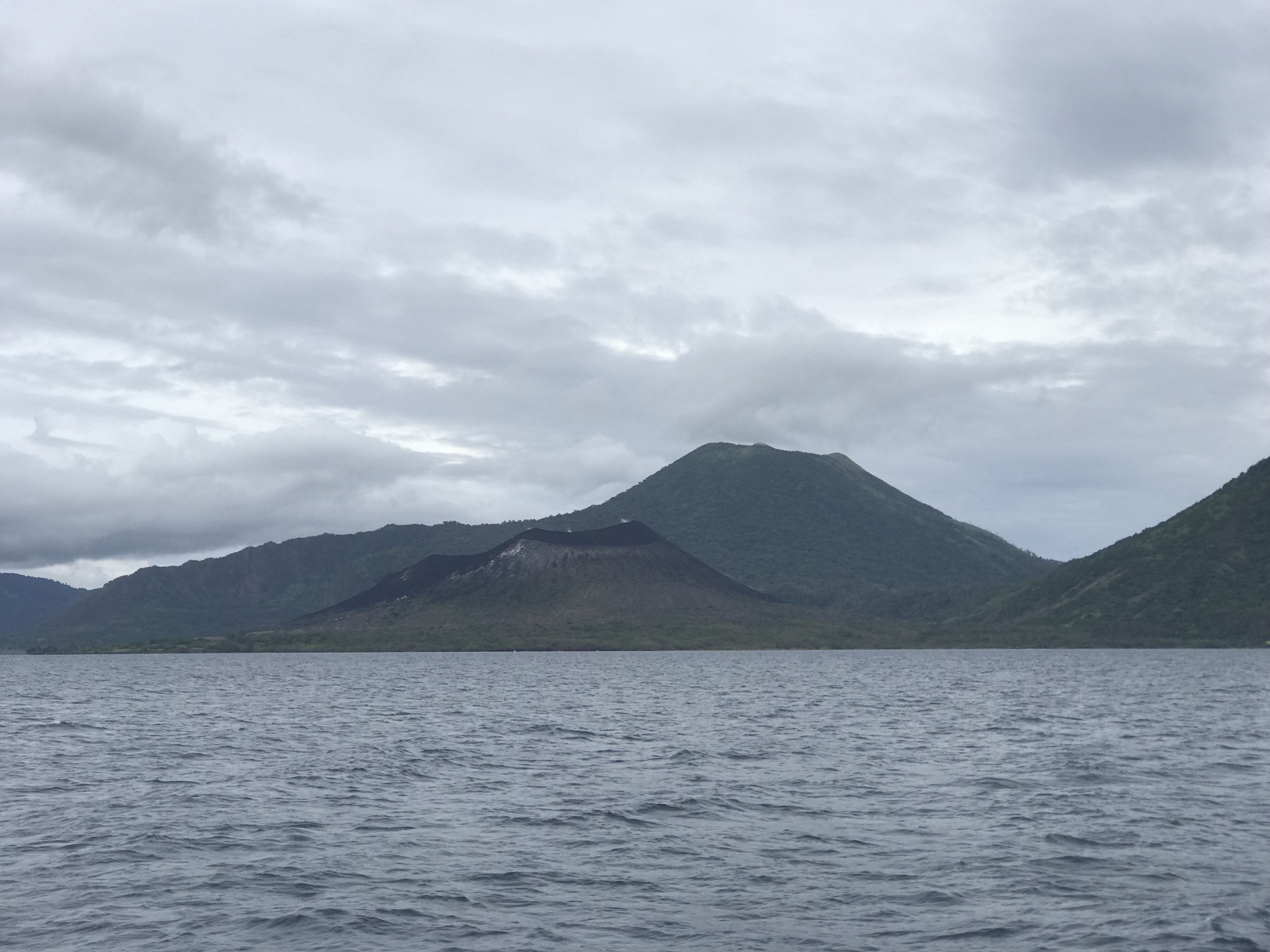 The calm inside the harbour
I kept looking back trying to understand how such contrasting worlds could exist side by side. My brain kept hearing the wind and waves long after they'd stopped.
We spent a week in Rabaul in oppressive heat anchored outside of the Rabaul Yacht Club, waiting for our mail to arrive from Australia.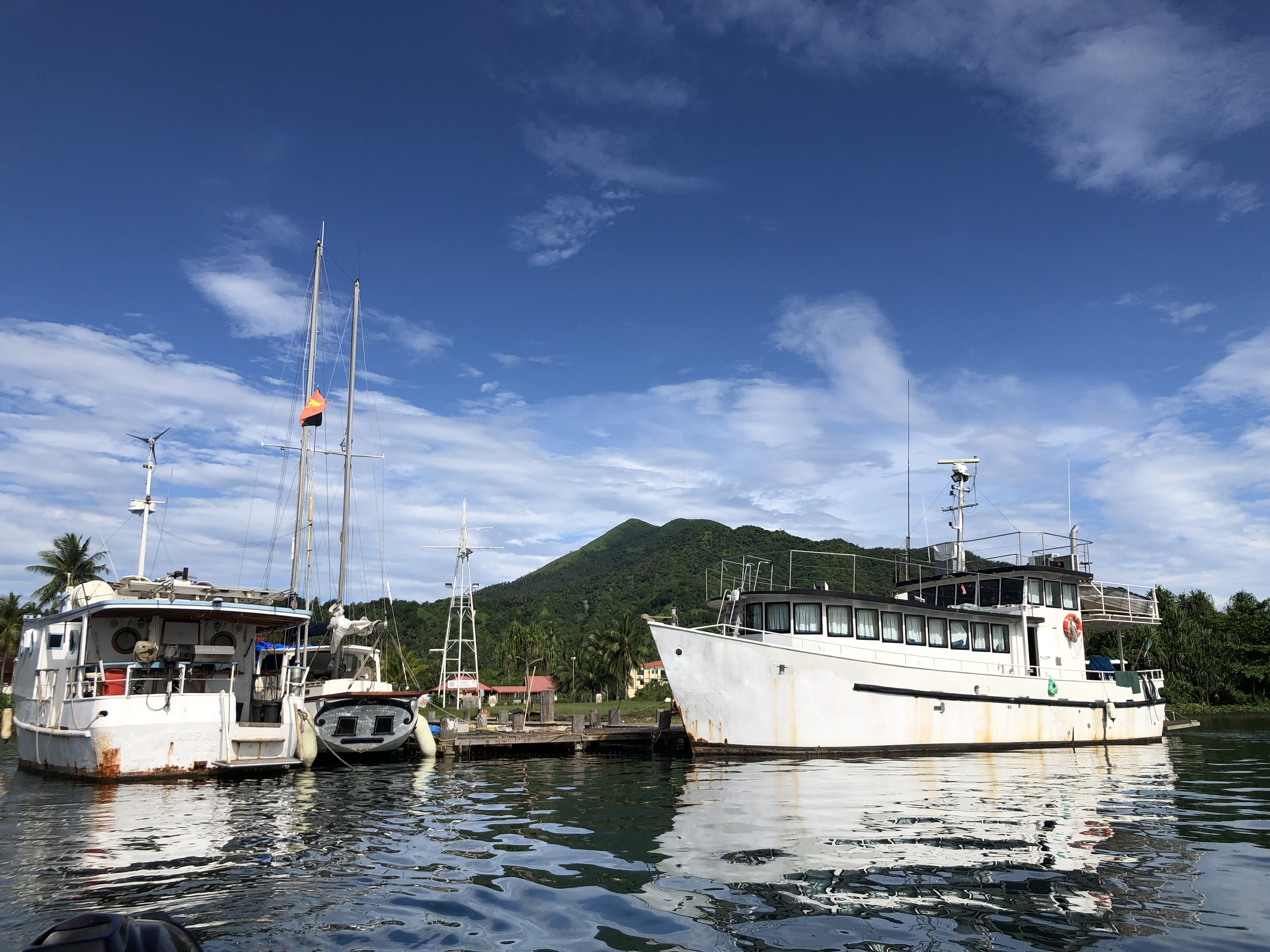 View of Rabaul Yacht Club from our anchorage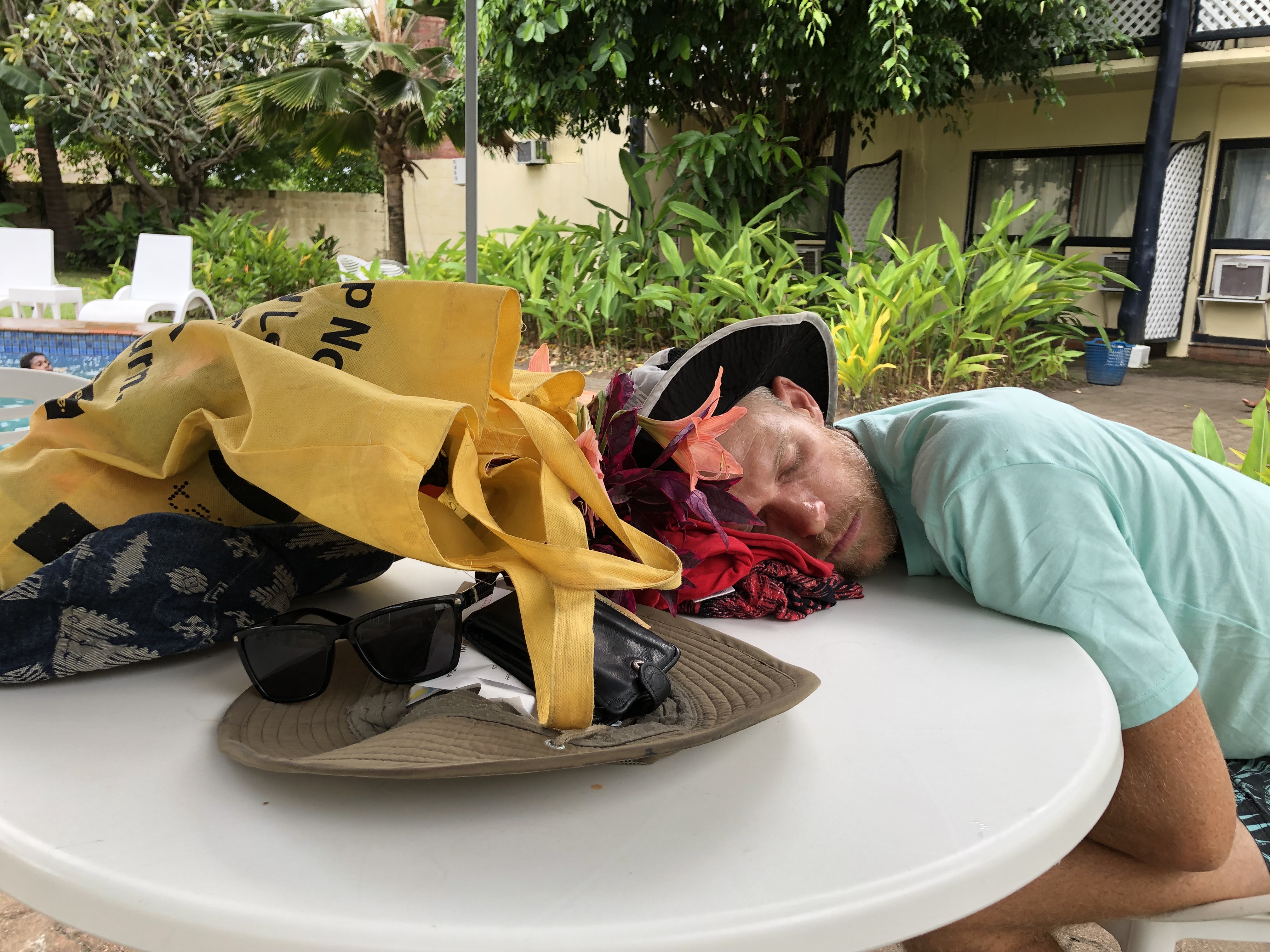 The heat was too much for some
This is where we finally checked into the country after a month of cruising in PNG. It was a very straight forward process with friendly officials who came to us to complete the formalities. Now we could finally fly the home made PNG flag. In a moment of madness, I decided I'd make all flags required for this trip while still back in Aus and bought cloth in basic colours for the purpose. I did this before researching what the PNG flag looks like. The flag has 5 white stars AND a bird of paradise on top of that! My weak sewing skills were severely tested but rarely have I been so proud of any of my creative endeavours as this one! Even after I noticed that the rope was sewn on the wrong side. Oops. It flew proudly, such as it was!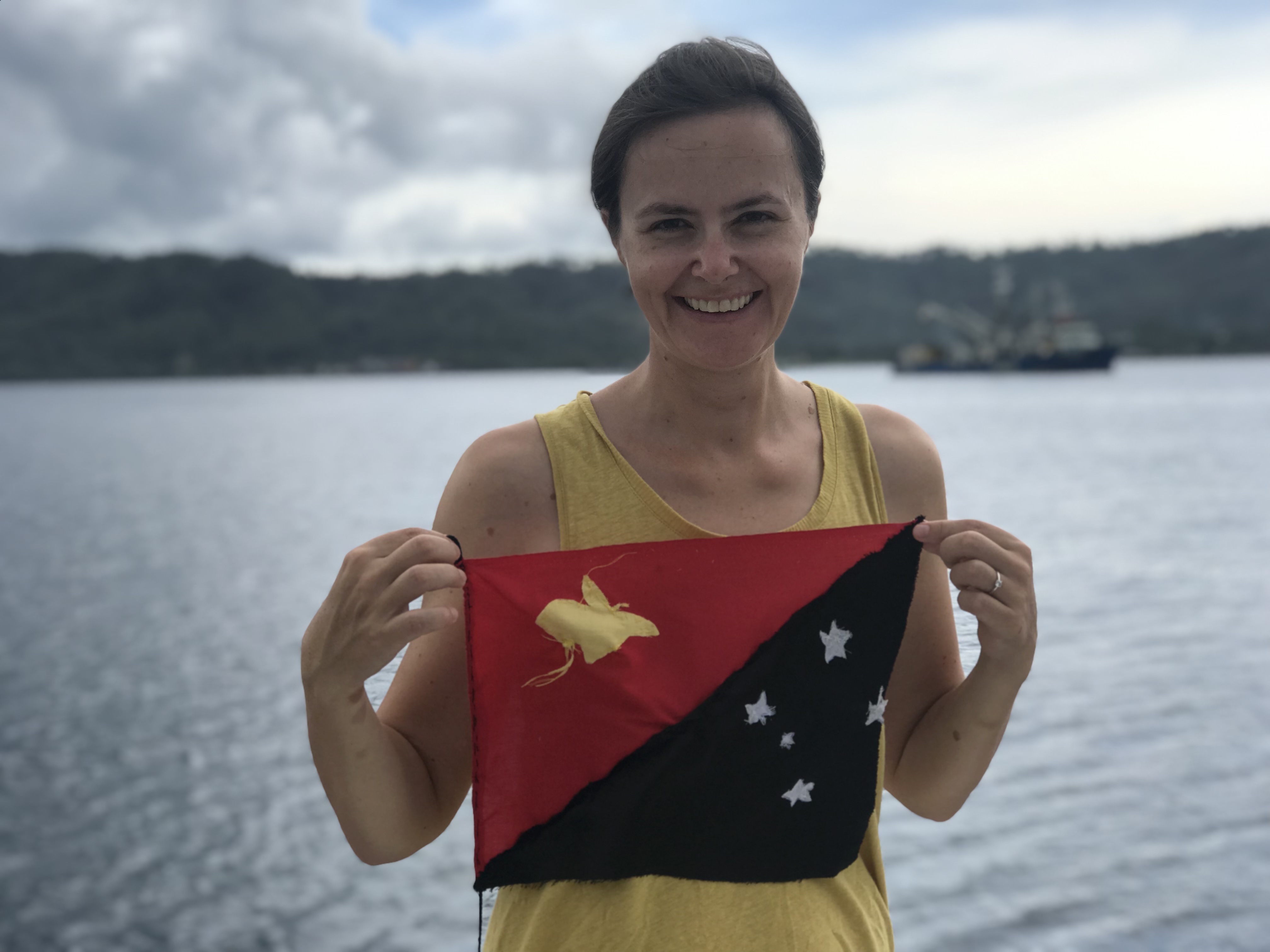 A proud creator
Just look how it flies
Rabaul is nestled right under an active volcano (and I mean RIGHT under) which last erupted in 1994, covering the entire city in ash and prompting the relocation of the provincial capital to nearby Kokopo. There were random waves in the harbour due to frequent volcano related earthquakes but as one of the locals told us, they don't get out of bed for anything below 7.5. So we didn't either. Rabaul is a rather quiet town with a market, few supermarkets and minibuses ferrying people around for next to nothing.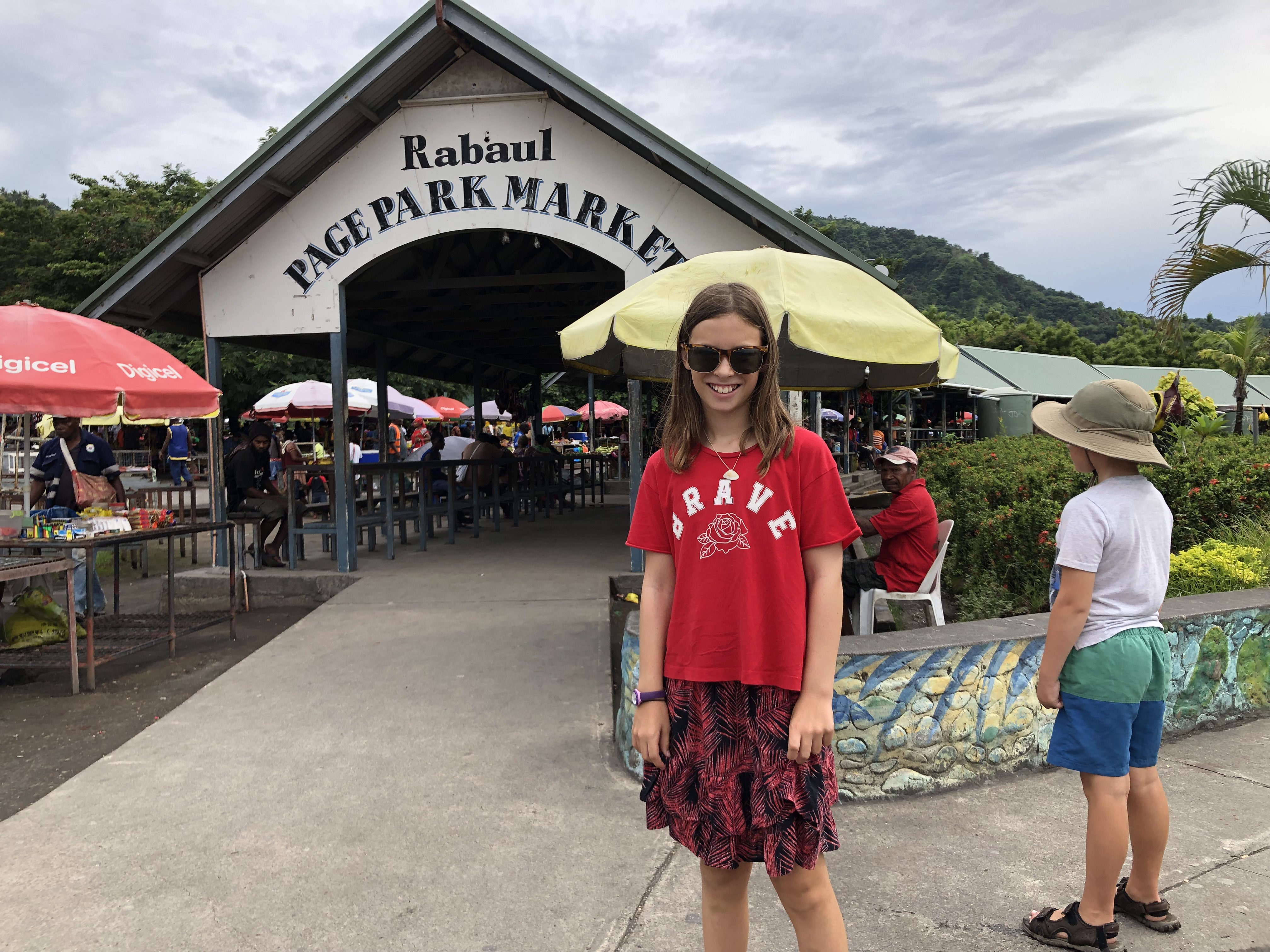 Rabaul market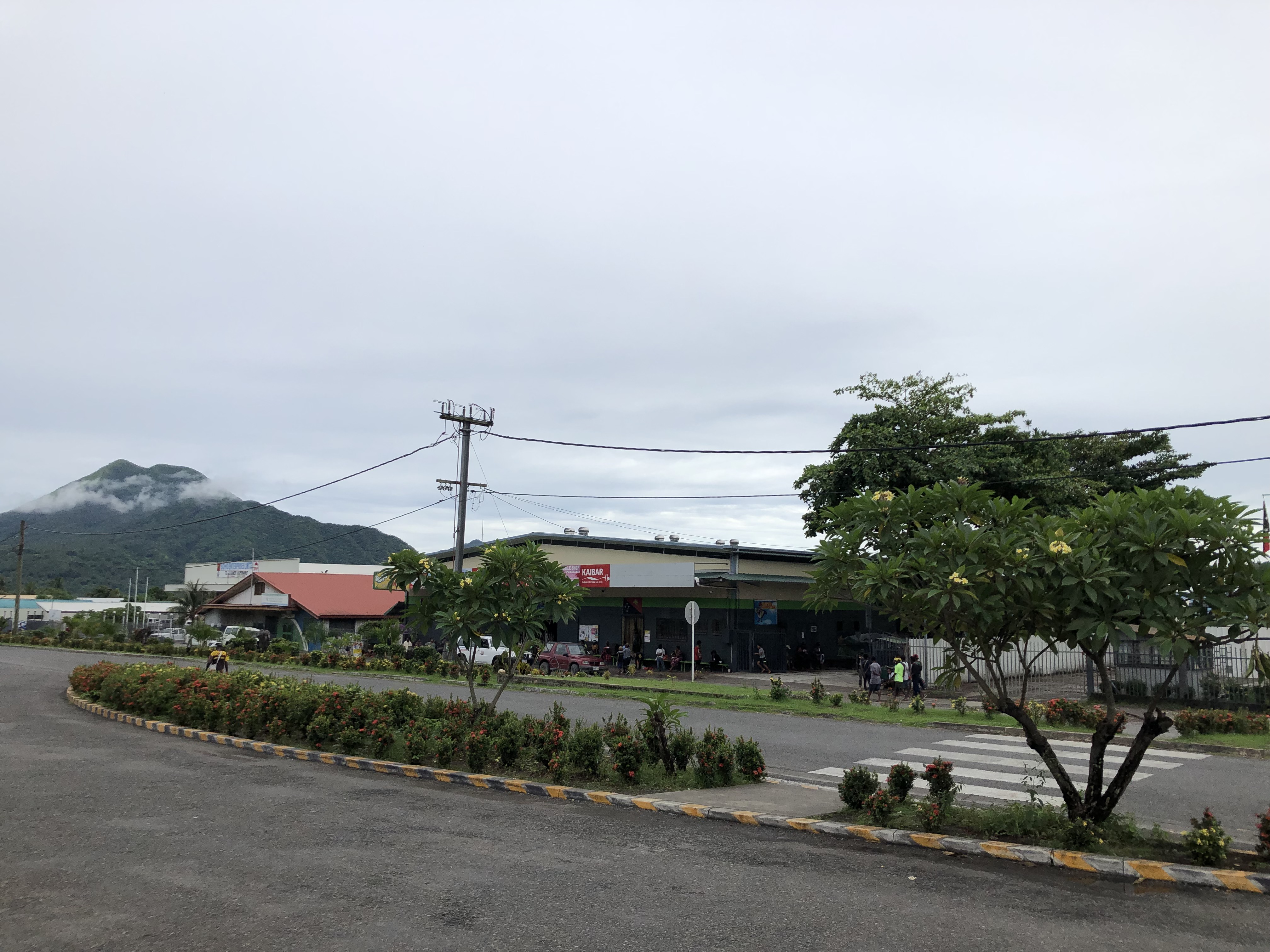 Downtown Rabaul - spot the volcano
It is famous for its WWII relics none of which we saw due to the heat. One day some locals tried to take us to the hot springs next to the volcano but I am embarrassed to say we turned them down. My general feeling about volcanos and hot springs is that they should not be visited near the equator unless you are actually looking to be boiled alive. So there.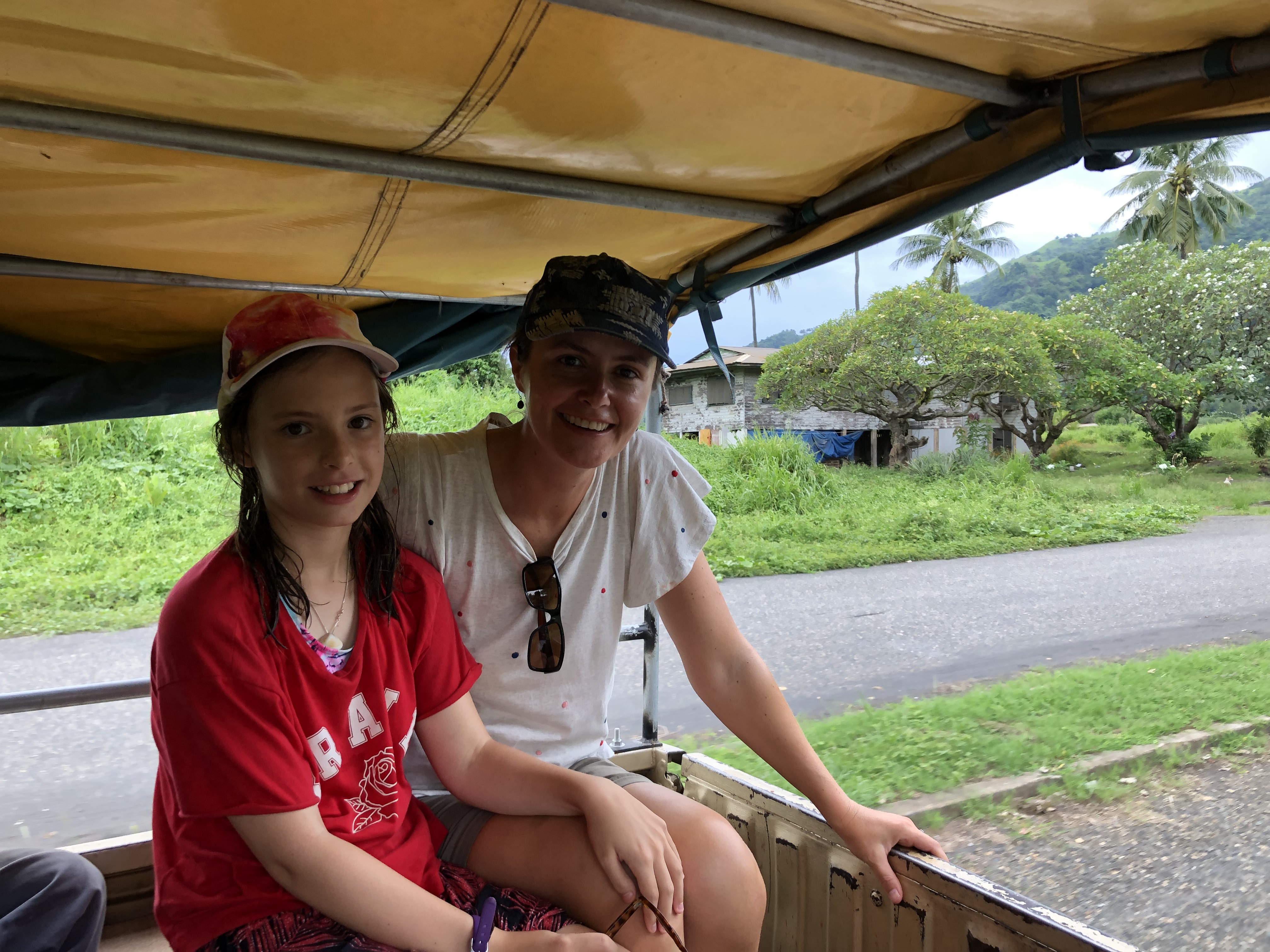 A kind family gives us a lift back from the pool
On a serious note, many people we spoke to had visited the volcano (even climbed it), hot springs and WWII relics with positive results so please go and see them if you happen to come this way. We were just not up for it at the time (and the tour we had organised also fell through).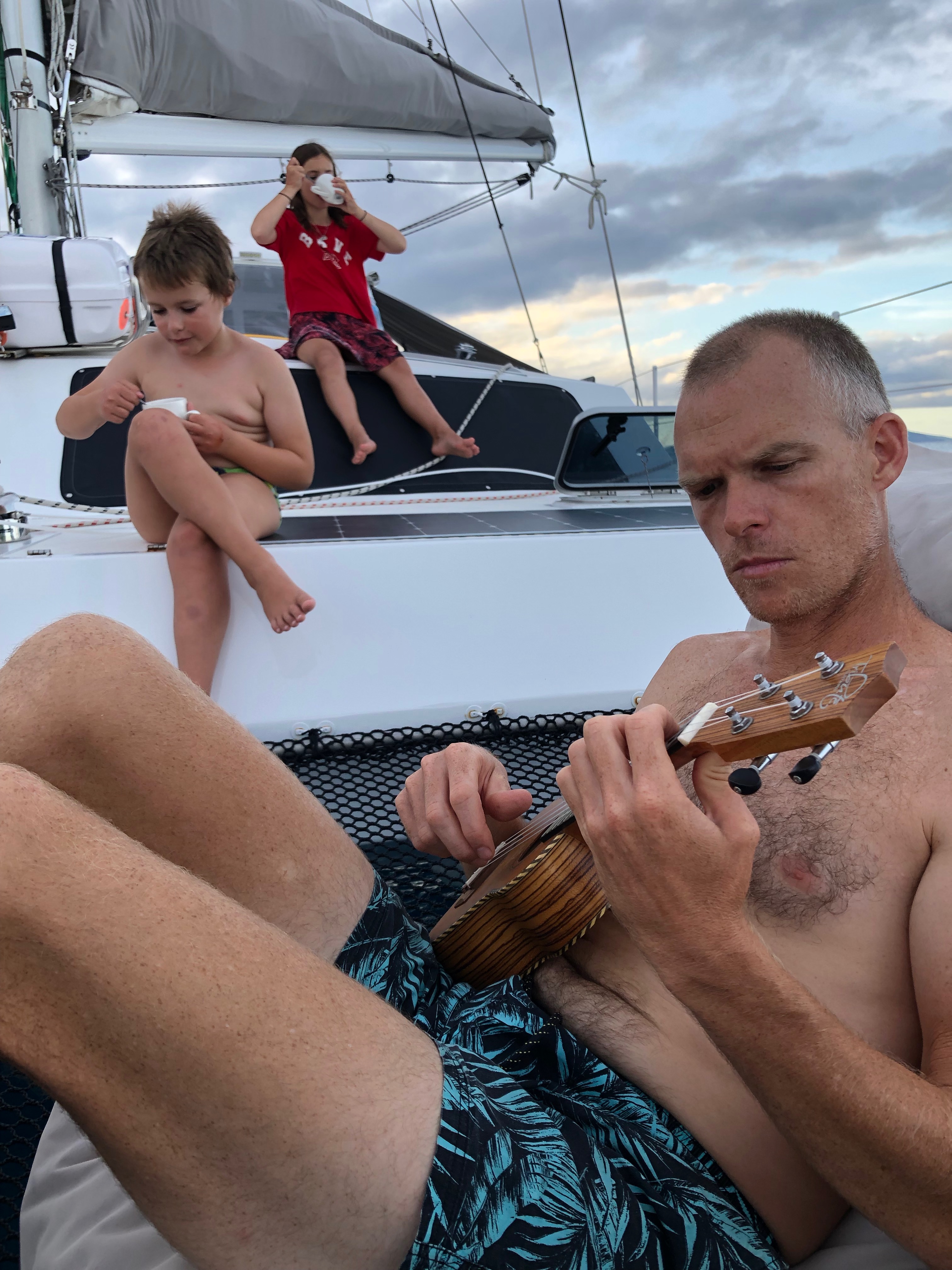 A typical afternoon
After a week, we moved to nearby Kokopo to anchor just outside of Rapopo Resort.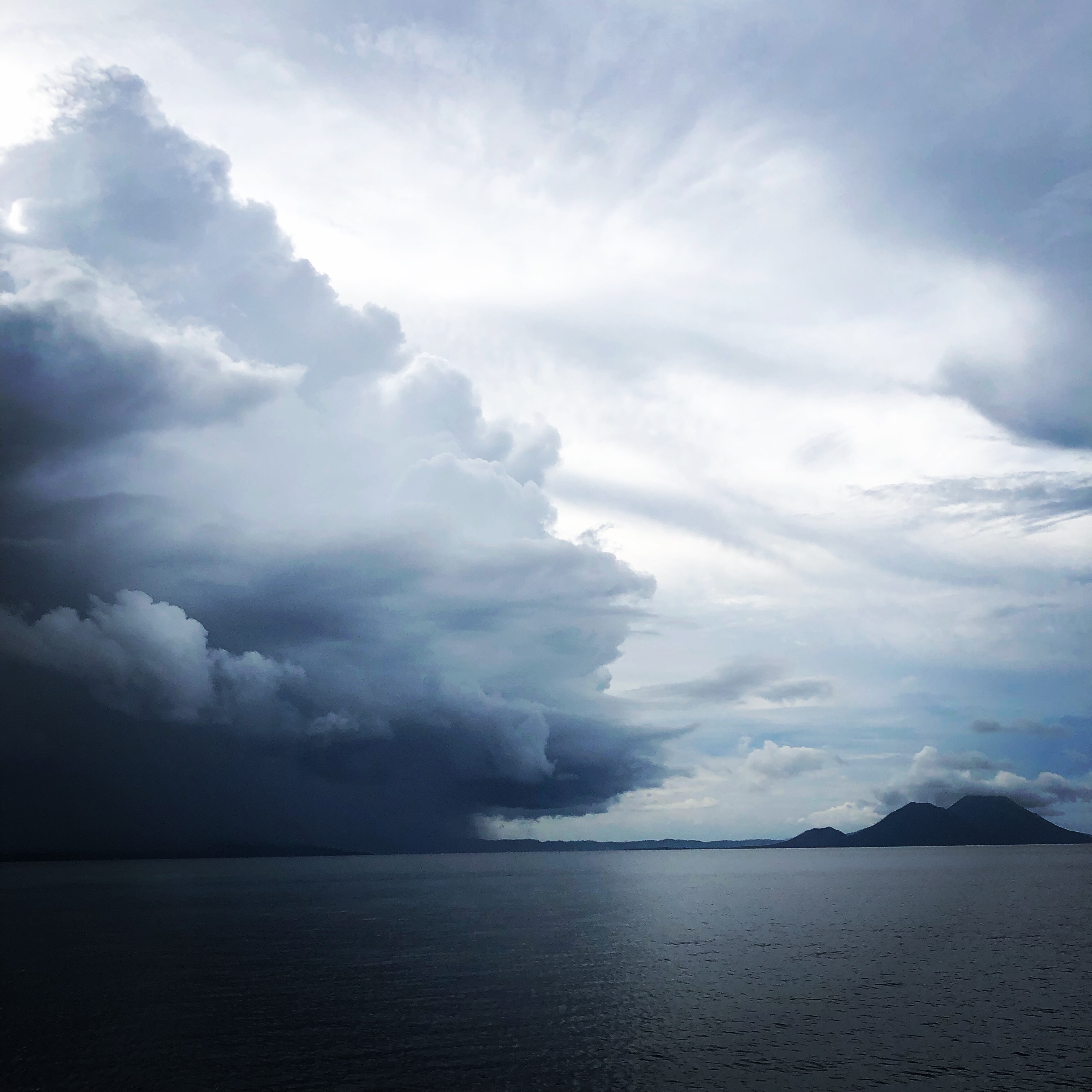 Cloud vs volcano in Kokopo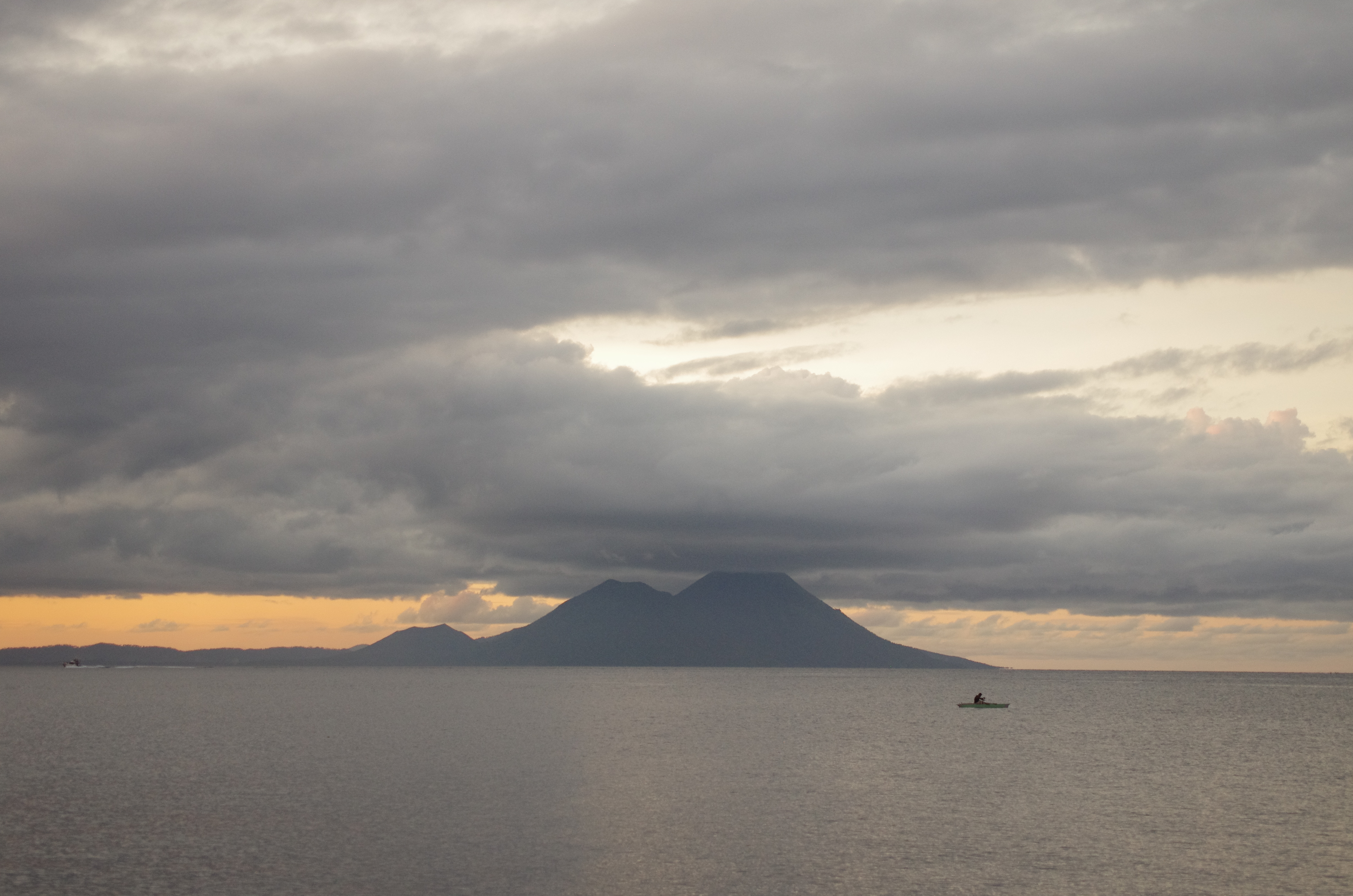 The many faces of the volcano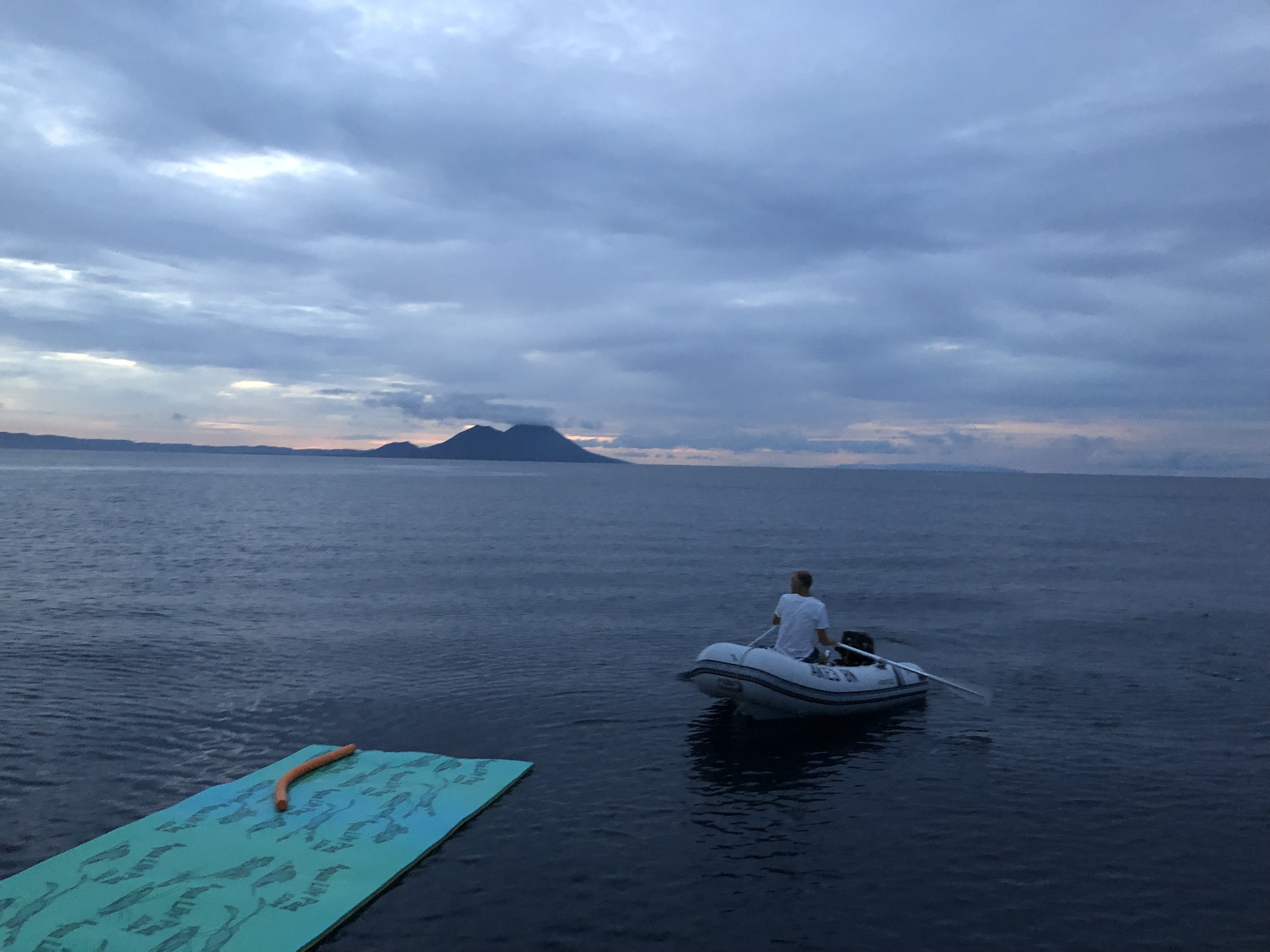 And so on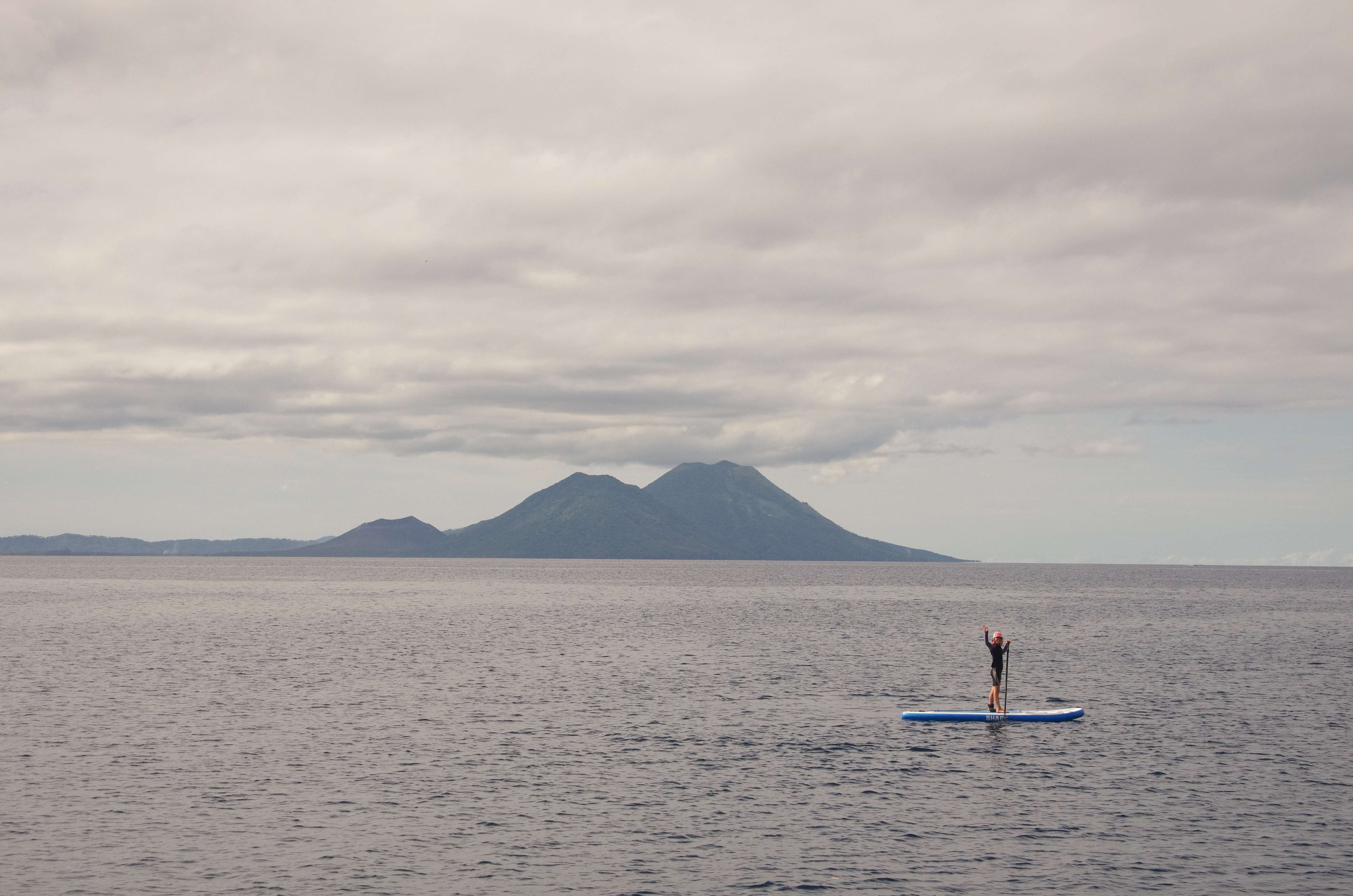 And so forth
Immediately we wished we'd come here sooner. The view of the volcano was much nicer, the people at the resort were super friendly and helpful and the the town itself looked more interesting with a tempting and well organised market to explore.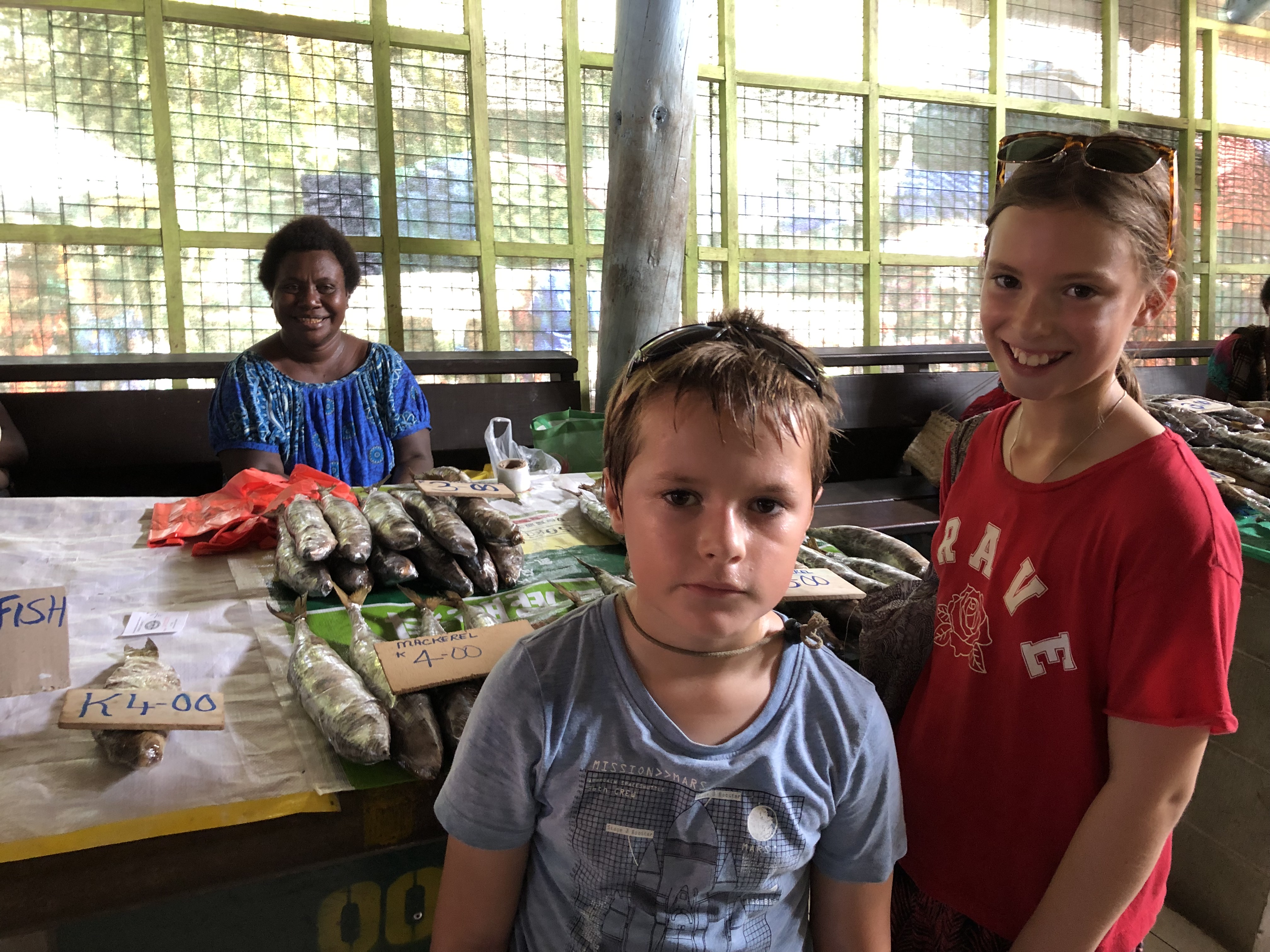 Smoked fish at the market fails to excite Jake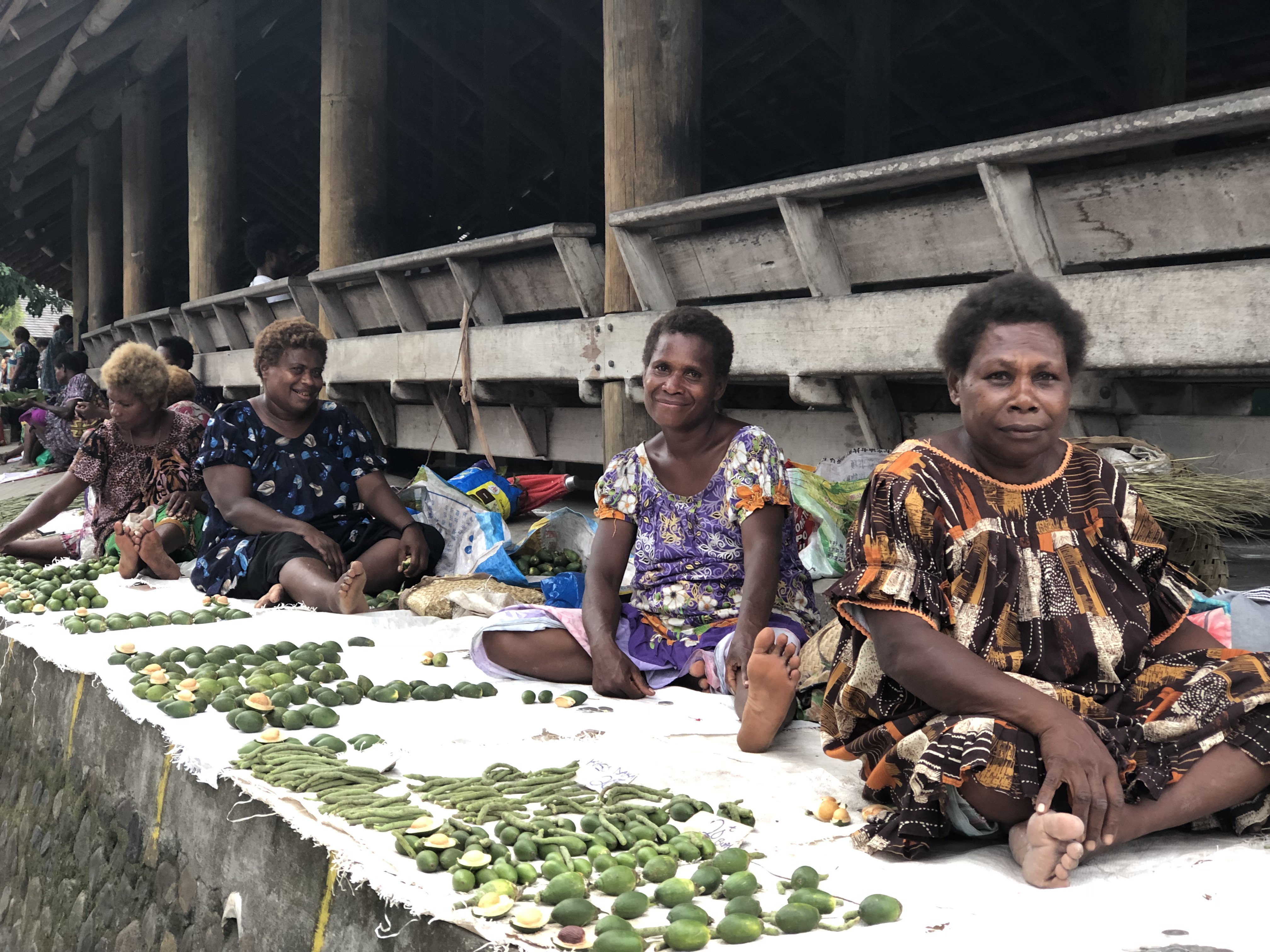 Very friendly beetle nut sellers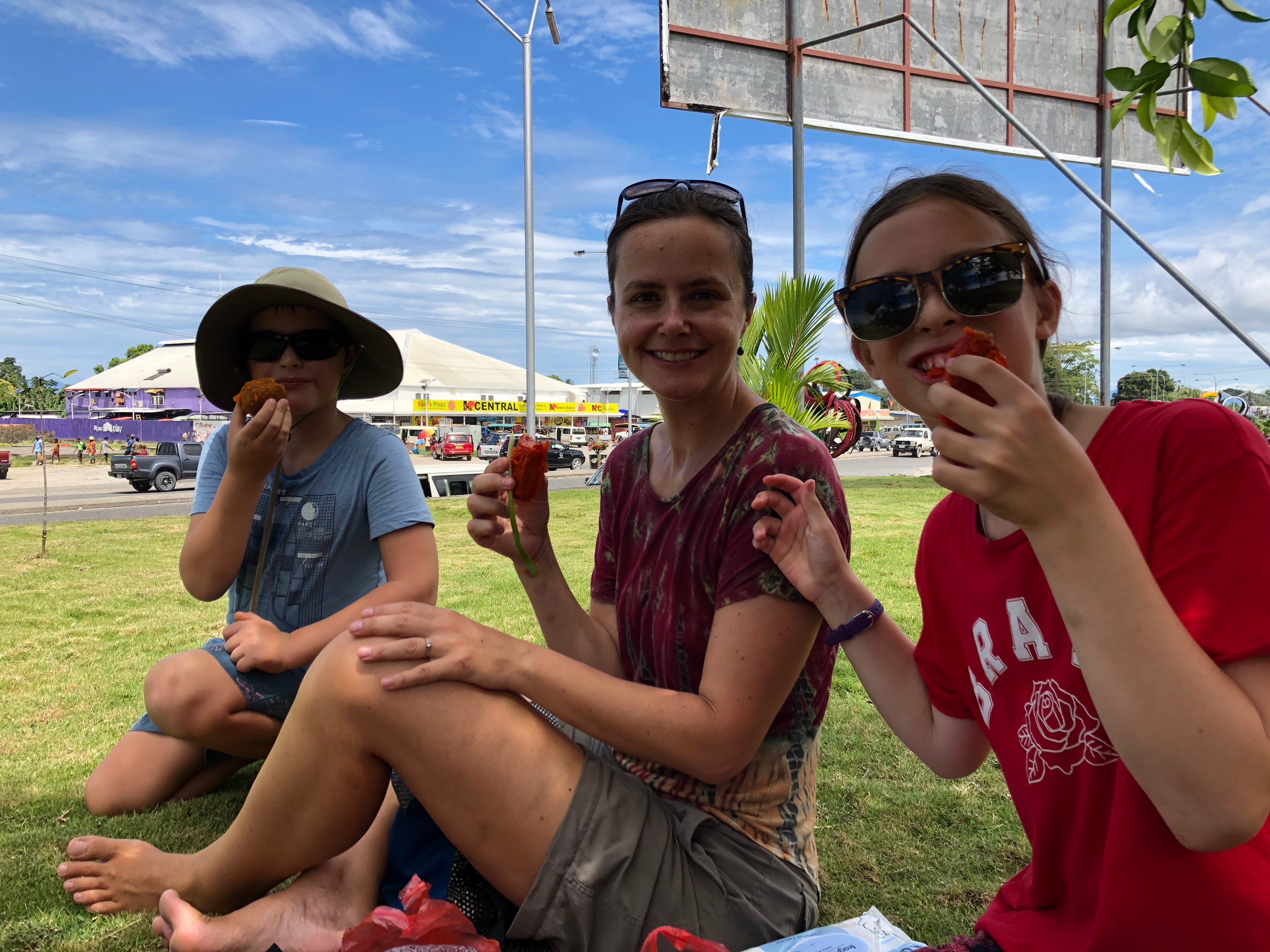 Fried sausages
Decorations around the bus stop
Here we met Family Circus, a Canadian boat with actual kids! Our excitement was boundless. We also explored the very interesting museum with WW2 relics resting peacefully in a tropical garden setting.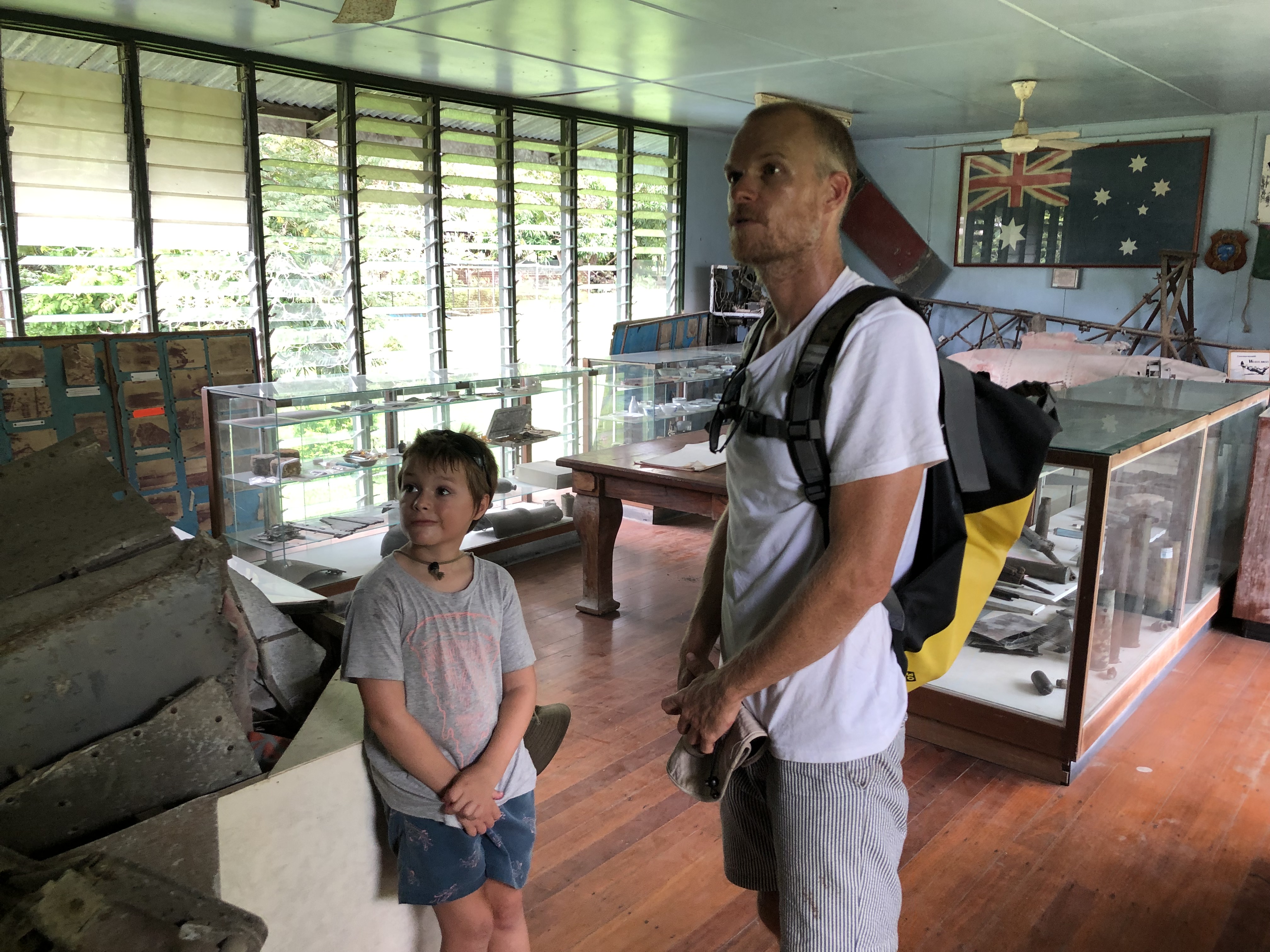 Graham and Jake checking out the remnants of a plane below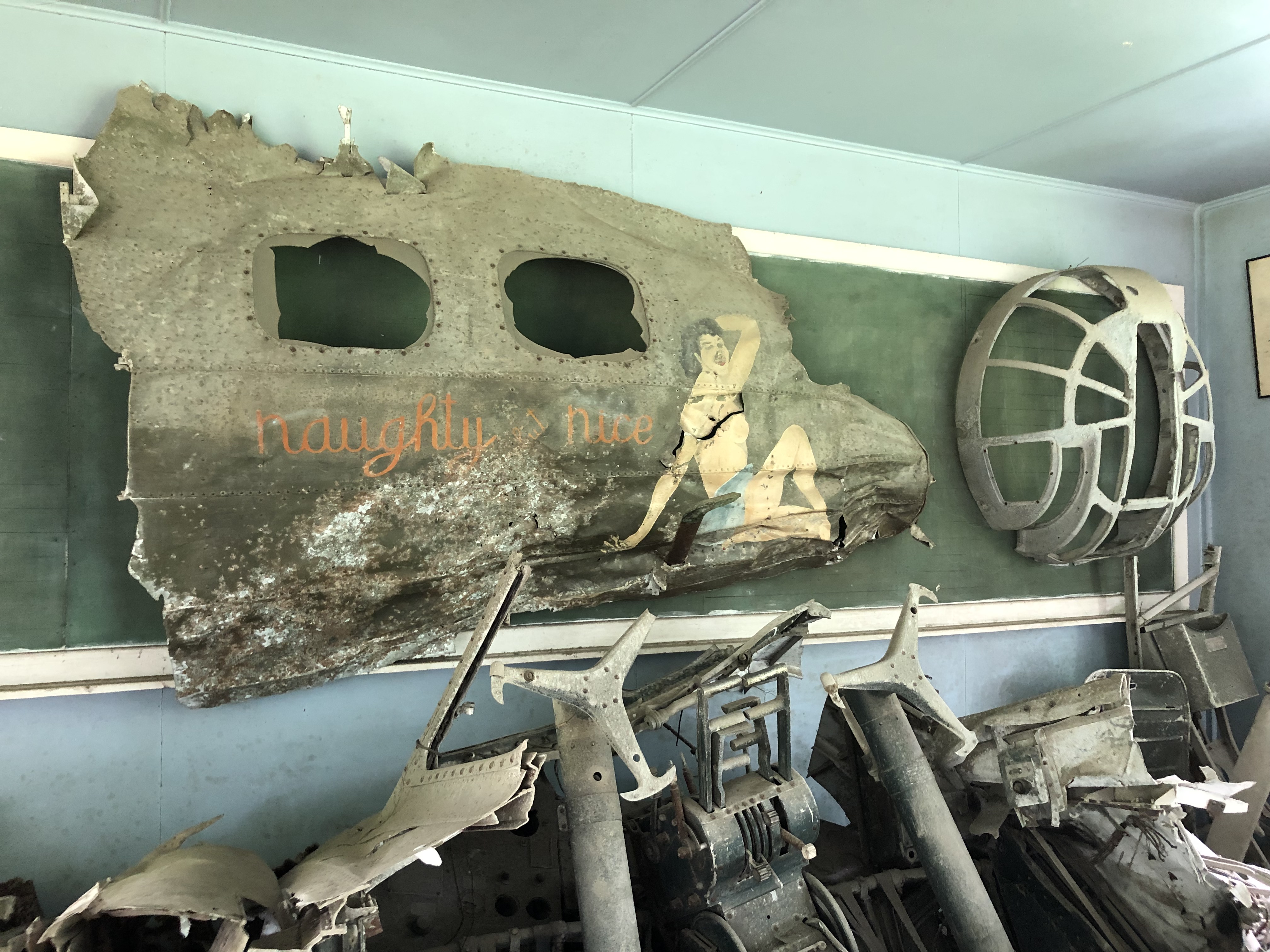 The plane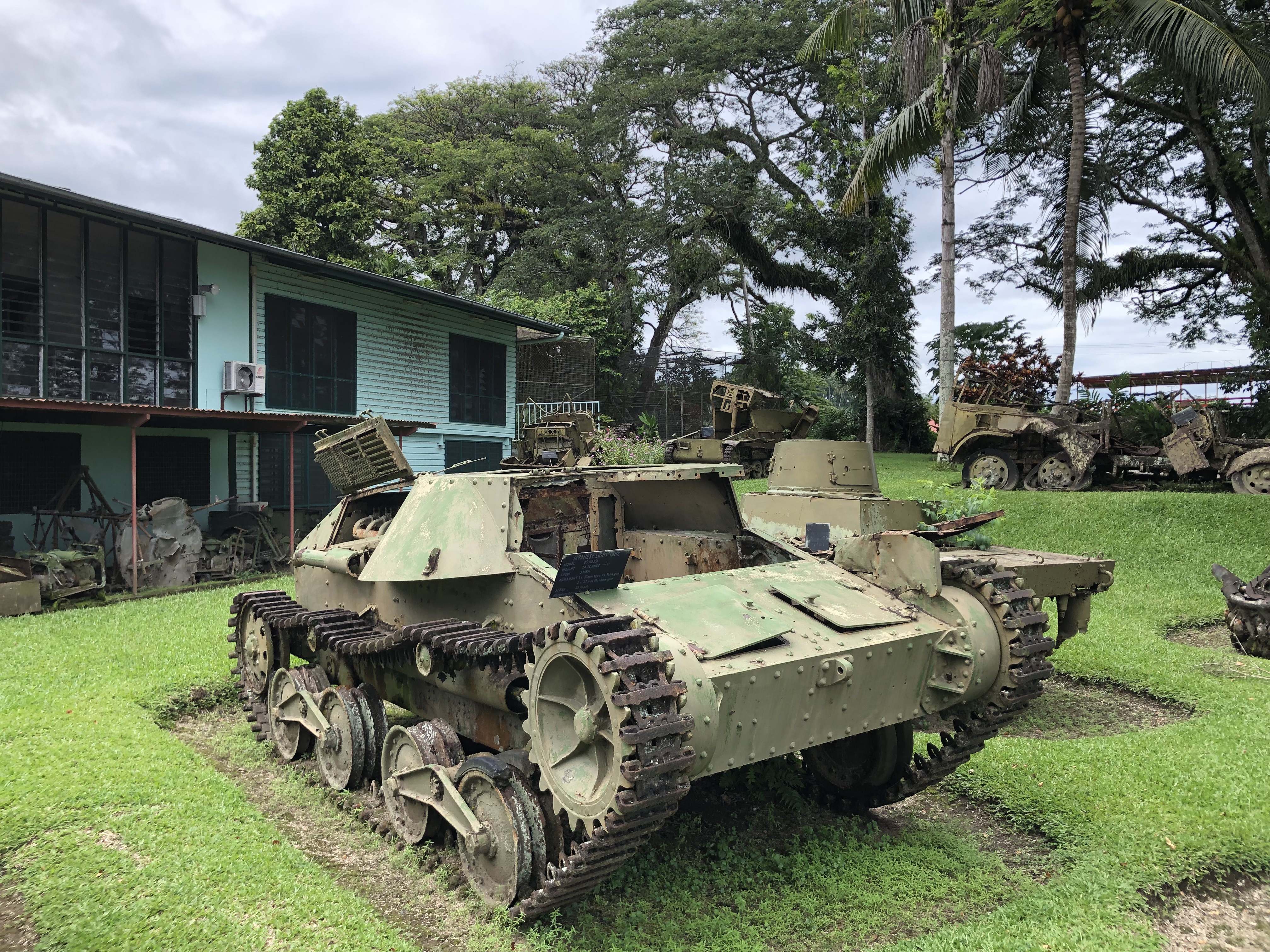 War machinery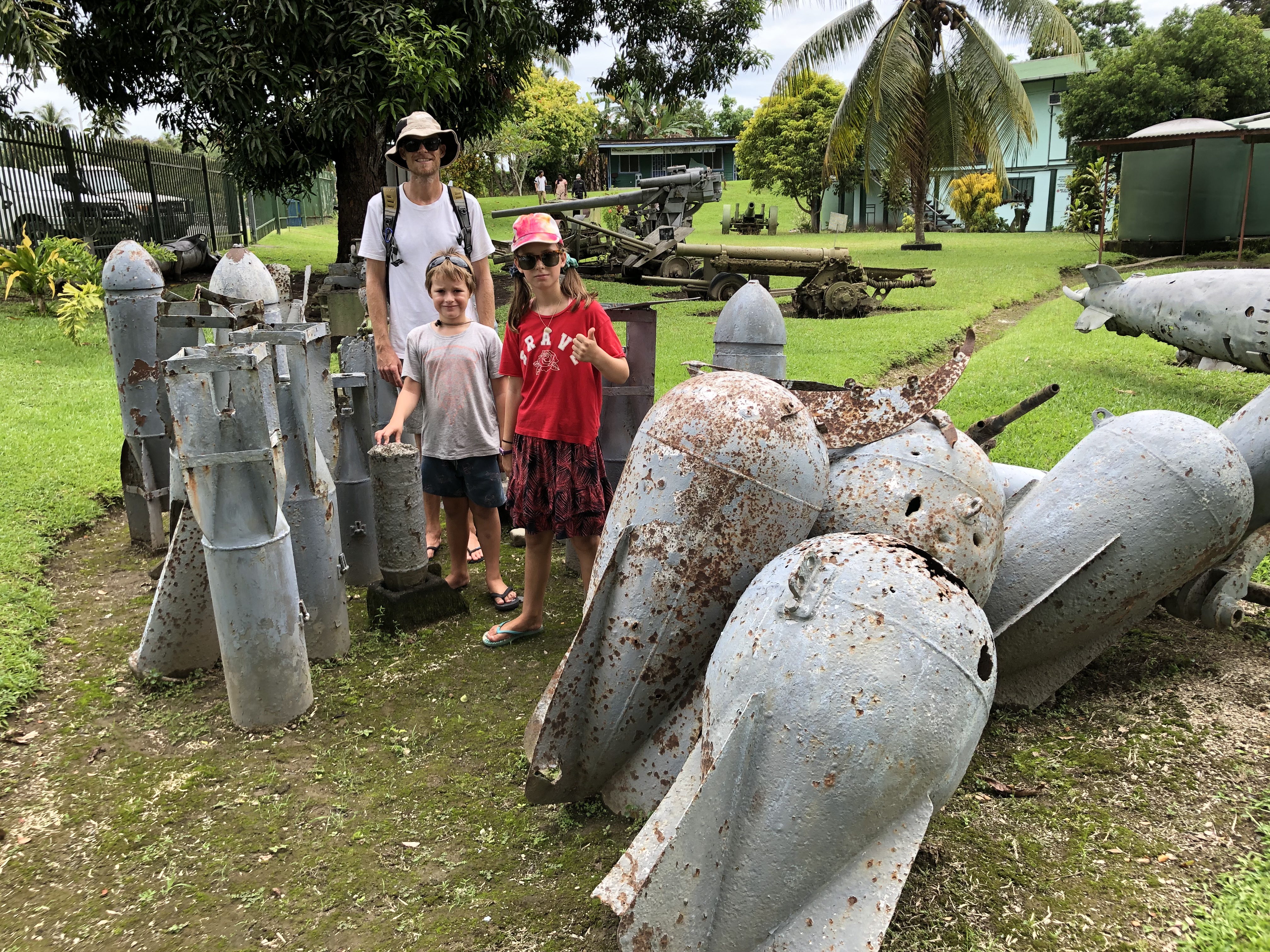 Posing among arsenal - doesn't everyone?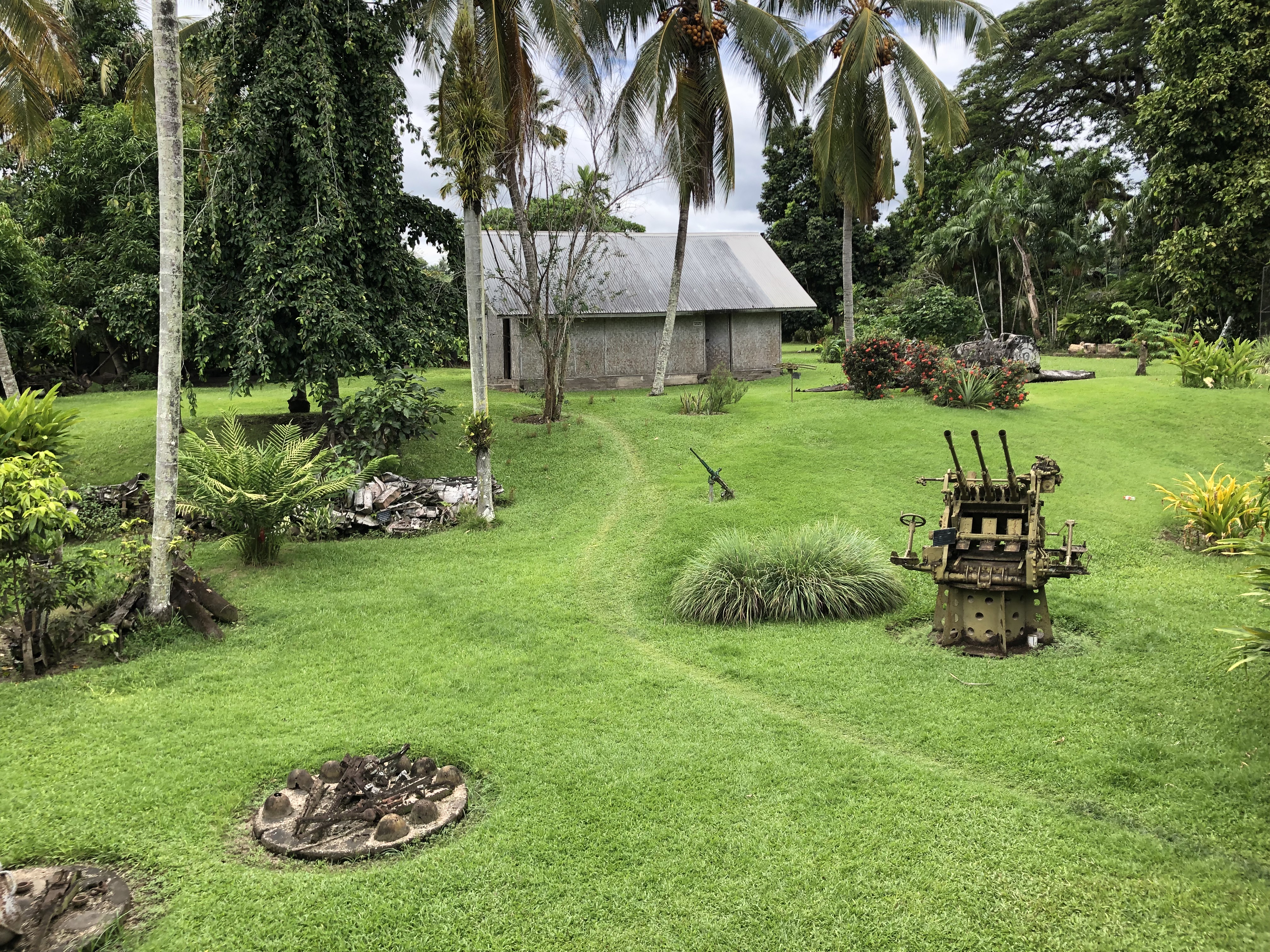 Beautiful gardens at Kokopo museum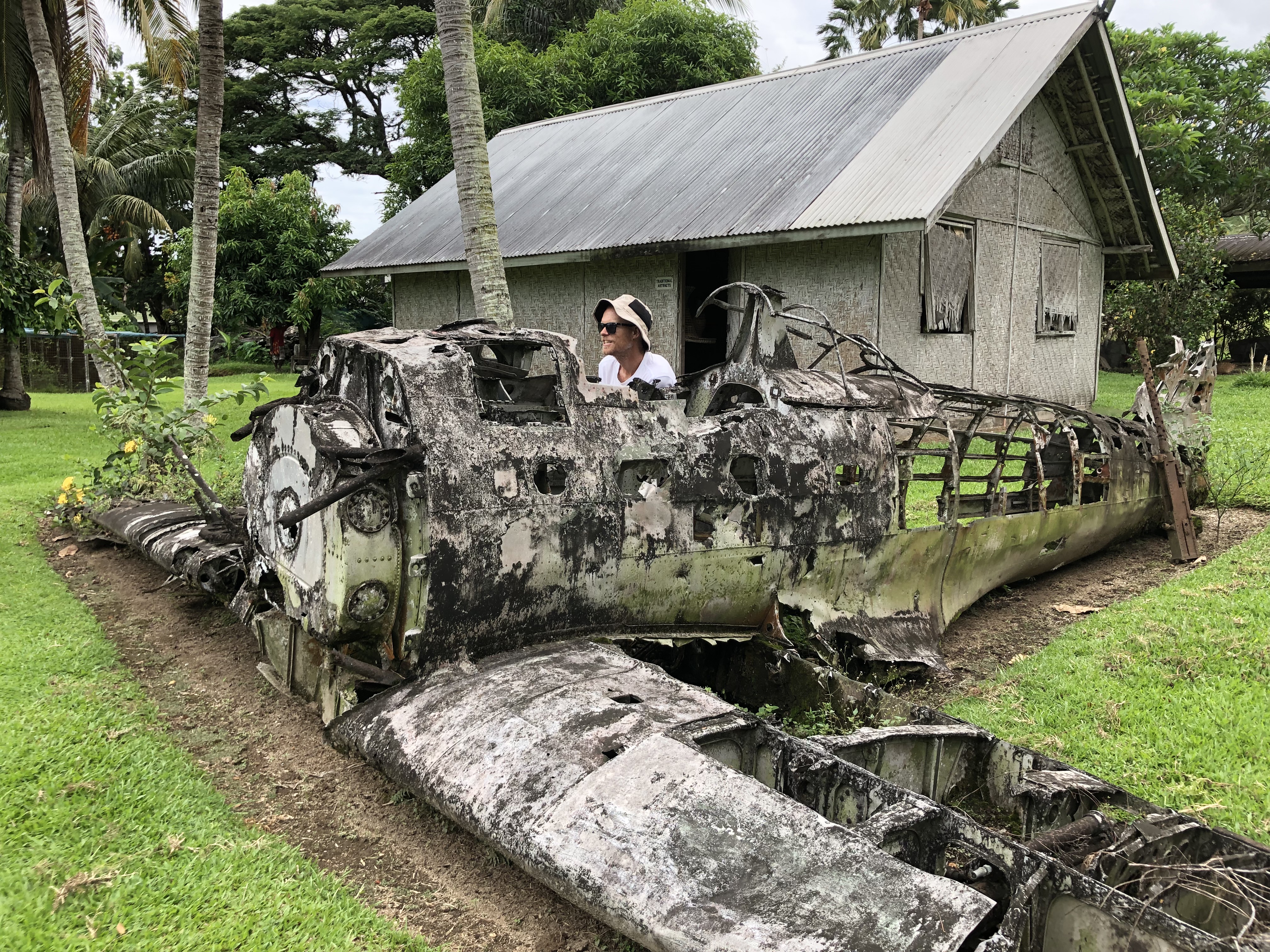 Graham finally gets to be a pilot
We sailed to Kavieng on New Ireland next, but you'll have to read about that in the next chapter.
Cruising Notes:
We anchored right outside of Rabaul Yacht Club and Rapopo Resort in Kokopo, no issues with either. I had read some blogs advising against anchoring due to rubbish and sunken objects but we and other boats there at the same time all anchored with no issues. Also, we felt very safe outside of Rapopo - no safety issues were experienced and we never locked up. That's not to say it's always safe, just that we had no issues. The yacht club provided some facilities, like water (we didn't use it), rubbish drop off, wifi (although this was hard to come by), dingy dock access and very expensive beer from the bar. They slapped us with a freshly cooked up '12 month facilities' charge of 200 Kina for using their dingy dock and said facilities (about $100 AUS). After some words with the treasurer, they halved the charge to 100 Kina for 3 months. The main argument seemed to be that we should pay for the privilege of drinking at their very expensive bar. In the end we stopped arguing and just gave them 50 Kina when we left as we did use the dingy dock. Rob is a helpful club member and also a history buff. He was happy to help with information about local history, orientation and other common cruiser questions. The yacht club just needs to tweak that charge to something more reasonable and work on the delivery.