Blissfully unaware of the impending doom, we sail west from Papua as planned - destination Spice islands roughly 400 miles away.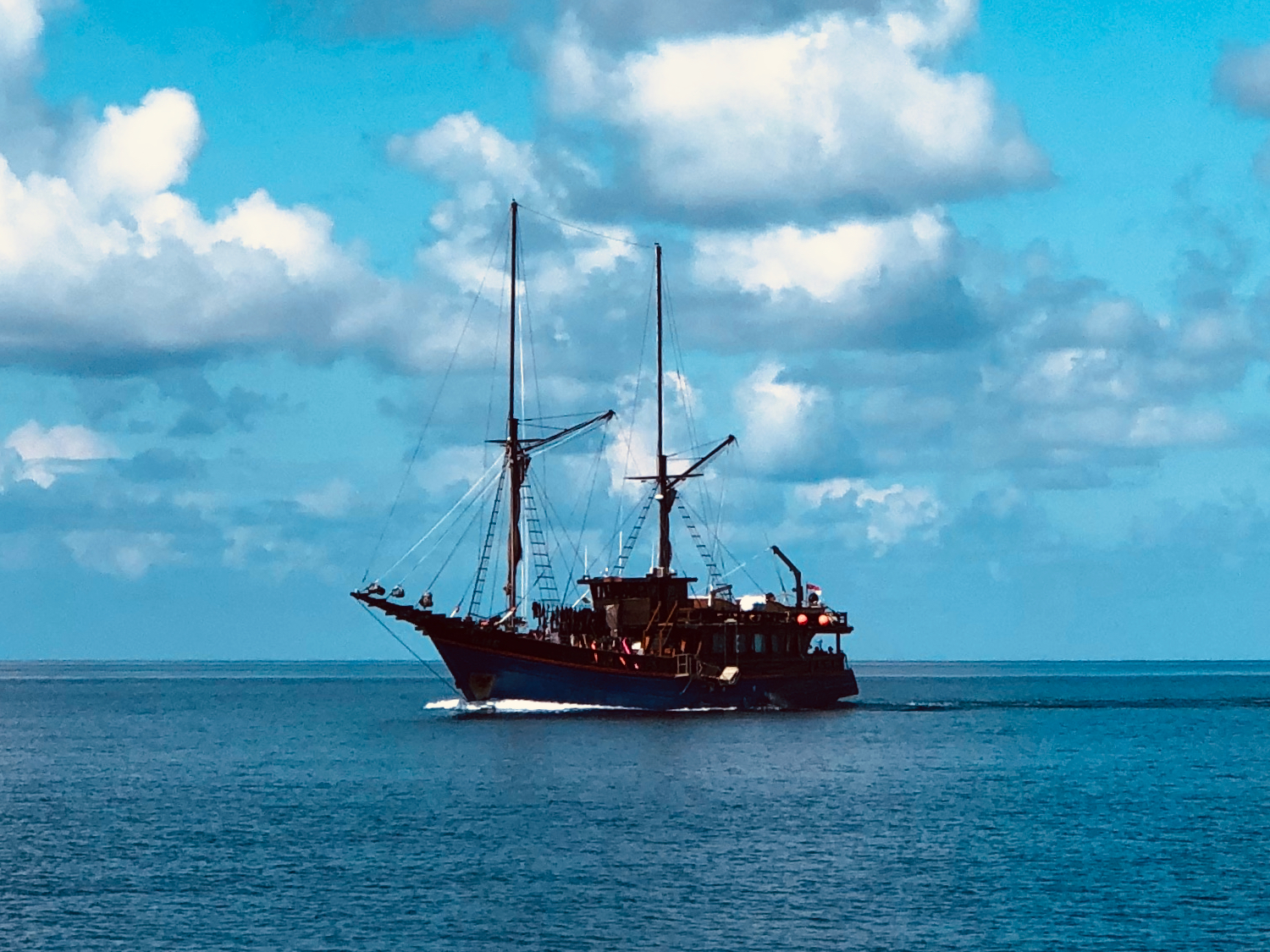 A passing 'live-aboard' ship
We enjoy the calmest four day passage we've ever had with sunrises and sunsets over glassy seas and curious sea creatures our only company.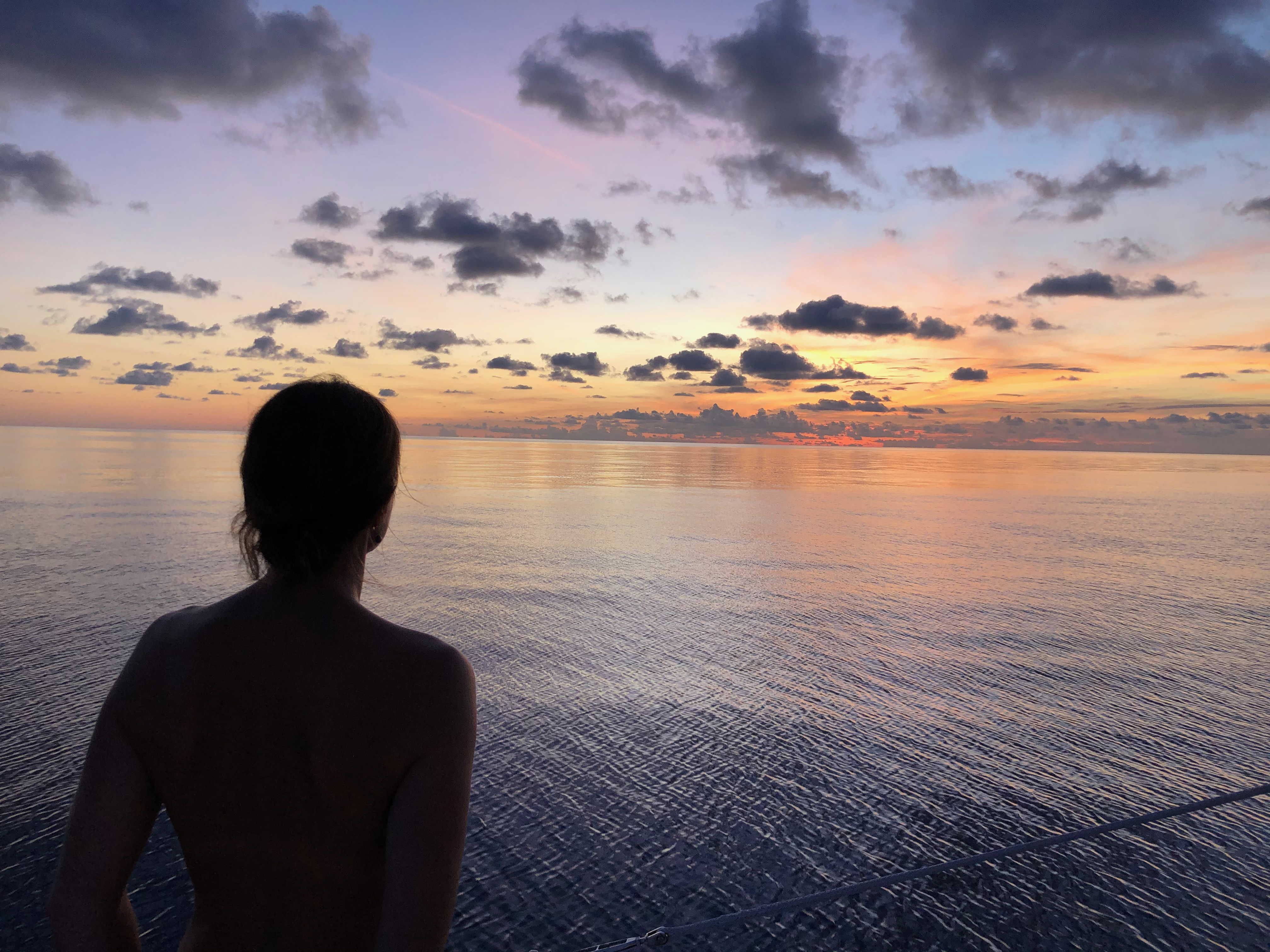 My calm sea meditation
Seeing the blazing night sky illuminate the calm seas at night is cause for some serious disorientation. On nights like these, it's hard to see where the sky ends and the sea begins.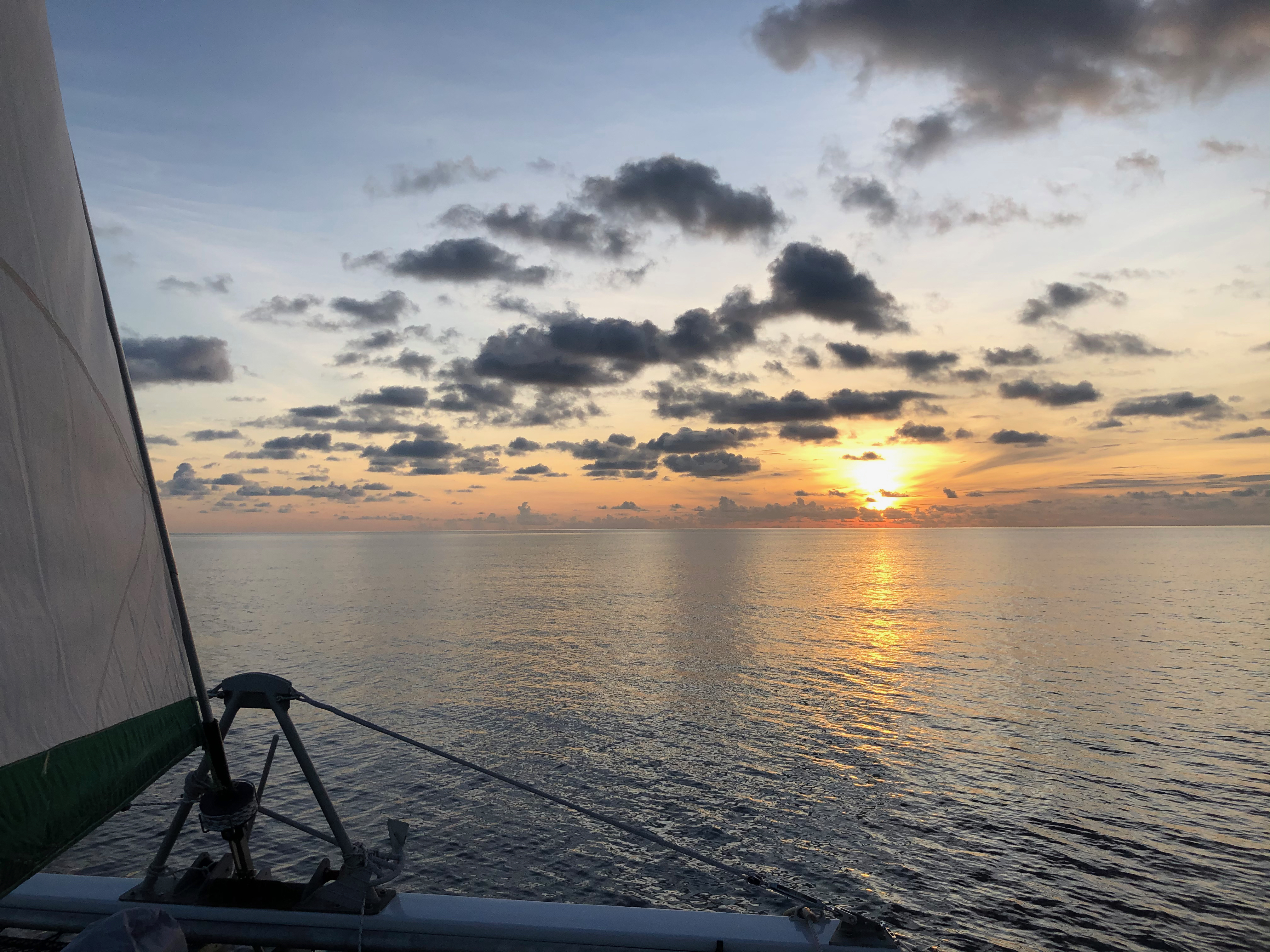 Still calm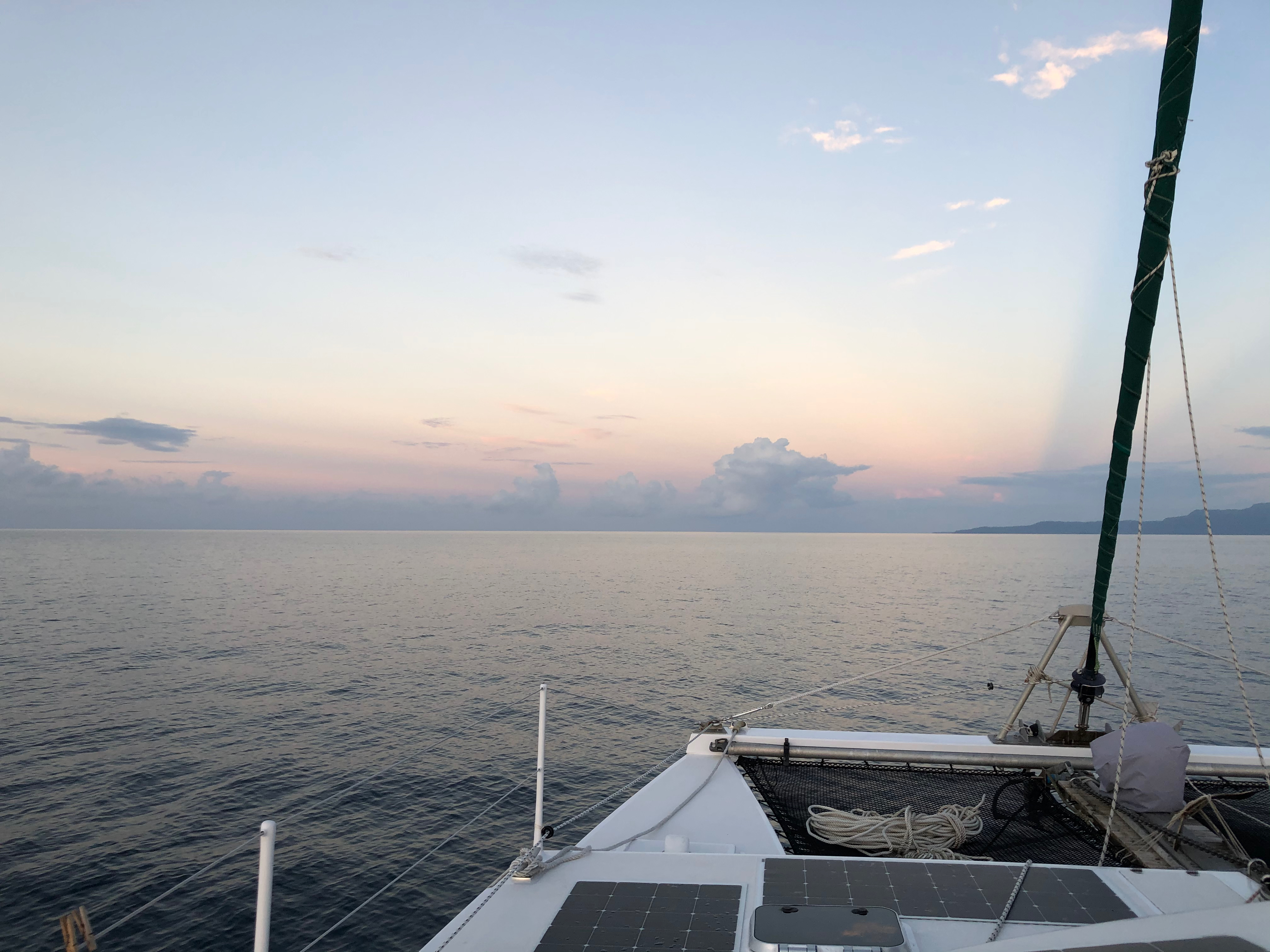 Sunrise
We arrive in Banda early in the morning on day five feeling relatively well rested and eager to explore this new region.
Banda encompasses a group of 10 volcanic islands in the Banda sea with an interesting but violent colonial history thanks to that potent combination of Euro colonial greed and non-Euro resources. In Banda's case, the resource came in the form of the humble but extremely valuable nutmeg tree.
Enter Dutch East India Company in the very early 1600s, aggressively set on exclusive trade rights to Banda's precious nutmeg, which as you can expect the local population wasn't too keen on. By the 1620s, the Dutch had killed, deported or enslaved almost 90% of Banda's native population, thus effectively maintaining the monopoly on the production and export of nutmeg from Banda for the next two hundred years. The Dutch fort of Nassau remains the dominant landmark on the island of Banda Neira to this day, surrounded by beautiful old colonial style buildings and local architecture.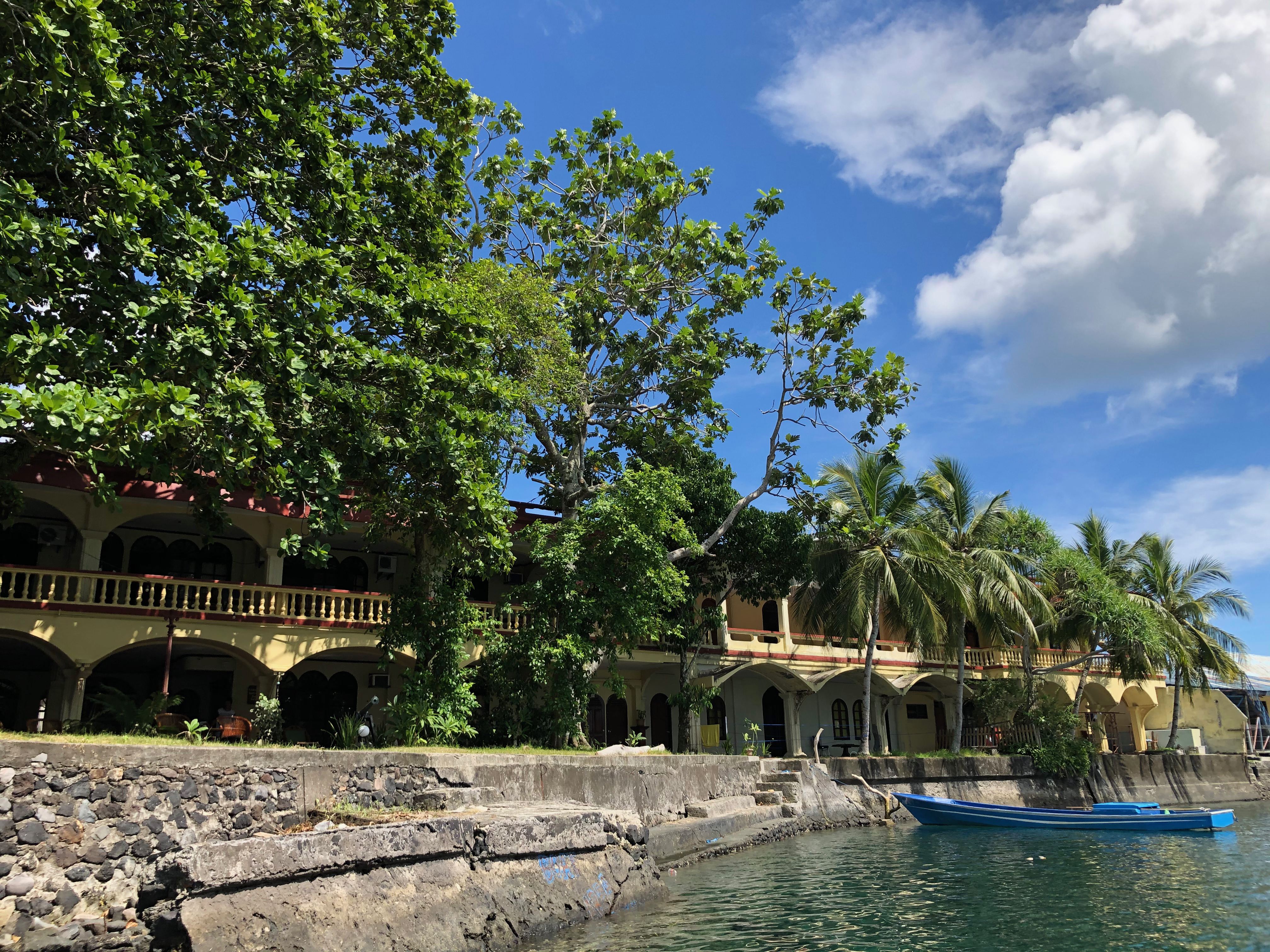 Banda Neira from the dingy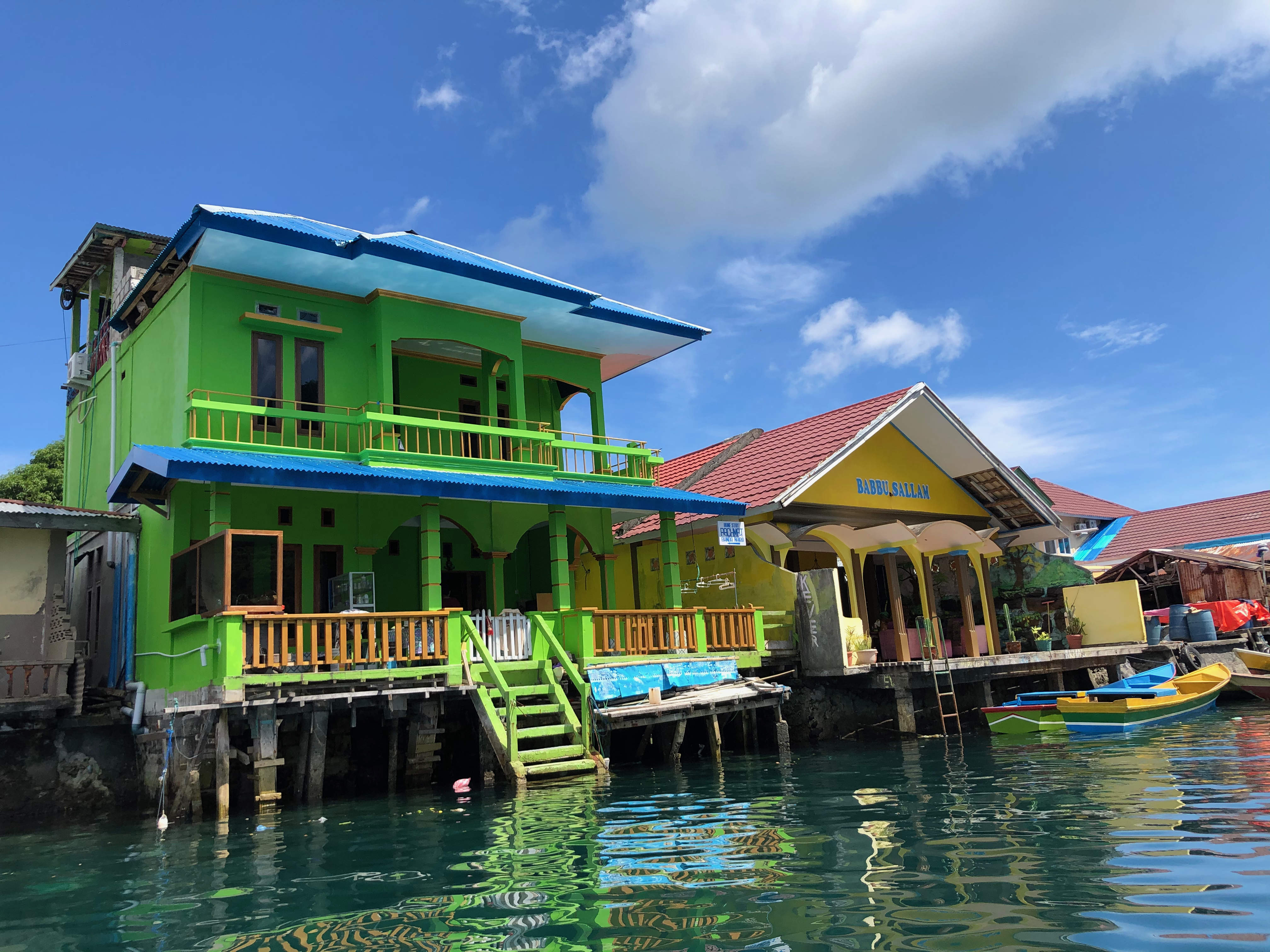 No subtle grey facades here
In addition to this vibrant history, the island group is also home to an active and (climable!) volcano, incredible snorkelling and diving and of course stunning scenery all around. In other words, possibly the most interesting place we have visited in Indonesia to date.
Even before dropping anchor however, we sense there is trouble in paradise. As we come within internet range, a Facebook post by a fellow cruiser informs us they were just asked to leave Banda. Literally as we approach, we see them sail out of the harbour. To stay out of the way, we anchor outside of the main harbour, in the shadow of a very green but also very active volcano, Banda Api. We hope this will appease the locals some.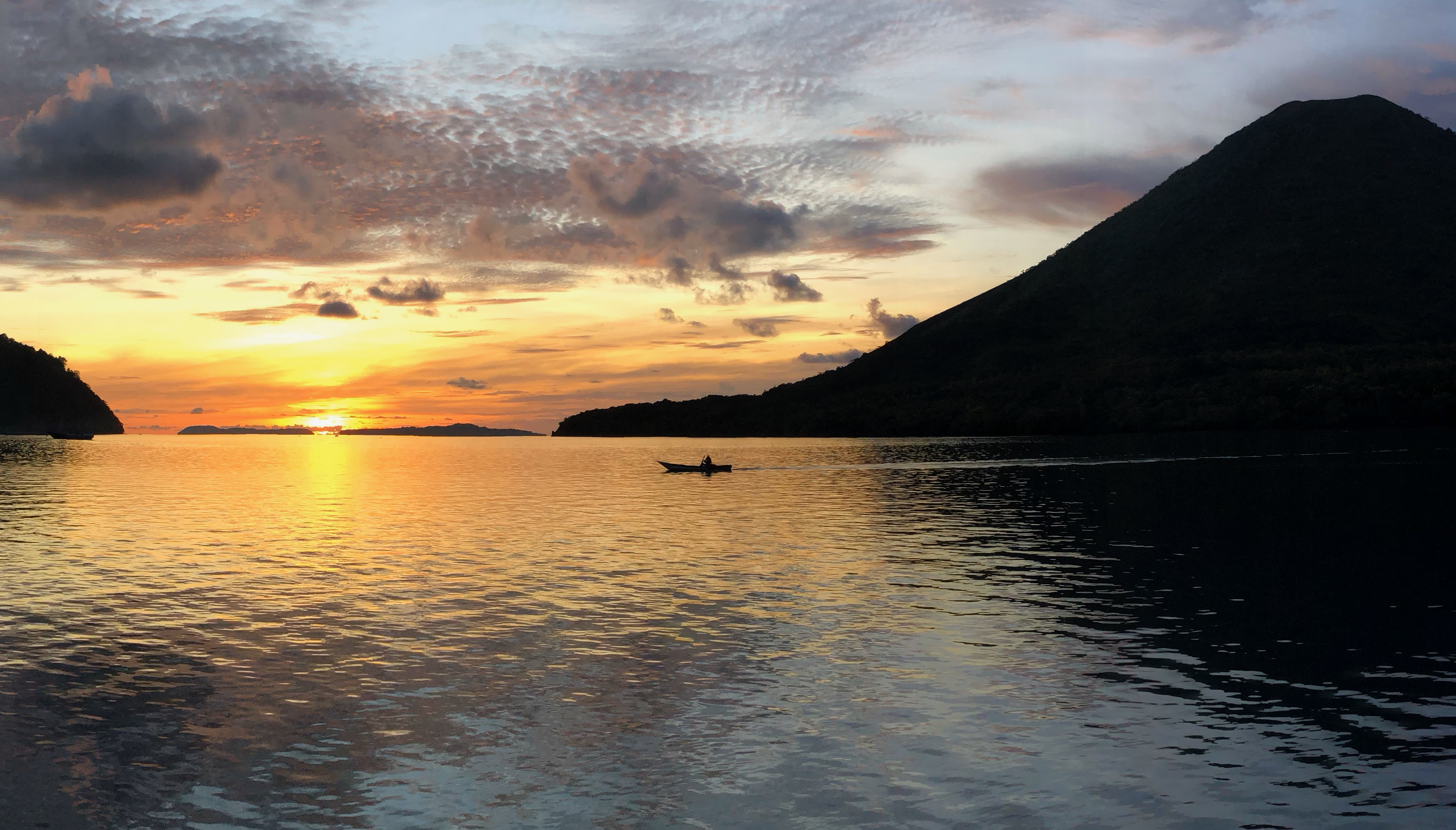 The view from our boat
Not long after, a long boat full of masked officials turns up, including a single quarantine representative who comes armed with a thermometer. They are friendly but things start off shakily - temperatures must be taken and anyone over 37 must leave immediately. Now this is not good news, after a 4 day passage we are tired and now that the prospect of weeks of self-isolation on the boat seems likely, our store of staples seem woefully inadequate. Also it is stinking hot outside with no wind and the sun scorching the boat from above. Measuring below 37 seems unlikely given the amount of sweating I am doing. This proves correct as both Jake and I score temperatures over 37 and must be re-measured. I go inside to cool down, and thankfully just scrape under on the second take.
The fact that the message from the locals is delivered kindly does not make it any more palatable - we must leave Banda Neira as soon as possible. We cannot walk into town under any circumstances, but can take the dingy around to explore, swim and snorkel. Volcano climbing is also ok - in fact we get to do this on our own when usually you have to pay a guide. A small win.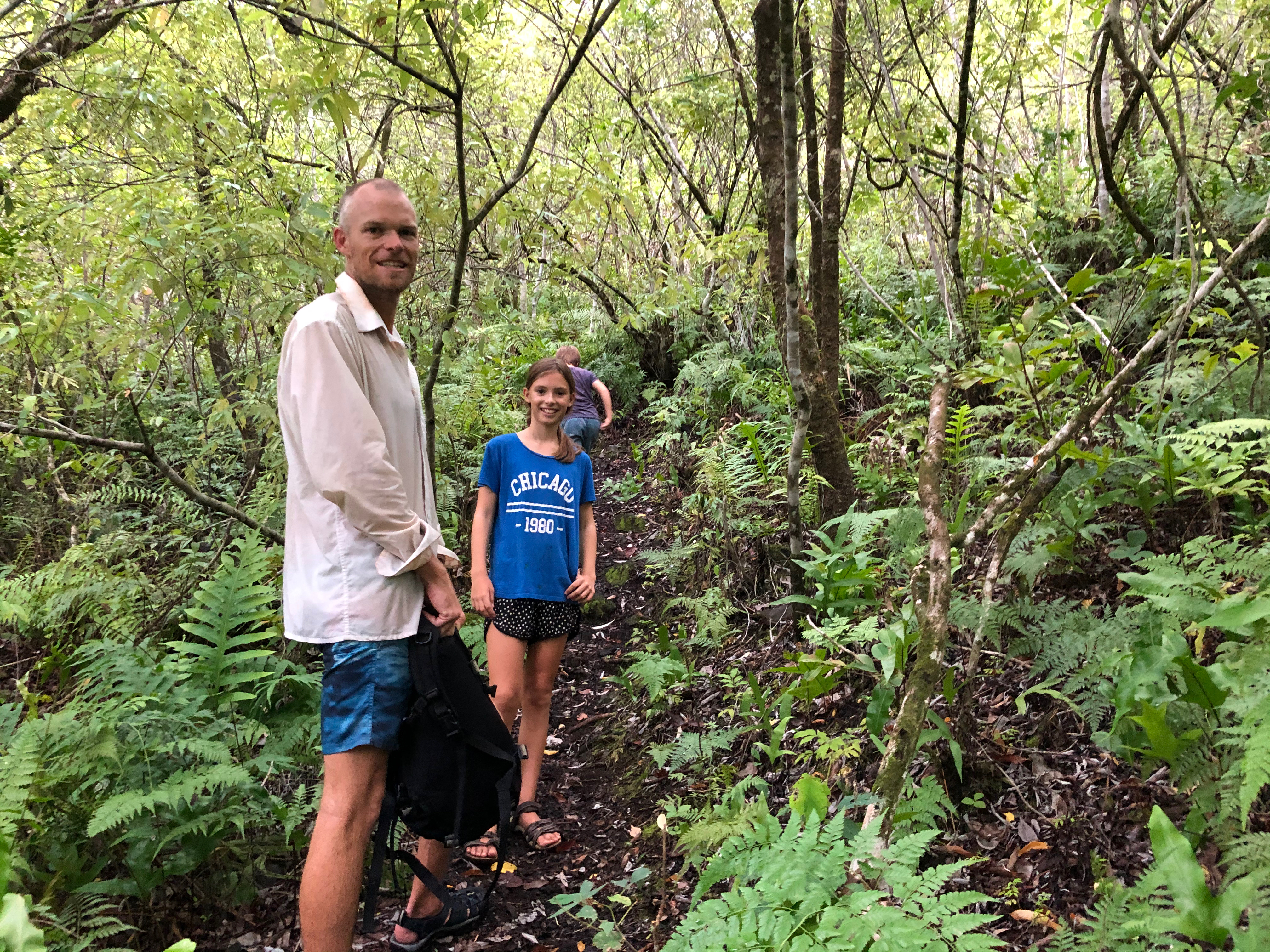 Jake acts as volcano guide instead
The locals' attitude is understandable if somewhat illogical. Huge ferries are still arriving in Banda, we see tens of Indonesians disembarking almost daily. It is only foreigners who are believed to have the virus and are not allowed off. Dwelling on this fact however is pointless, this is early days in the Covid-19 timeline, with the Indonesian president disputing the presence of the virus in Indonesia, making foreigners the natural target of suspicion. In a region with limited healthcare, it's hardly surprising people would be scared.
Even if we could negotiate a longer stay, no one wants to feel like an uninvited party guest discovered crashing a party, especially if the host and all other guests see you as a bio-hazard. So we agree to leave - conditional on our provisioning and laundry (priorities!) being completed. The local business owner Abba acts as the mediator and helps us with every request we make. Abba is apologetic about the situation and wants to assist but there is little he can do when the whole town wants us gone. We make a shopping list for Abba's wife who offers to go to the markets on our behalf. My list is in Bahasa, proudly showing off my famous language skills, that's until Jake starts laughing asking why I have ordered 1kg of cat? In my defence, cat and peanut sound very similar in Bahasa. I still wonder what I would have received if he hadn't picked this up. Abba's wife spends a whole day shopping for us and another family does our laundry. We spend a day climbing the volcano enjoying the most luscious vegetation on the way up - ferns as far as the eye can see. I love ferns.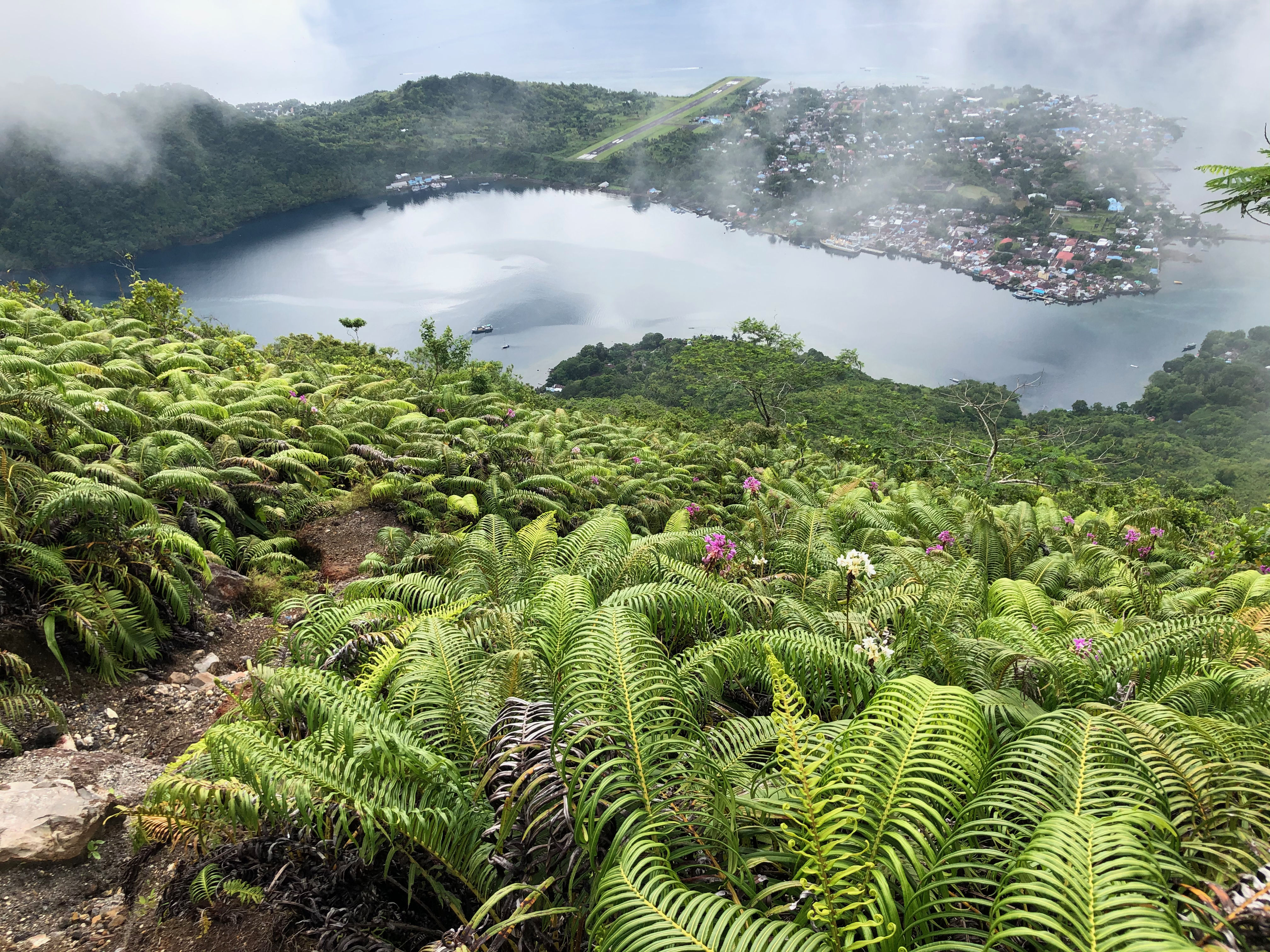 Fern central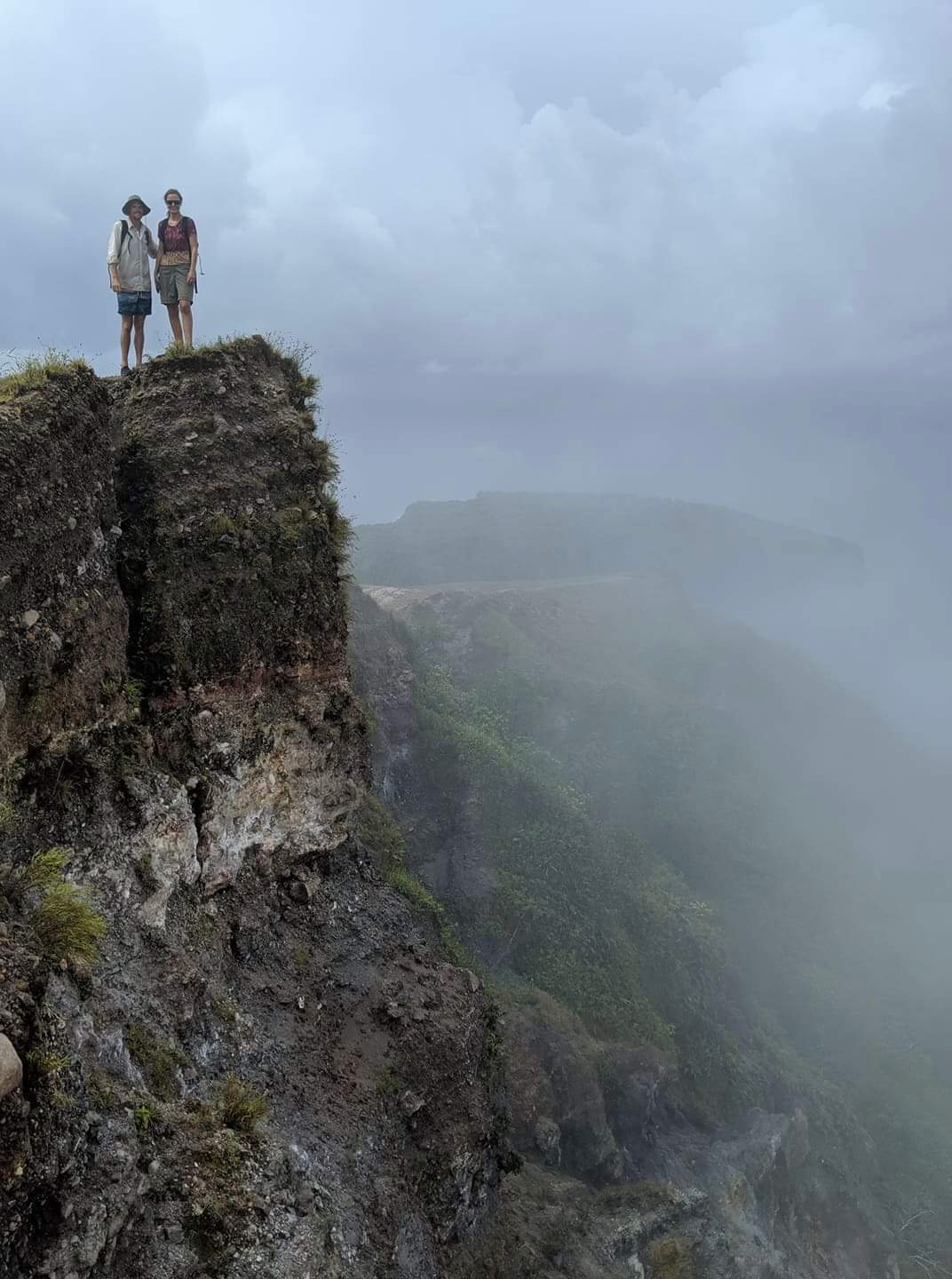 On top of the world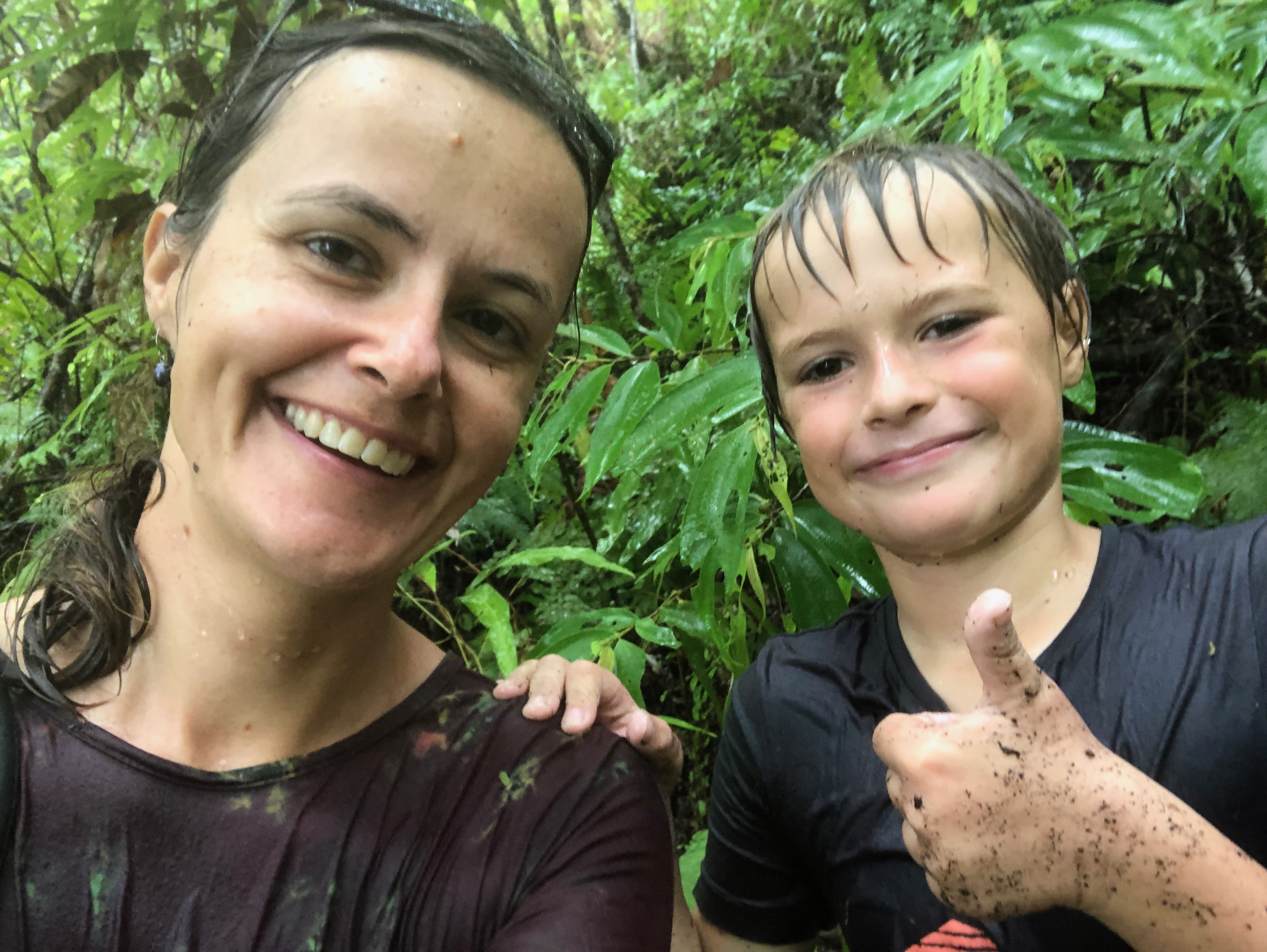 It poured on the way down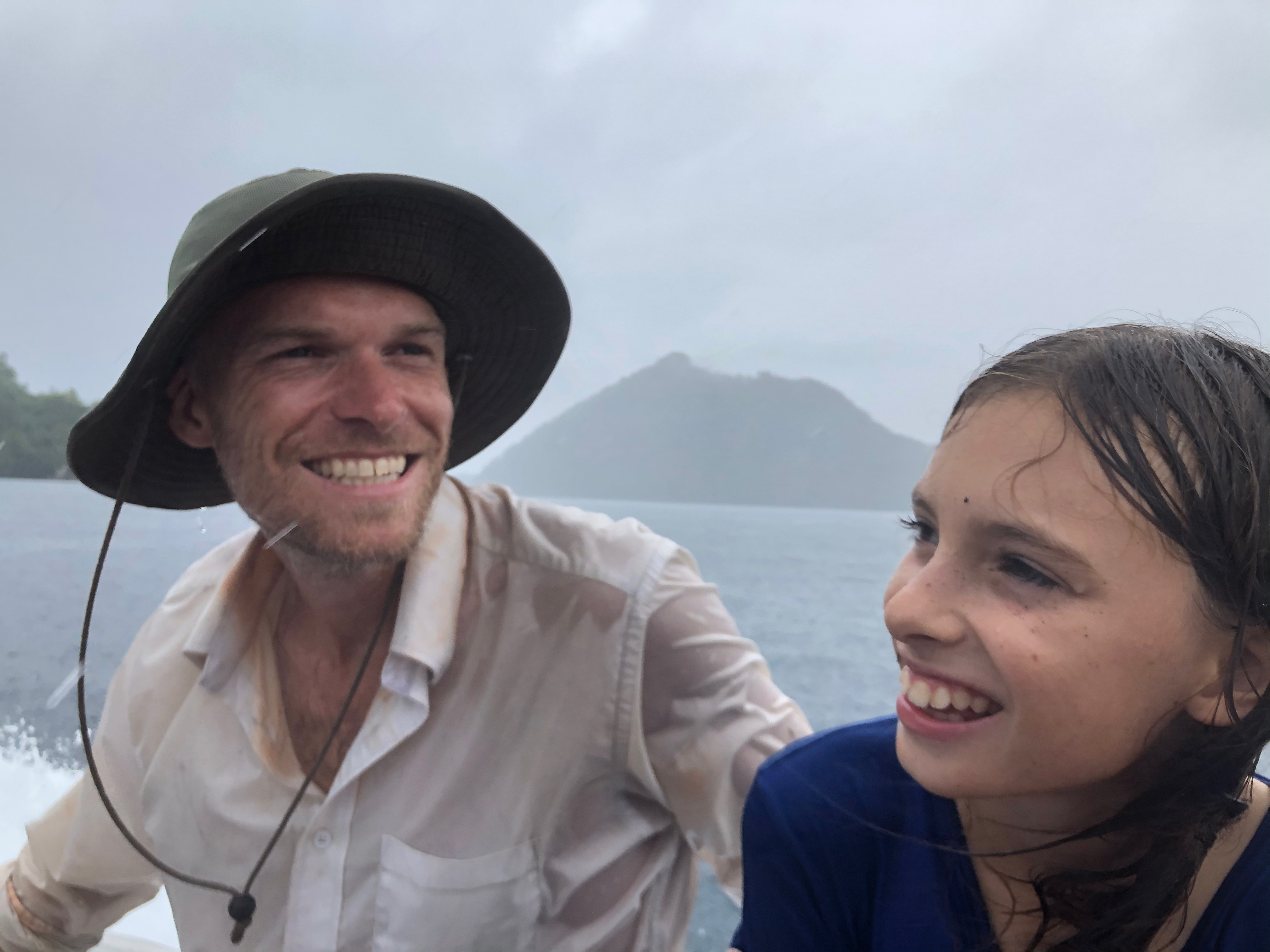 Wet but happy
Everyone enjoys a few days of snorkelling, even spotting the famous mandarin fish in the small bay next to the town centre.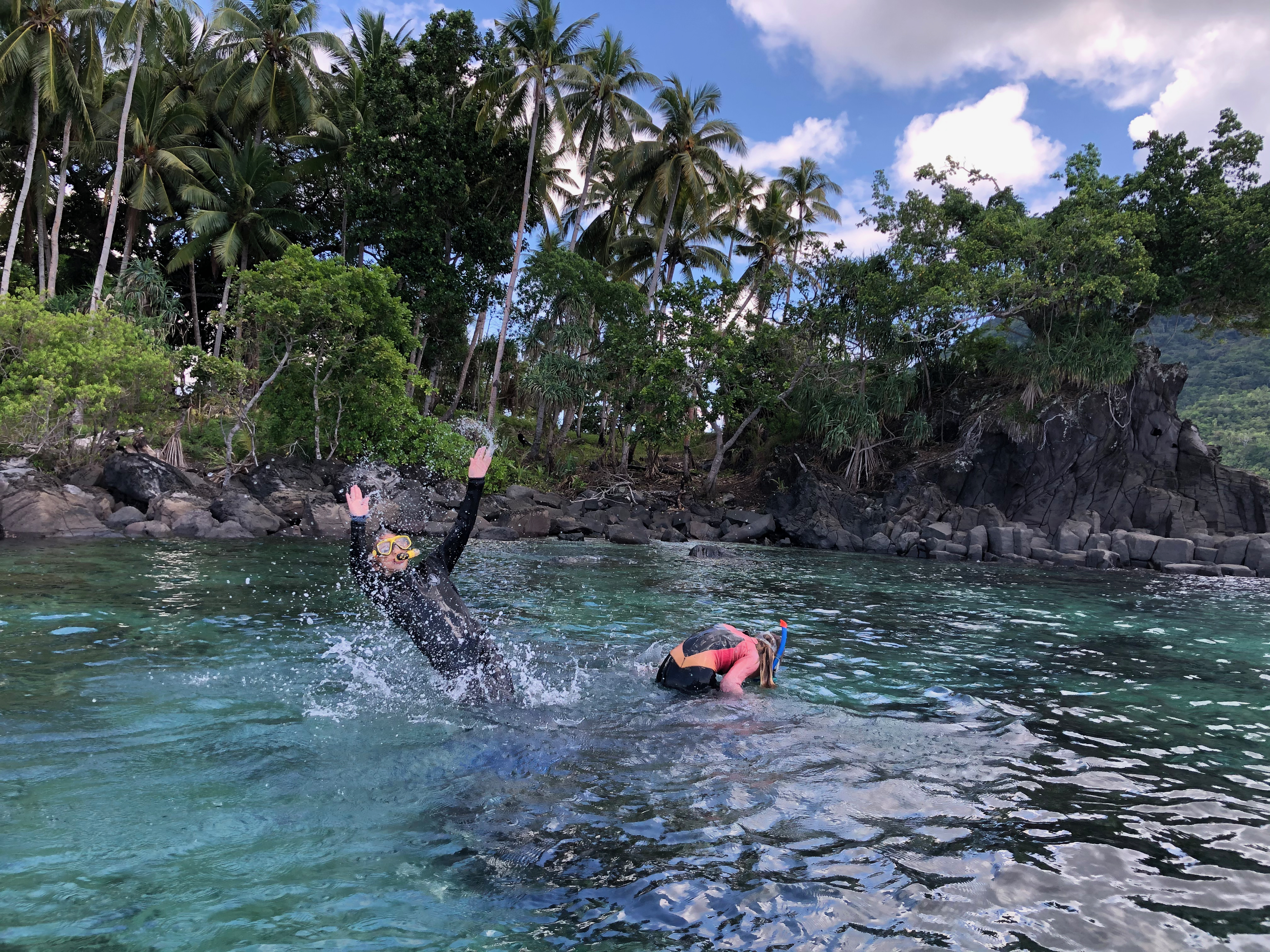 Lara practices asynchronous swimming with Aya
Here we also meet a German business owner, who tells us locals are now covering their faces when he walks around town, despite having lived in Banda for over a decade. One day, the remaining foreign tourists from the diving resorts in town get loaded onto a ferry and we take this as a final signal to scoot.
Where to I hear you ask? Our planned route south to Flores to meet Graham's parents, then to Lombok to meet my sister and her family is no longer an option. Their flights are now long cancelled and island hopping in Indonesia is definitely out of the question for the foreseeable future. The only viable option is to bunker down in a friendly spot and wait this thing out. Family Circus suggests Roti, a small island off the southern coast of Timor, a surfing town with confirmed local contacts and a friendly vibe. It's a great option, and both Zig Zag and Toc (that's us) agree to go there.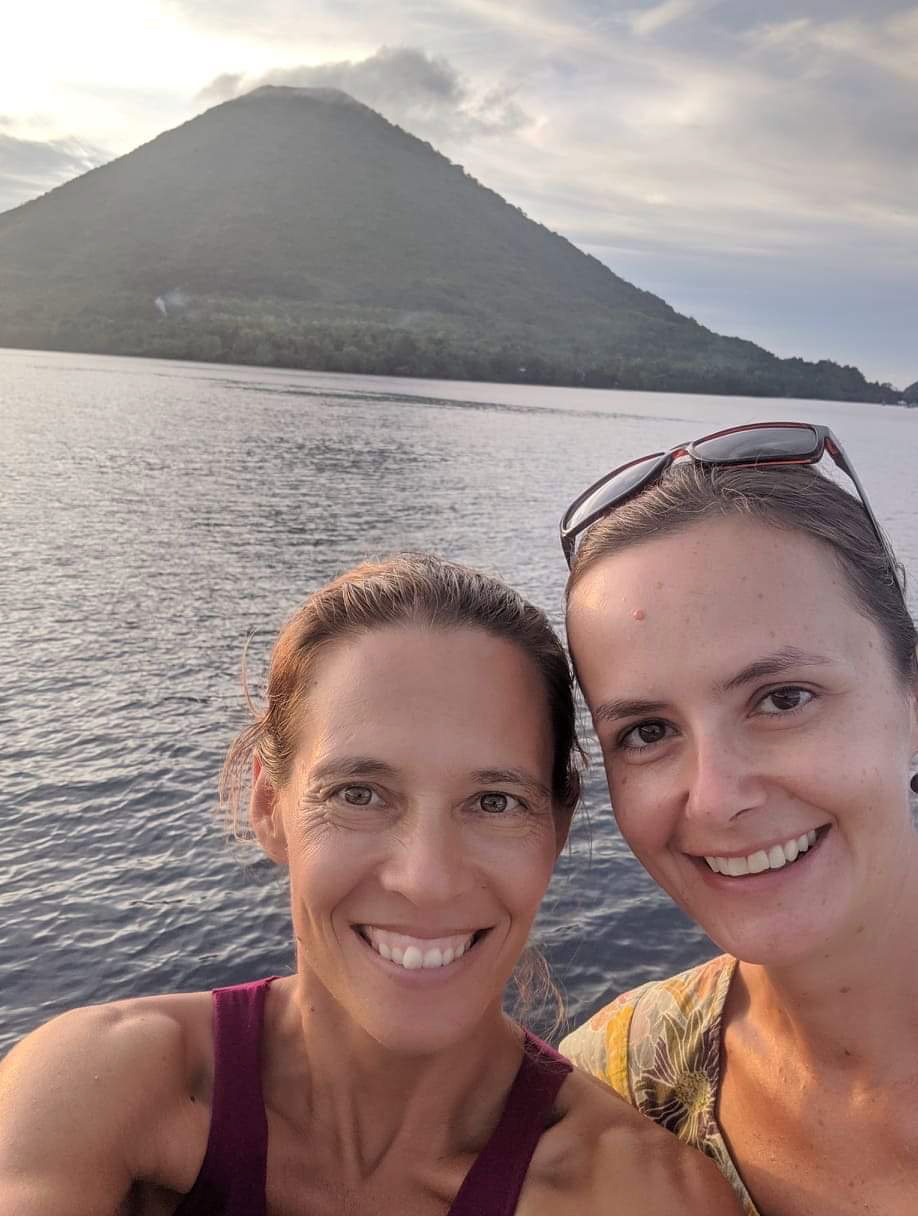 Sayo, I, volcano
But nagging doubts about this decision won't leave my head. As it happens, Banda is geographically speaking, a significant decision point. If we sail to Roti from here, then change our minds about returning to Australia, getting back to Darwin will be difficult during the South Easterly trade wind season, which kicks in around April and lasts roughly until October (Roti is west of Darwin). So if we go to Roti, we're there until at least October. Other Australian boats are all heading back home, or converging in the Kai islands, directly north of Darwin.
After a sleepless night, we decide to head to the Kai group as well, delaying our decision by 'a few weeks' to see how this thing plays out. It's the middle of March and corona is still somewhat underestimated everywhere. Heading to Kai means saying goodbye to Zig Zag and Family Circus.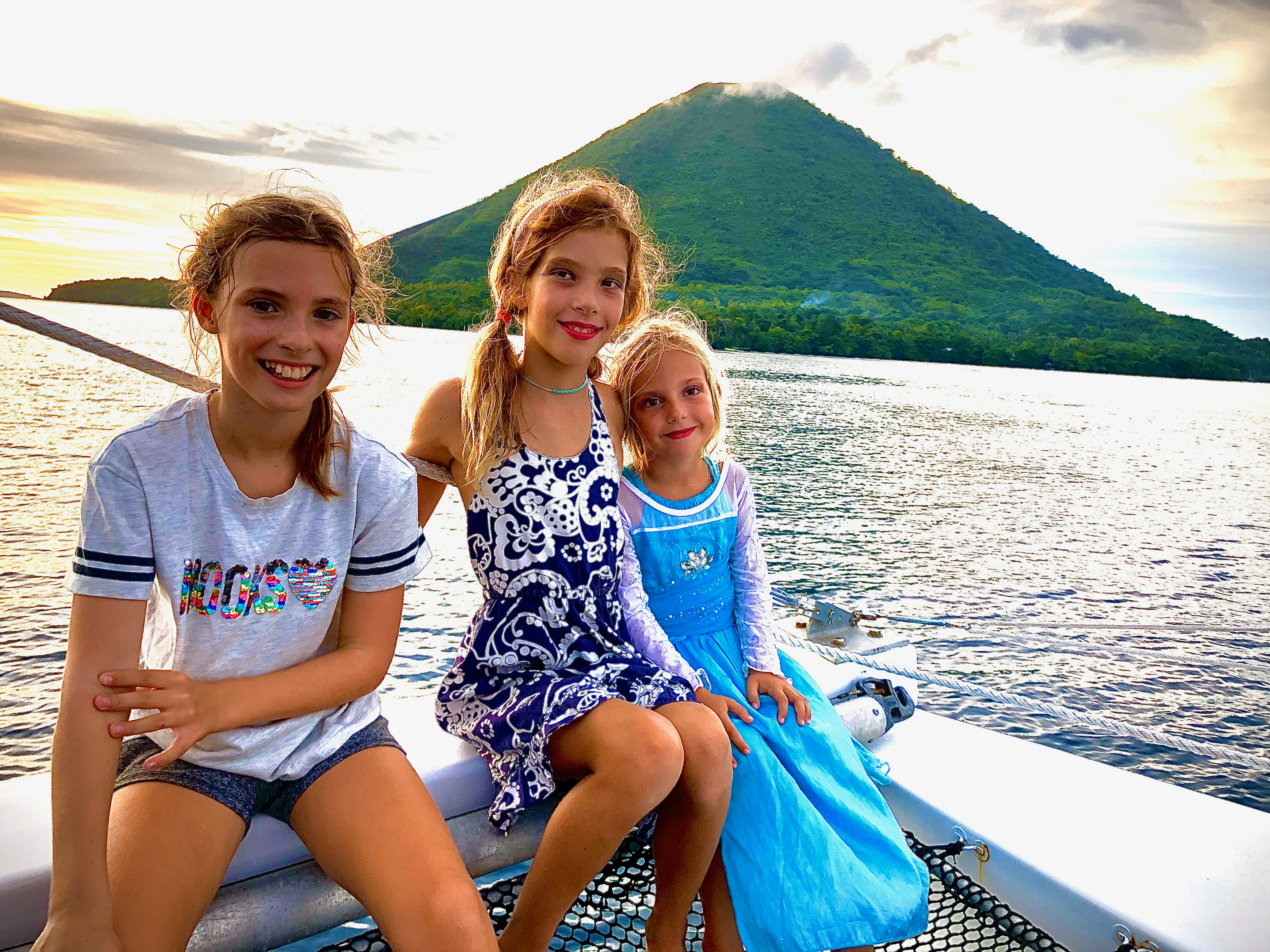 The girls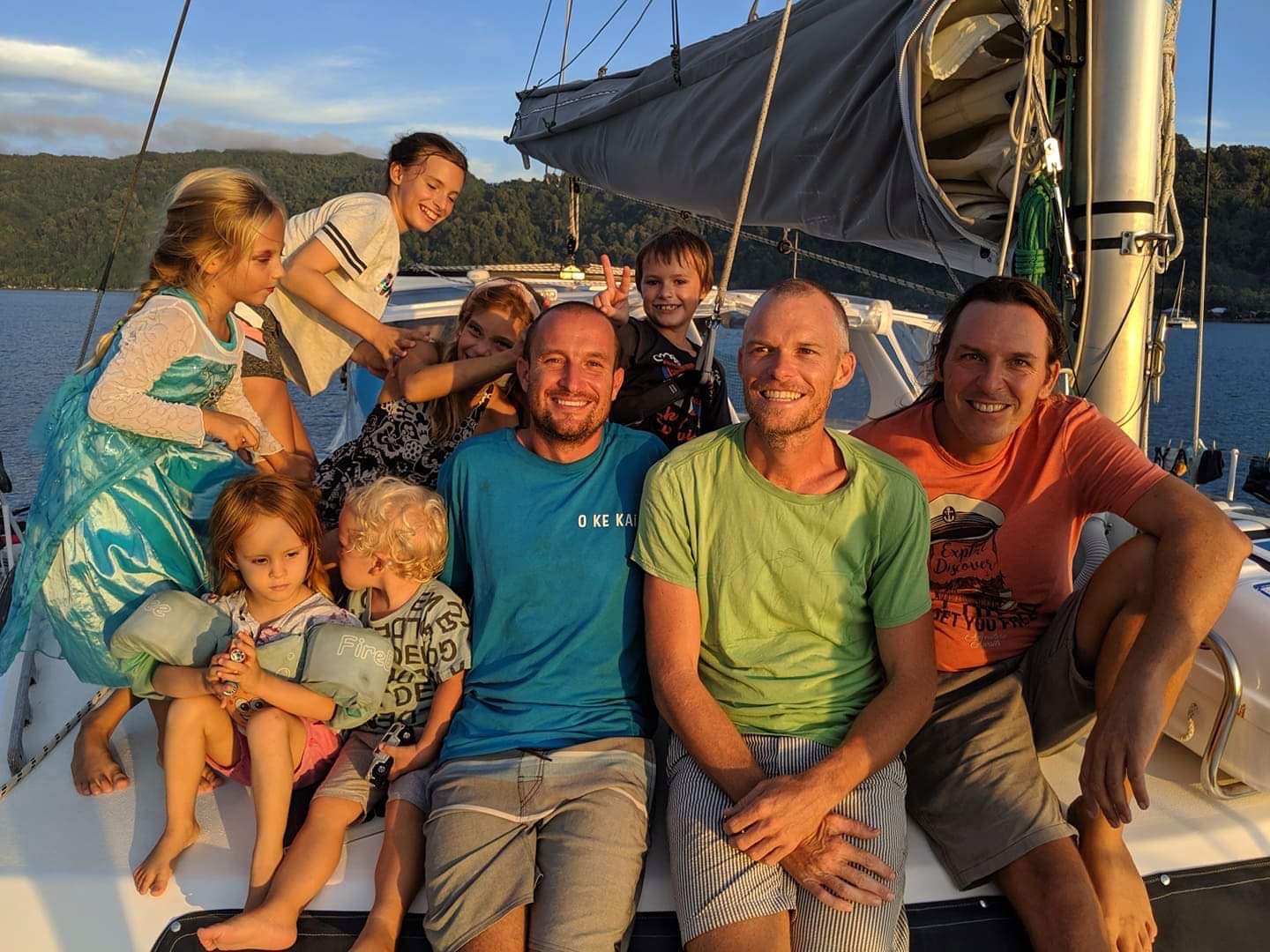 Farewell group shot with half the group missing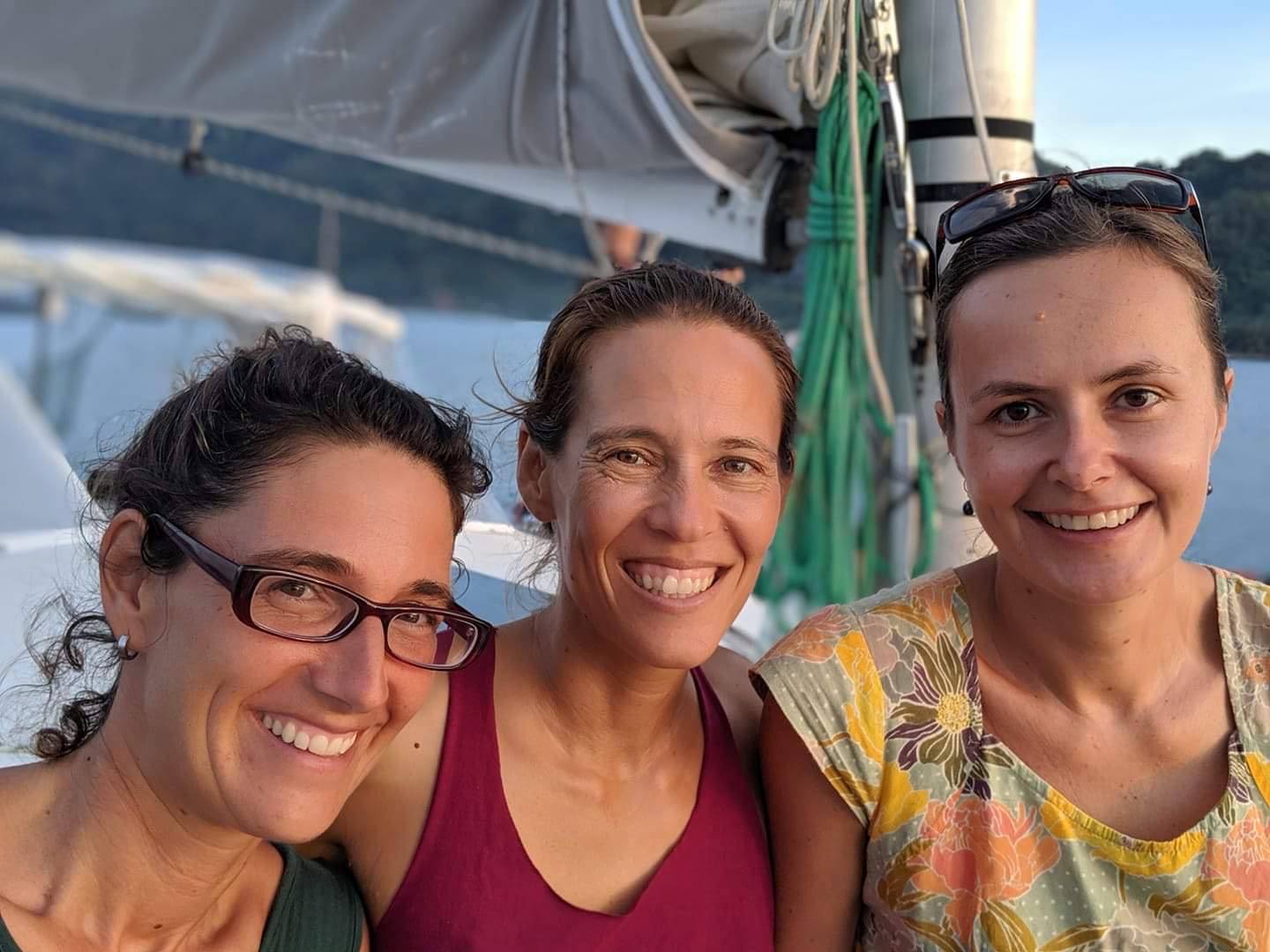 Irene, Sayo, moi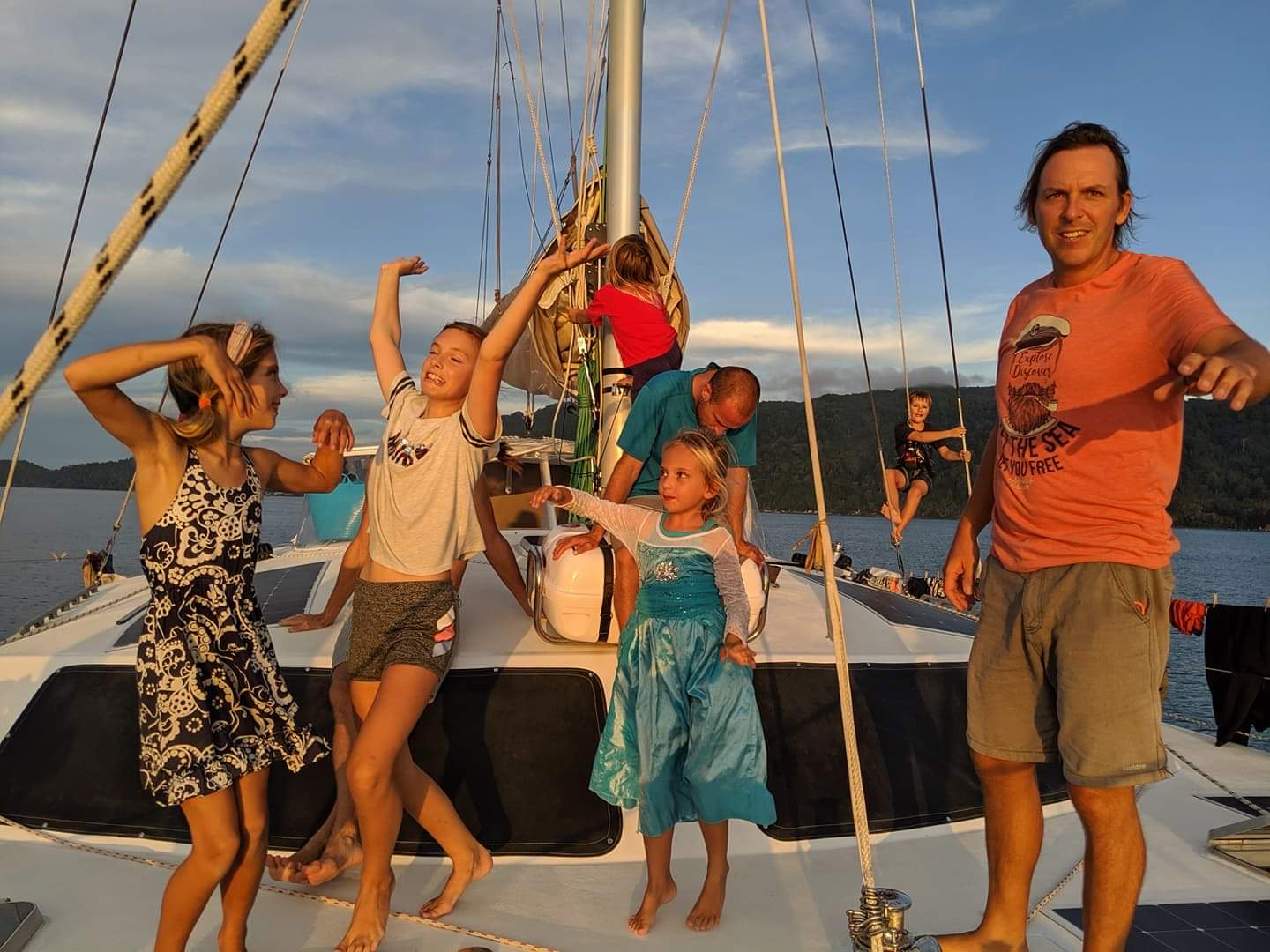 Just dance
To say this is sad is really underplaying the emotions involved. After 4 months of travelling together, celebrating Christmas and many a birthday and living through the highs and lows of cruising life we are sad but still quietly optimistic this will all blow over in a few months. I feel relieved once the decision is made, at least now we have a plan.