The joys of forced quarantine
Apr 28th 2020
Now if you're wondering what clearing into Australia as a sea arrival looks like, wonder no more. It's actually not that complicated, all it takes in the time of corona is an Australian passport, an email to Australian Border Force before setting off and a phone call once you arrive. Everyone who needs to see you comes to the boat after you make the appointment. We are booked in for 8am at Cullen Bay in Darwin one day after arrival so we anchor in Fanny Bay for our first night as instructed by ABF.
As we drop anchor, we receive text messages from Storyteller telling us they have been forced into hotel quarantine by NT Health and were not allowed to self-isolate on their boat. To make matters more painful, NT is the only jurisdiction in Australia that expects travellers to pay for their quarantine. For a family, the bill is $5,000. Unfortunately for us, we seem to be part of only a handful of boats which are affected by this new policy which even ABF wasn't aware of when we left Indonesia. We spend an agonising night mentally preparing, tell the kids, and buckle up for the ride.
Just before 8am the next morning, we tie up to the dock at Cullen Bay, where four water policemen already await our arrival. Police do not normally attend clearance procedures, they are here because of the forced quarantine. They approach the boat and quietly apologise for what's to come, telling Graham they do not agree with the process but they have to do their job. We are the last of about 7 or 8 boats to have been caught by this new policy so far. There have been quite a few stand-offs, tears and cursing already from what we heard through the cruising grapevine, but save for one boat who refused to budge (and were left to isolate on the boat), all complied. We decide early on that arguing with the messenger is pointless and is very likely to upset the kids.
But first we have to deal with ABF (aka customs). This is short and sweet, basically a passport stamping exercise. They seem very apologetic and can't wait to get off the boat.
Biosecurity are next and our biggest hurdle, since Toc is a wooden boat attracting more scrutiny. The consequence of being caught hosting any sort of bug is costly, the boat has to be lifted out of the water and fumigated in a purpose built hangar. Knowing this, we have spent weeks exterminating ants, weevils and cockroaches with the best poisons money can buy in Indonesia.
Acting on a tip from a fellow experienced cruiser, all hatches on the boat are closed in preparation for the inspection, making it extremely hot and uncomfortable inside. Biosecurity charge in 15 minute increments so the incentive to keep inspection times short is doubled - you don't want to give them time to find anything and you certainly don't want to pay any extra for it. As the junior inspector moves into the galley for a rummage through our food stores, he wipes down sweat from his forehead, waving away pretty much everything I thought would be an issue, complaining loudly about the heat. Jake helpfully turns the fan on to keep him cool.
Thirty minutes later, Biosecurity leave the boat with us clutching clearance papers. We motor back to Fanny Bay followed by the water police, where we anchor the boat and start packing for hotel quarantine.
Leaving the boat unattended for two weeks is not a straightforward process. We have solar panels and lithium batteries which need monitoring, a water maker which has to be 'pickled' if not in use and a hundred other things to be stored and put away safely. We pack a mountain of books, toys, musical instruments and devices, it takes about 2 hours all together to get ready with the water police bobbing around. We've also been given masks to wear which are very uncomfortable if you are not used to them. The police do not wear any which is strange.
We load our stuff into the water police boat and stand on the back deck for the trip back to Cullen Bay where a taxi awaits.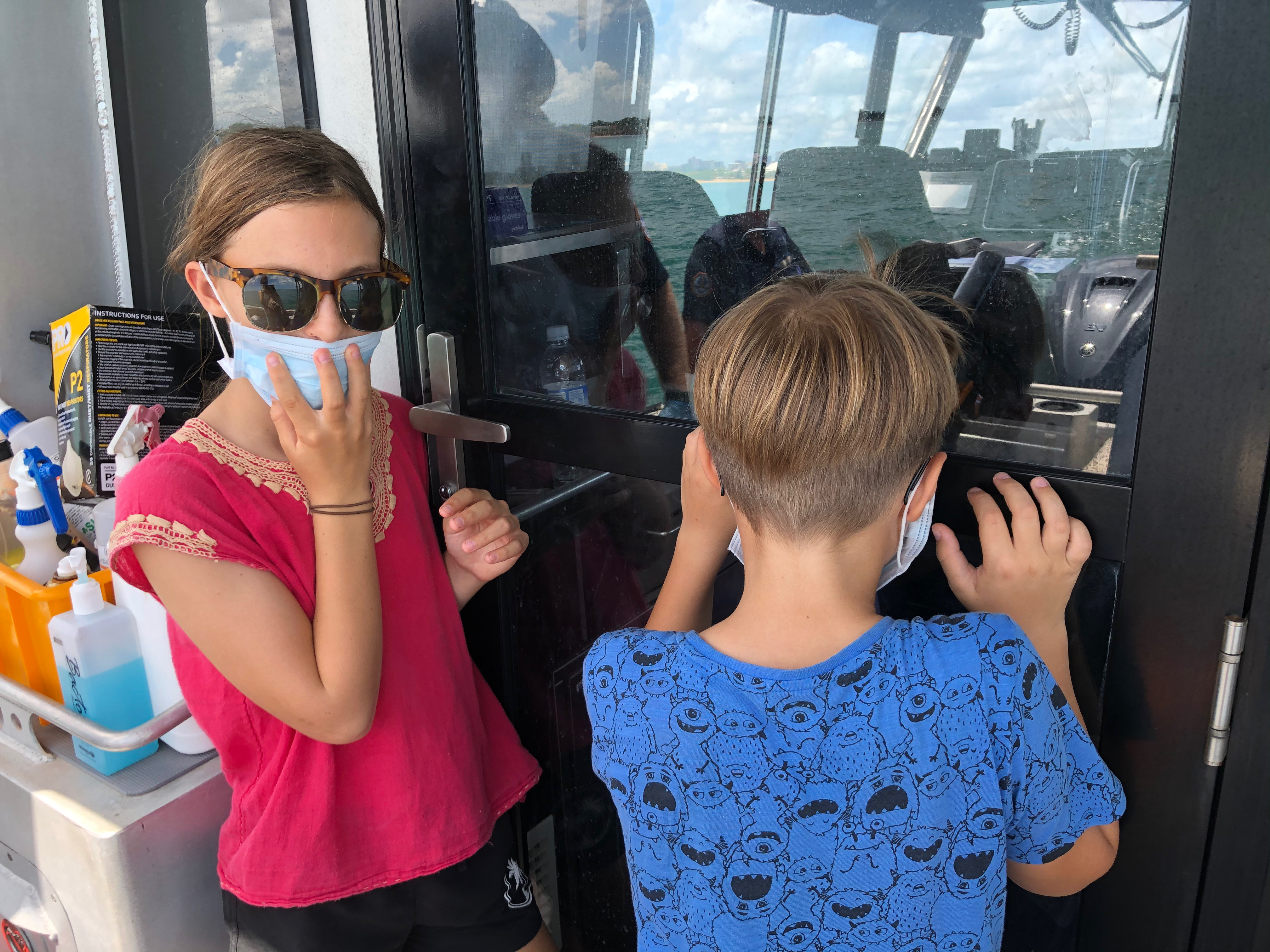 Kids get used to masks on the water police boat
The ride is fast, the police ask the kids if they want to go fast then rev the newly installed twin 400hp V8 engines to the max.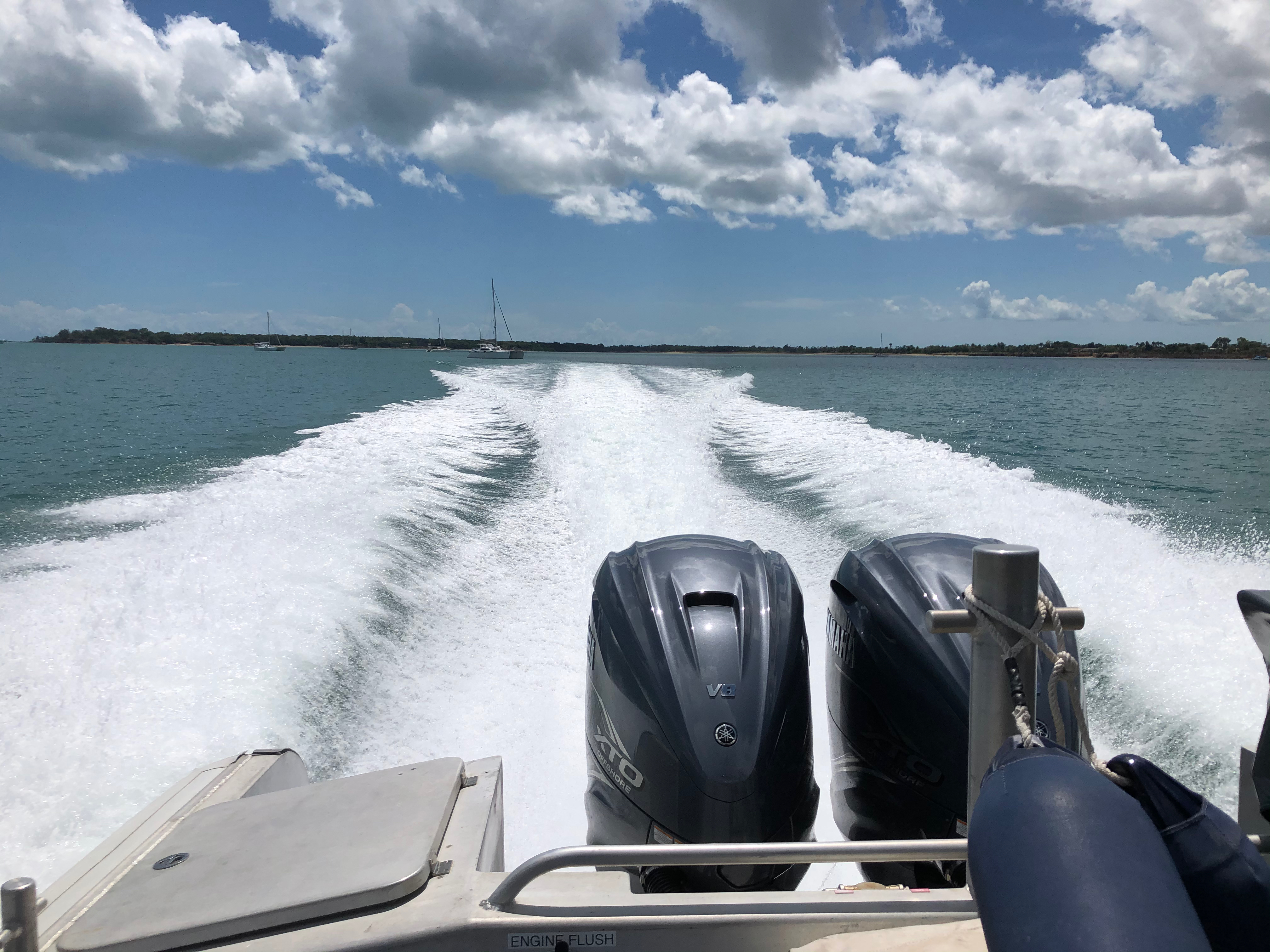 Mega engines
I am not sure what they're chasing out here in Darwin Harbour but these boats go fast.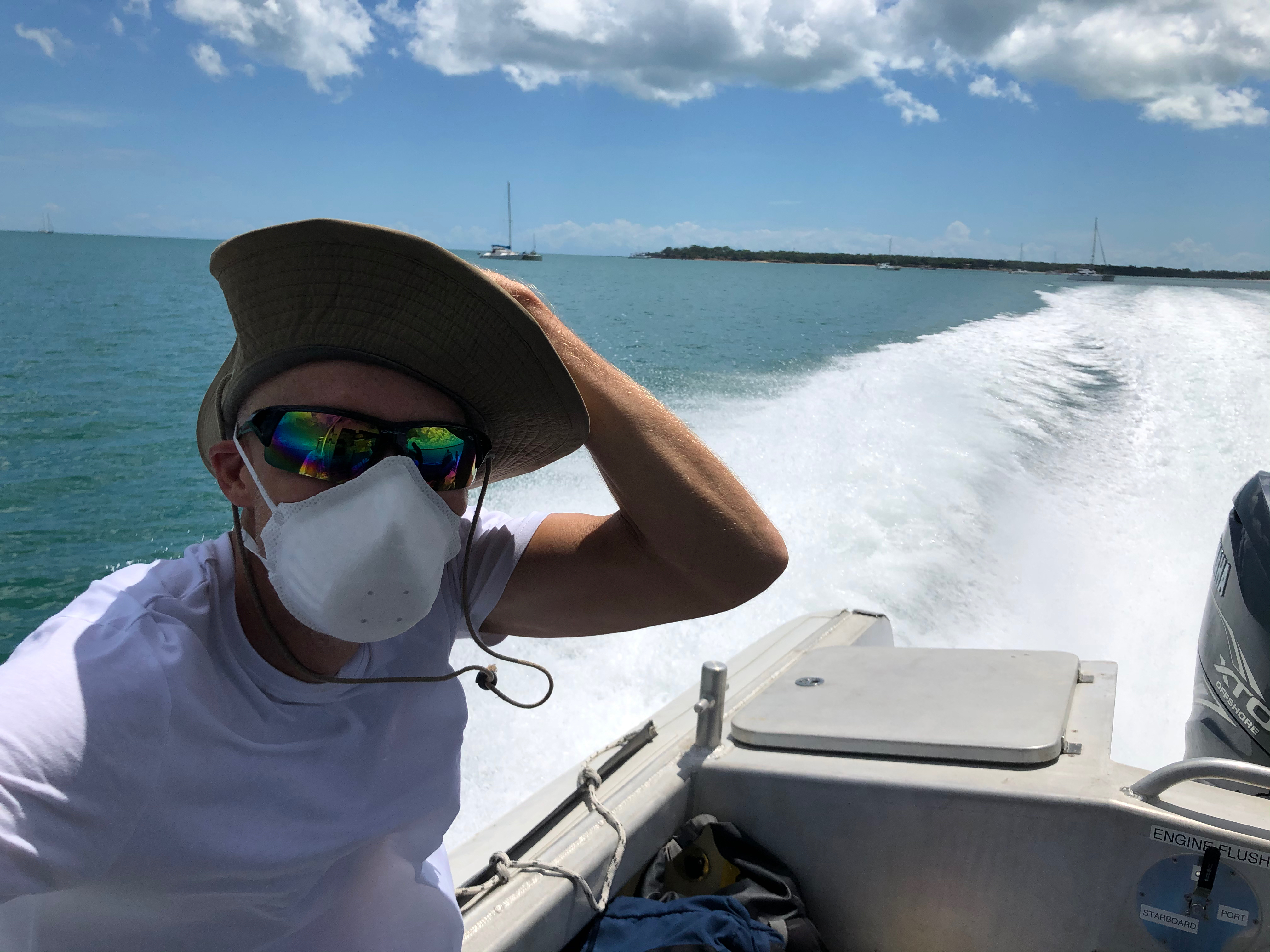 Hold onto your hats
An NT Health representative waits for us in Cullen Bay, she is friendly but really irritating with her attempts at meaningless small chat without offering any real help. Even my attempt to obtain an actual number to call if we need help is rebuffed with a generic email address. Feeling annoyed about this whole process, Graham and I roll our eyes as she hands us a print out about quarantine but the kids are super excited to check into a hotel.
When the hotel manager leads us into our two bedroom apartment, the kids run in and Jake immediately starts screaming about 'unlimited' power while Lara opens the fridge and loudly admires the 'self-closing' door. There is no way they are letting us out early on compassionate grounds after this performance.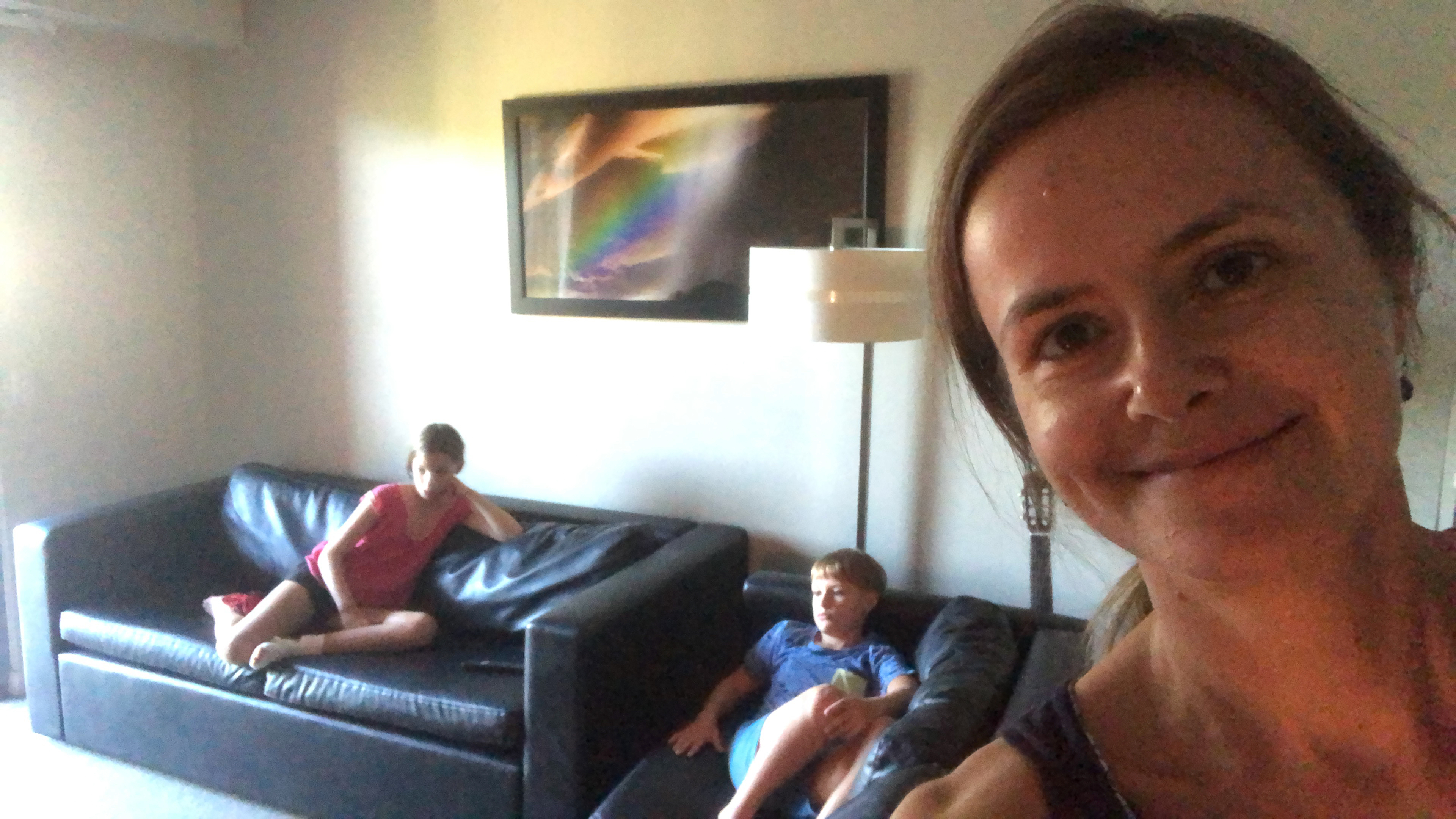 TV zombies
The apartment itself is roomy and light with a small balcony over-looking a suburban main street with a primary school opposite, definitely better than staying in the city.
The next two weeks are as good as you'd expect under the circumstances. First priority is of course booze, so after Graham coordinates an urgent delivery of beer and wine involving a local BWS and the hotel manager, we can relax into planning the next two weeks.
We make a daily schedule with the kids that includes some exercise and 'table time' before lunch, the rest of the day it's Roblox and Minecraft on steroids.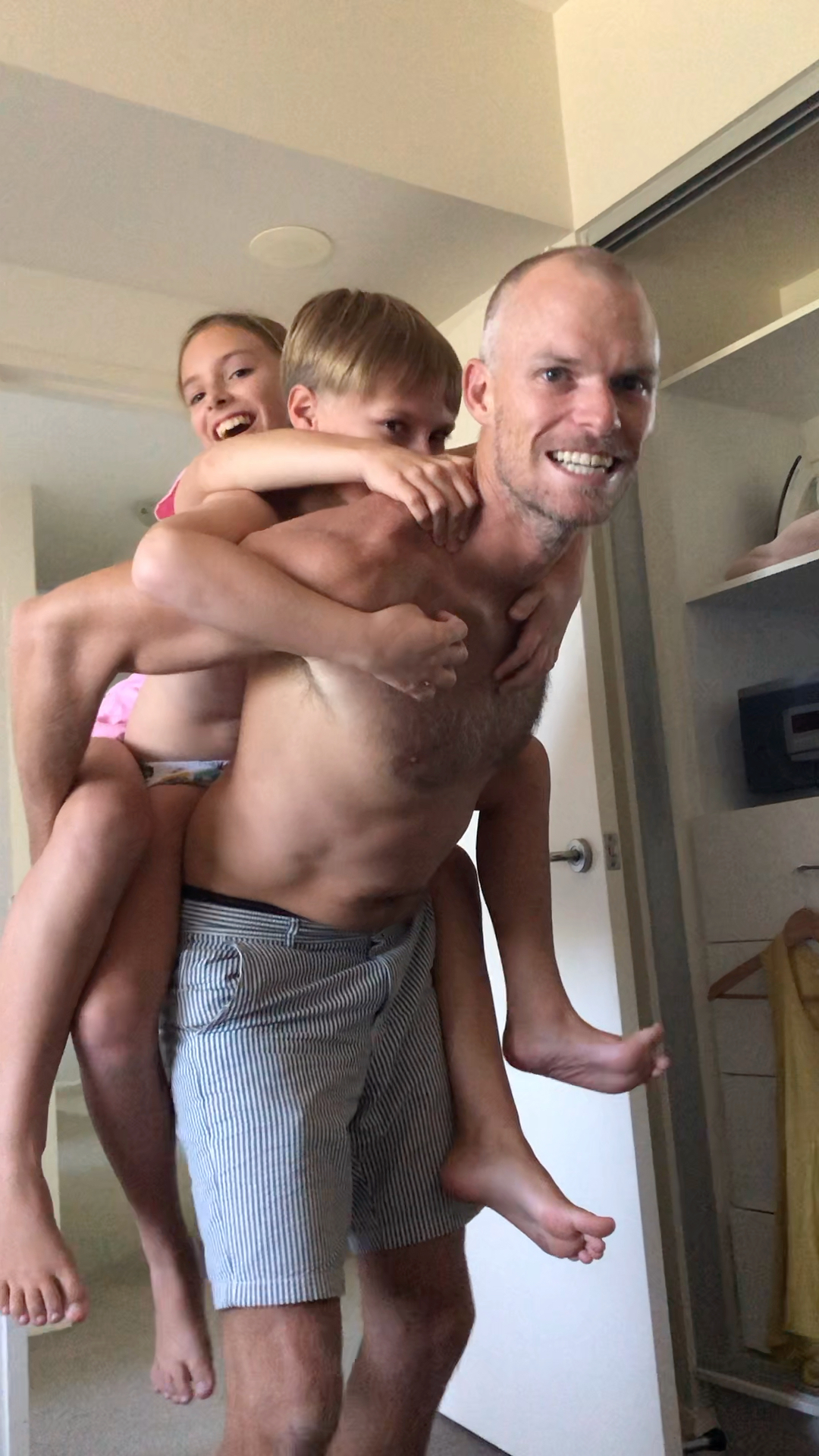 Exercise
It is the second half of April so Newcastle is also at the height of lockdown making friends and family available at any time of day. The kids really enjoy talking to their friends at home every day and we enjoy the fact it's happening on the hotel wifi.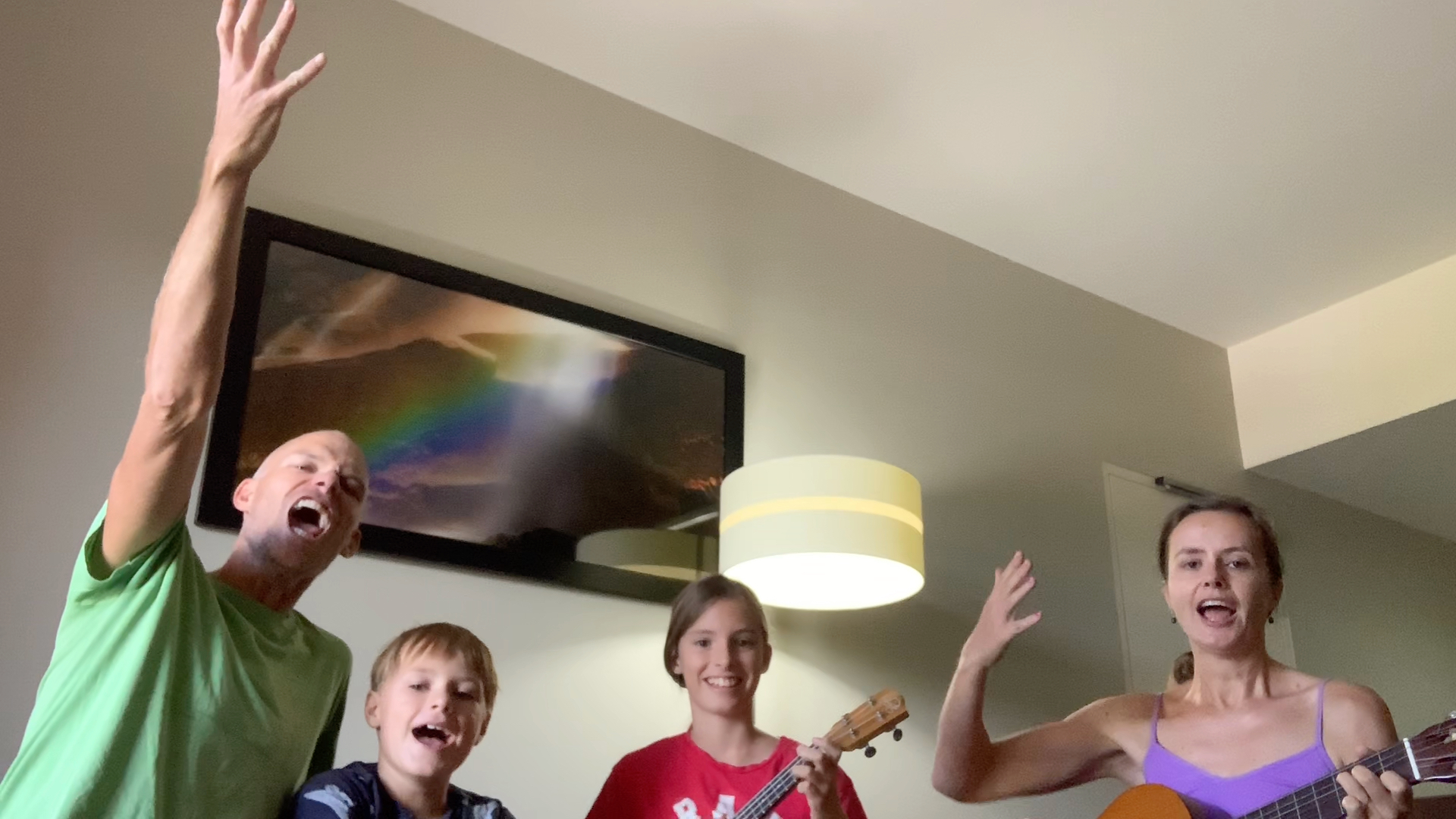 Graham takes to the family singing
Food is delivered three times a day from a catering business but after three days of eating burgers, chicken and pasta & meatballs, we order a Woolies shop online and make our own meals. This is actually quite exciting and we go crazy ordering all the things we couldn't get in Indonesia. Frozen yoghurt has never tasted so good.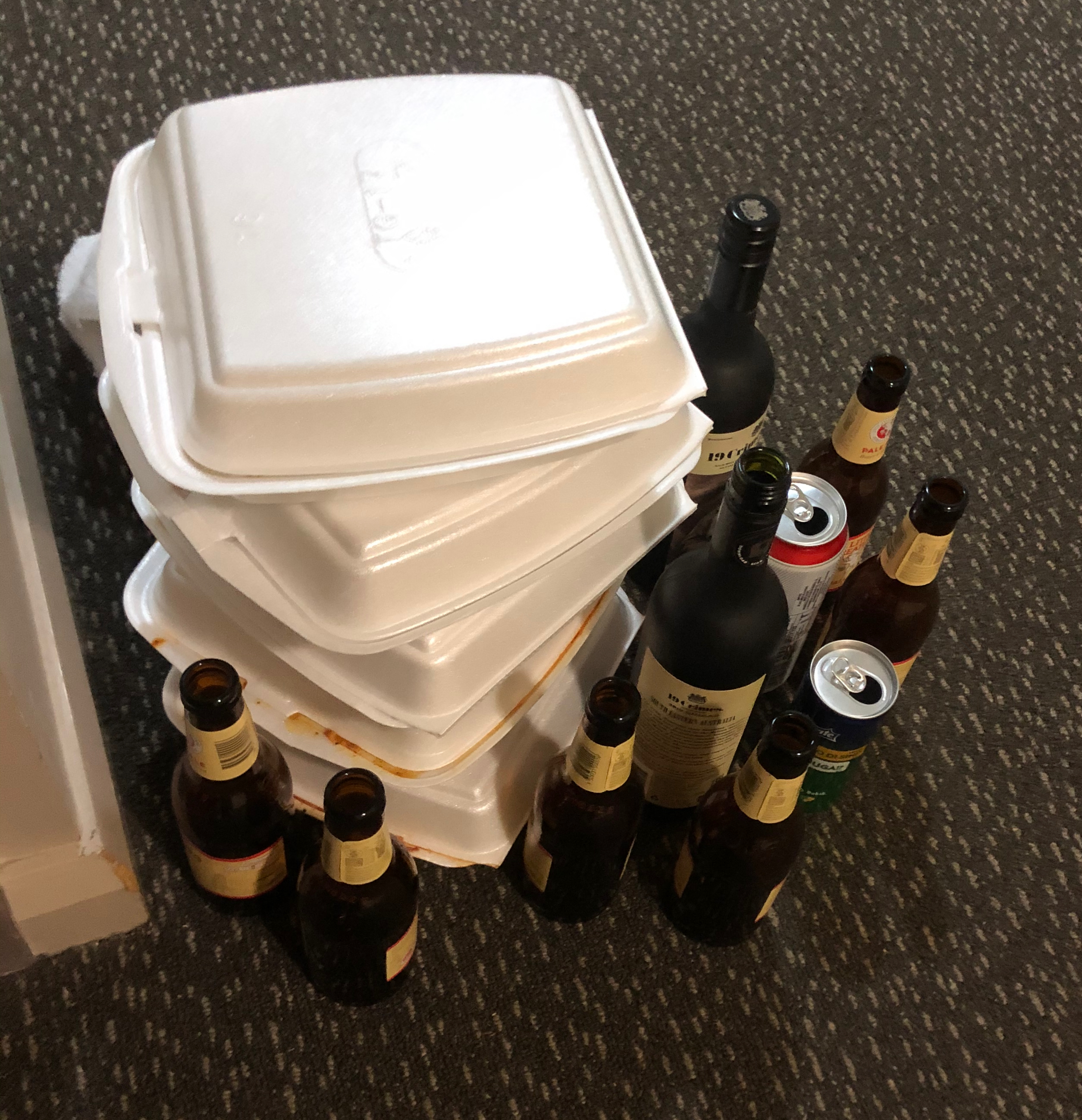 Day 1
Every afternoon we sit on the balcony to watch the world go by and wave at curious locals. Darwin is still in lockdown so people go out for exercise but shops and restaurants are closed.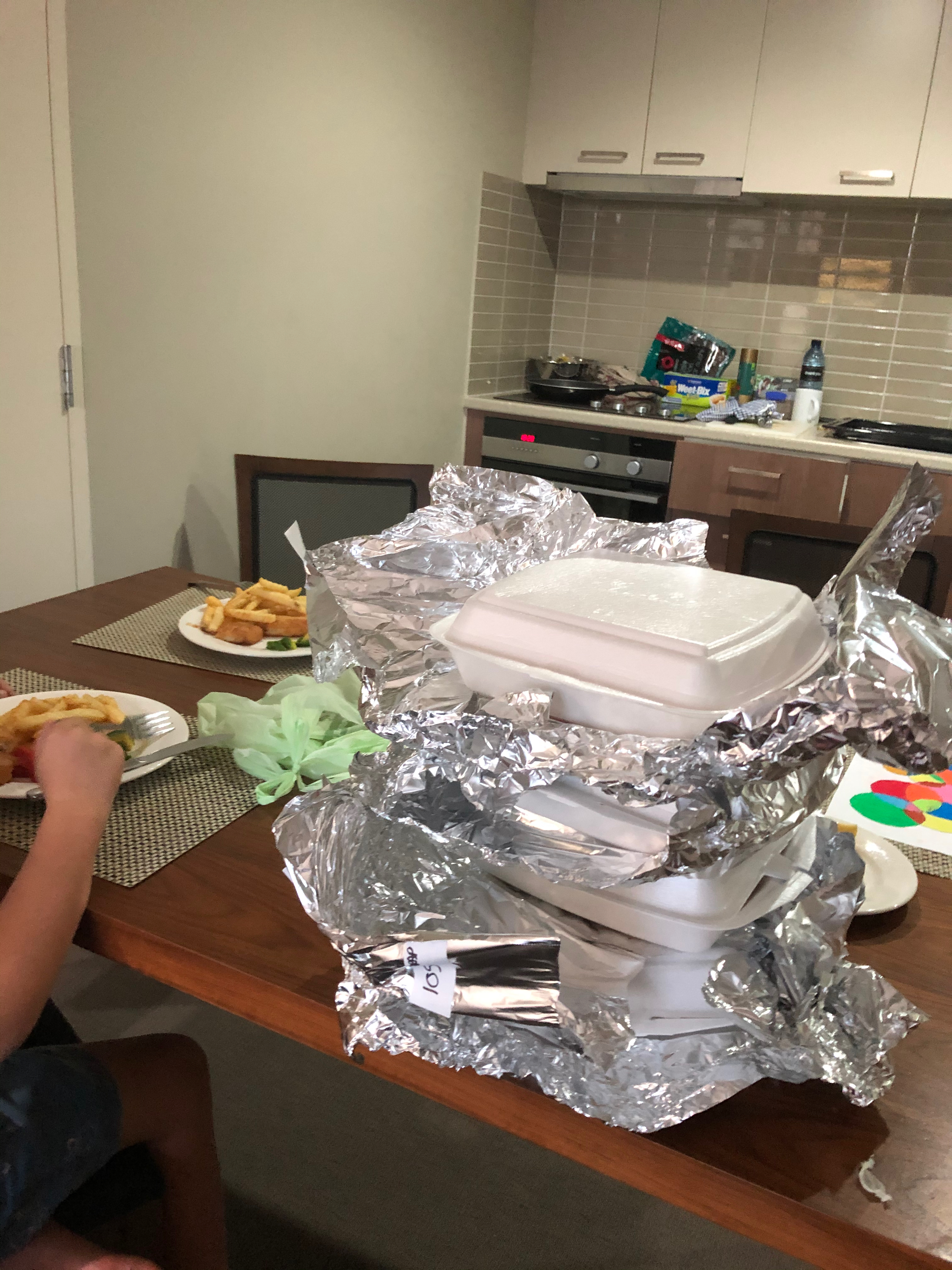 A typical meal
Police check on us every few days and this is something I cannot get used to. We have done nothing wrong but are prisoners in this apartment which is hard to accept after the year we have had. Hearing that it is for the public good is not helpful. It seems like a panicked response to lock people up in hotels when self-isolating in their own home (or boat in our case) is a viable and safer option overall.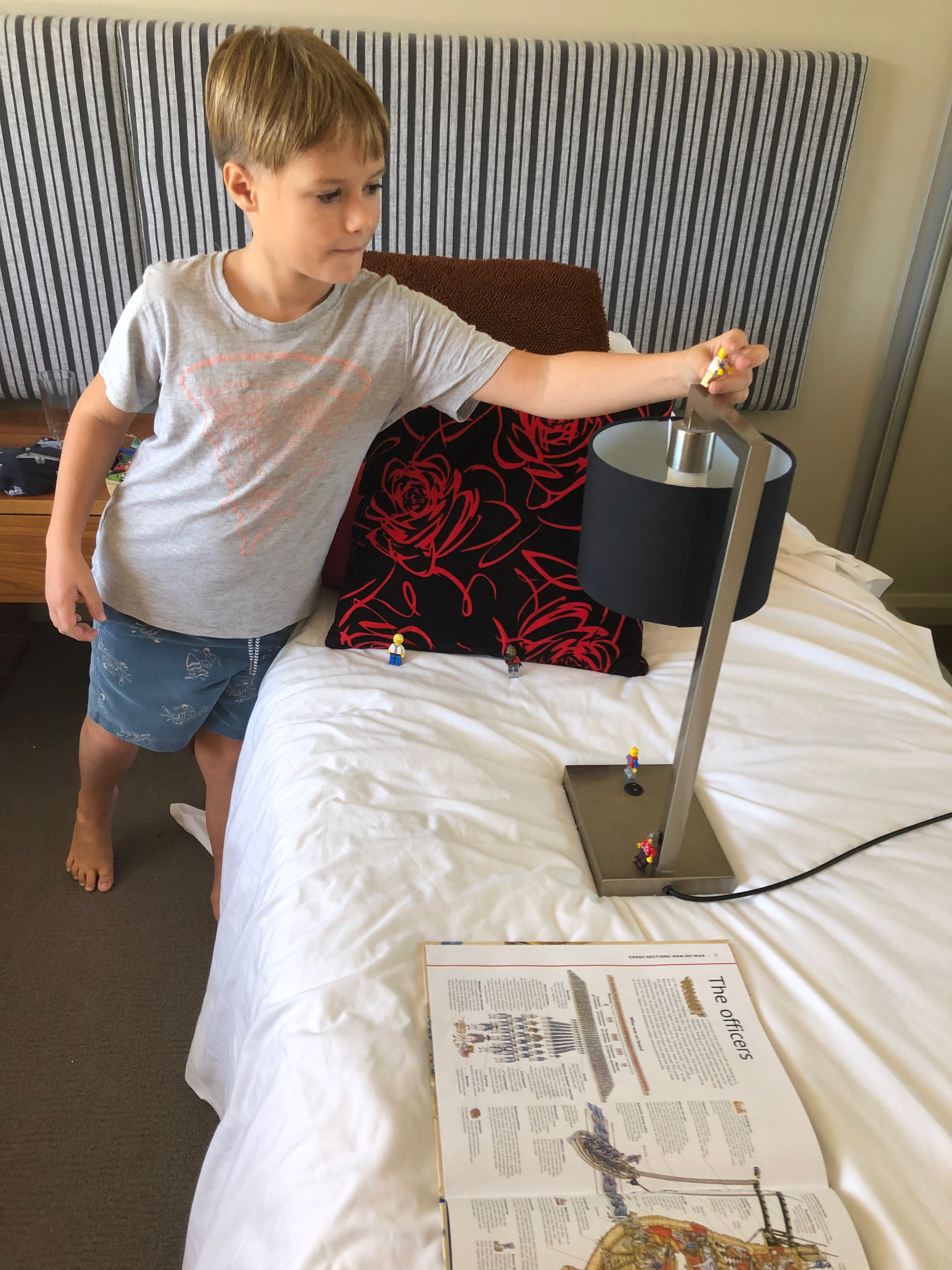 Jake builds his own fun using hotel paraphernalia
We are not tested for corona virus at any point during our stay and not one official assisting with our transfer between boat and hotel wears a mask. The only mask wearer is the taxi driver. NT Health never enquire about our health. This was early days of NT hotel quarantine so maybe they have improved their game.
By the end of the 2 weeks, my eyes are really sore from being inside so much and everyone is getting restless. Thankfully we leave the hotel on day 13 as my appeal to count the first night we spent in Fanny Bay is approved. The water police are there again to take us back to Toc and we return on 29 April shocked by the heat and the cramped space. Maybe the apartment wasn't so bad?