The Northern Territory has been on our travel roadmap for a long time but when you live in Newcastle NSW, there is always somewhere cheaper and closer to holiday. So thanks corona virus for finally getting us here.
As soon as the federal government announces that the national parks will open up for tourism on 20 June, we buy walking shoes and book a motor home.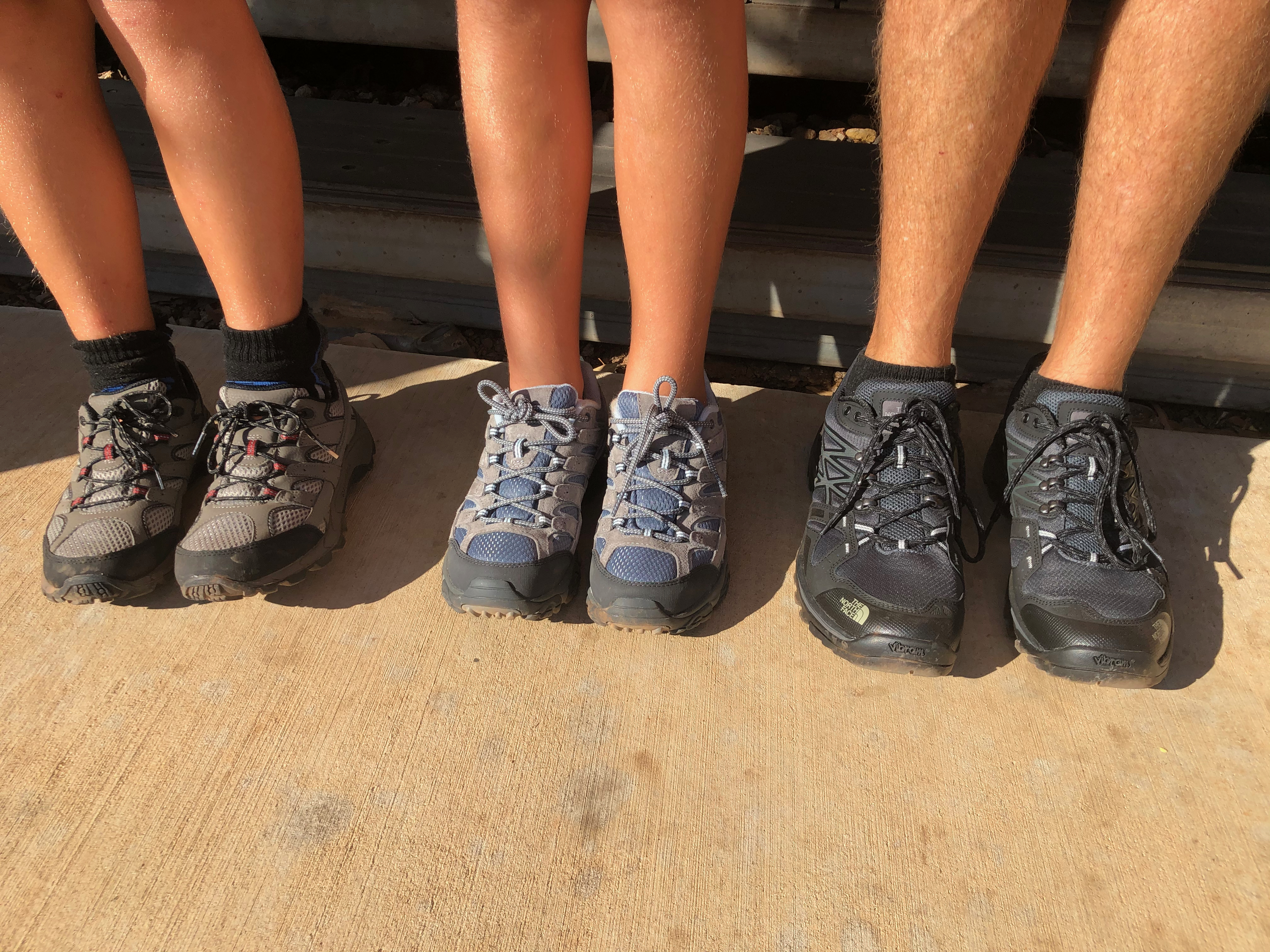 They didn't stay this shiny for long
We may not be able to sail anywhere but the opportunity to poke around the virus free NT with hardly any other tourists around is truly a once in a lifetime opportunity. We have the van for three weeks and the whole of NT at our fingertips.
The ultimate destination is Uluru, a mere 1500km along the Stuart Highway. Motor transport feels super fast - we can travel 100km PER HOUR! Compare that to our average of 5knots (miles) per hour on the boat and you will understand my excitement. Consequently, Uluru feels just around the corner.
Lara and Jake squeal in excitement when they see our new home and mode of transport (we like to combine the two) while I wonder how we have managed to shrink our living space even further. We set off on the 10th of June, first stop a local Woolies for a grocery shop. Cruising in remote regions conditions you to provision for at least three months ahead every time you find a decent supermarket so as soon as I see a trolley, I must fill it to the brink with at least 5kg of rice and a years supply of cheese. No matter that this road trip is only three weeks nor that there are supermarkets along the way, in Katherine as well as Alice Springs.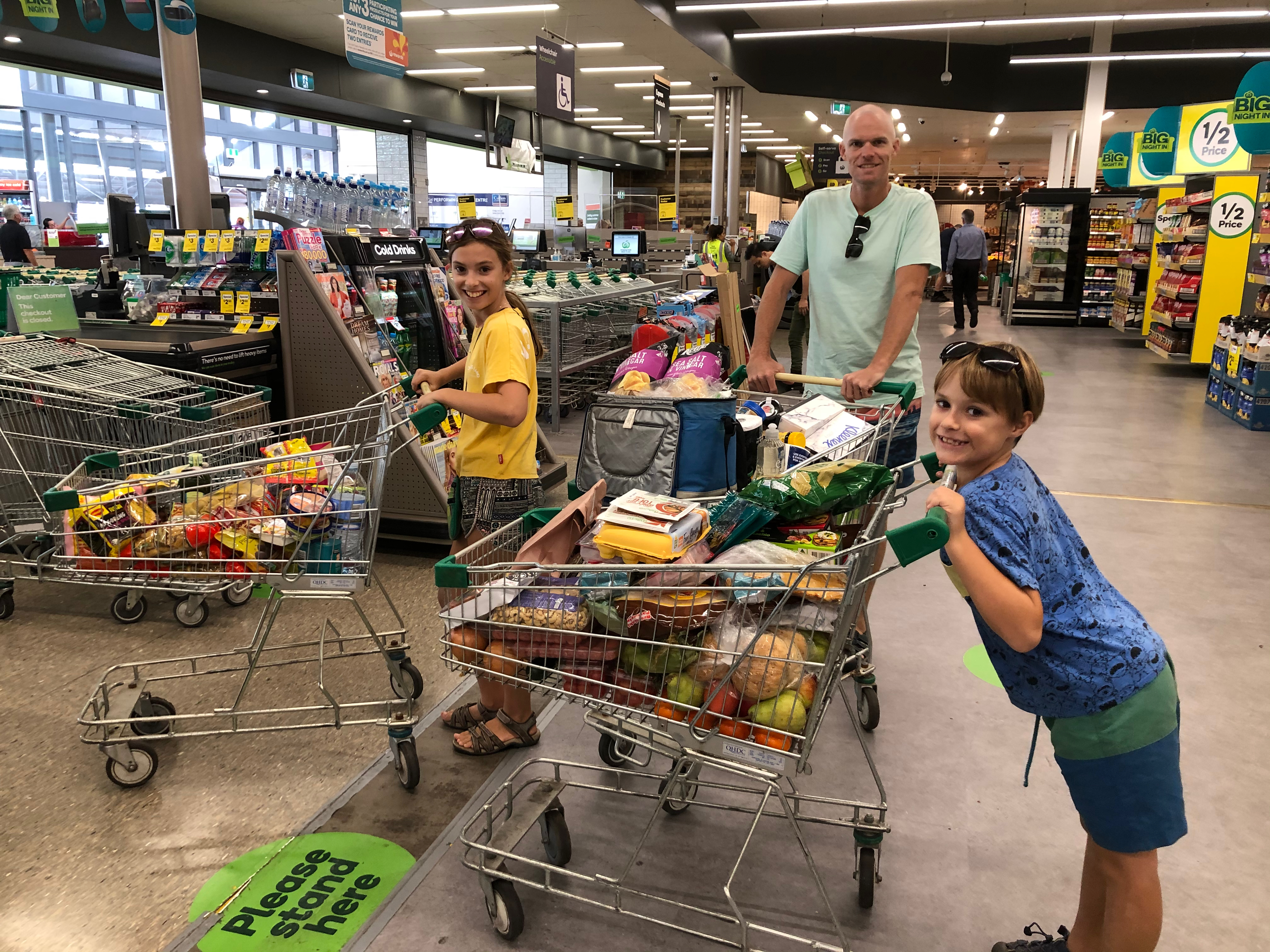 A trolley per week
Severely over-provisioned, we head to Litchfield National Park an hour's drive from Darwin. You could easily spend weeks exploring this pristine wilderness but we only have few days before the mad rush south has to be begin. I fulfil my life long wish of swimming under a thundering waterfall, and every bush walk ends with a soak in a pristine waterhole with hardly anyone around.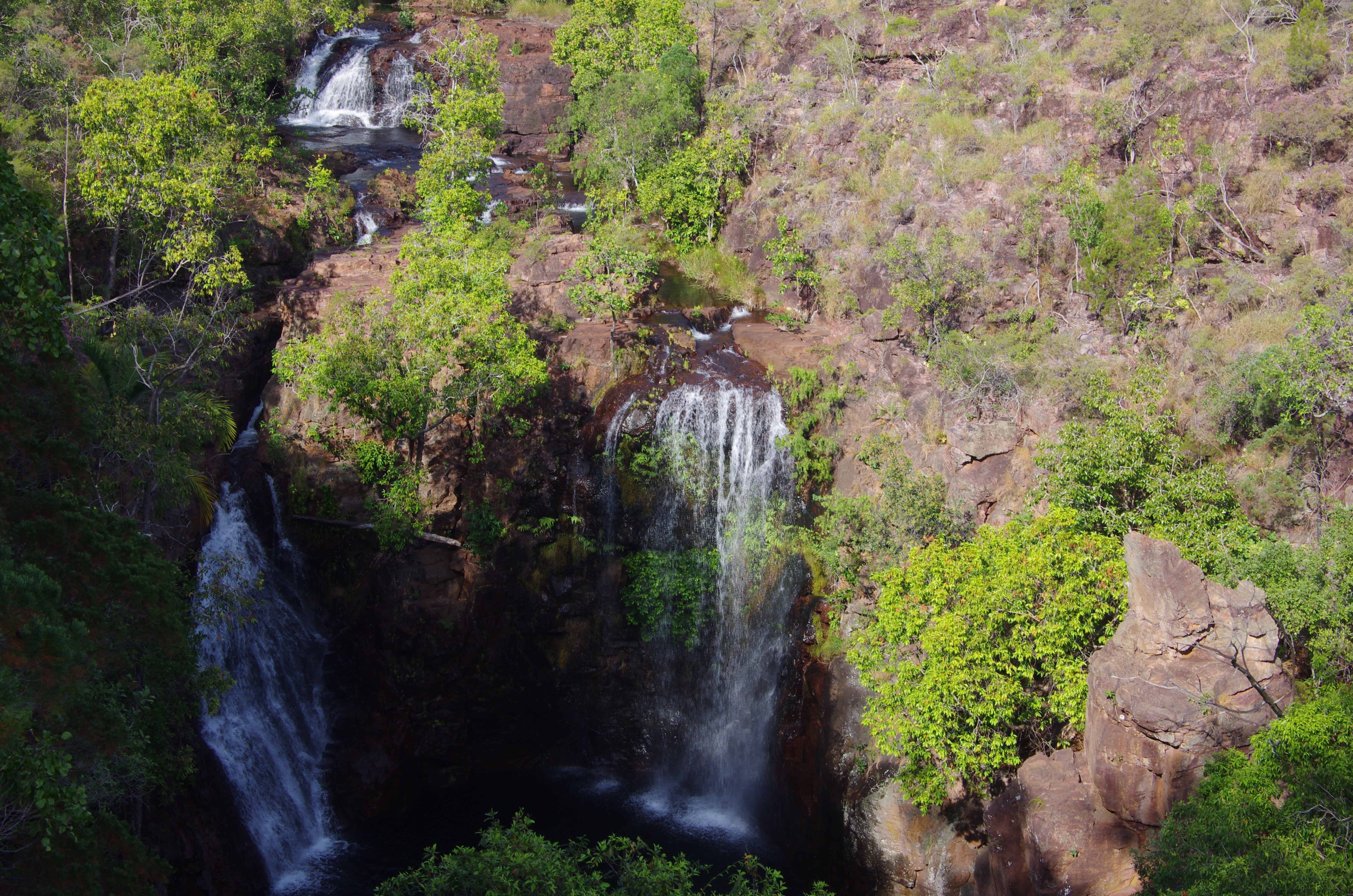 Florence Falls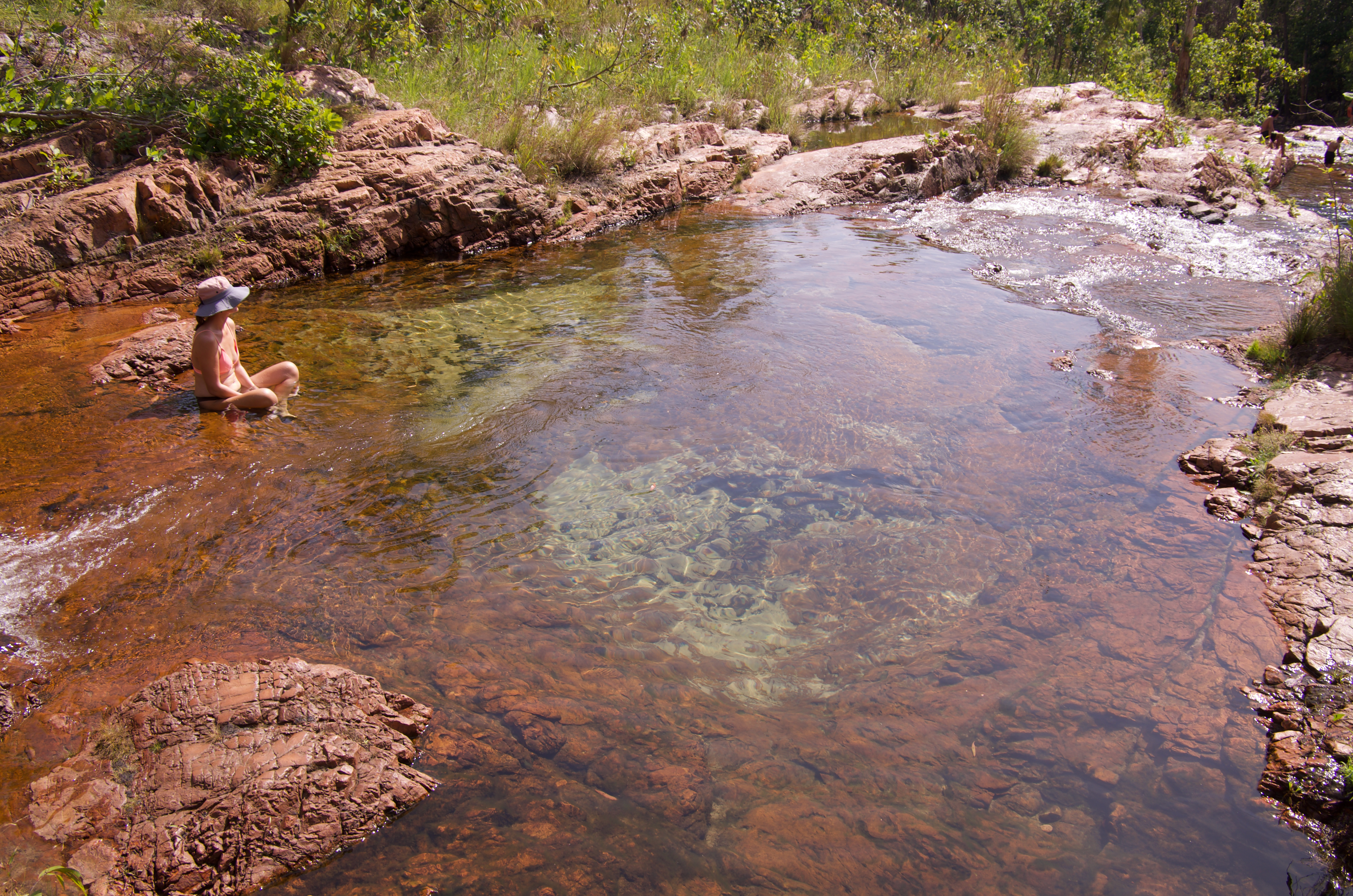 Buley Rockhole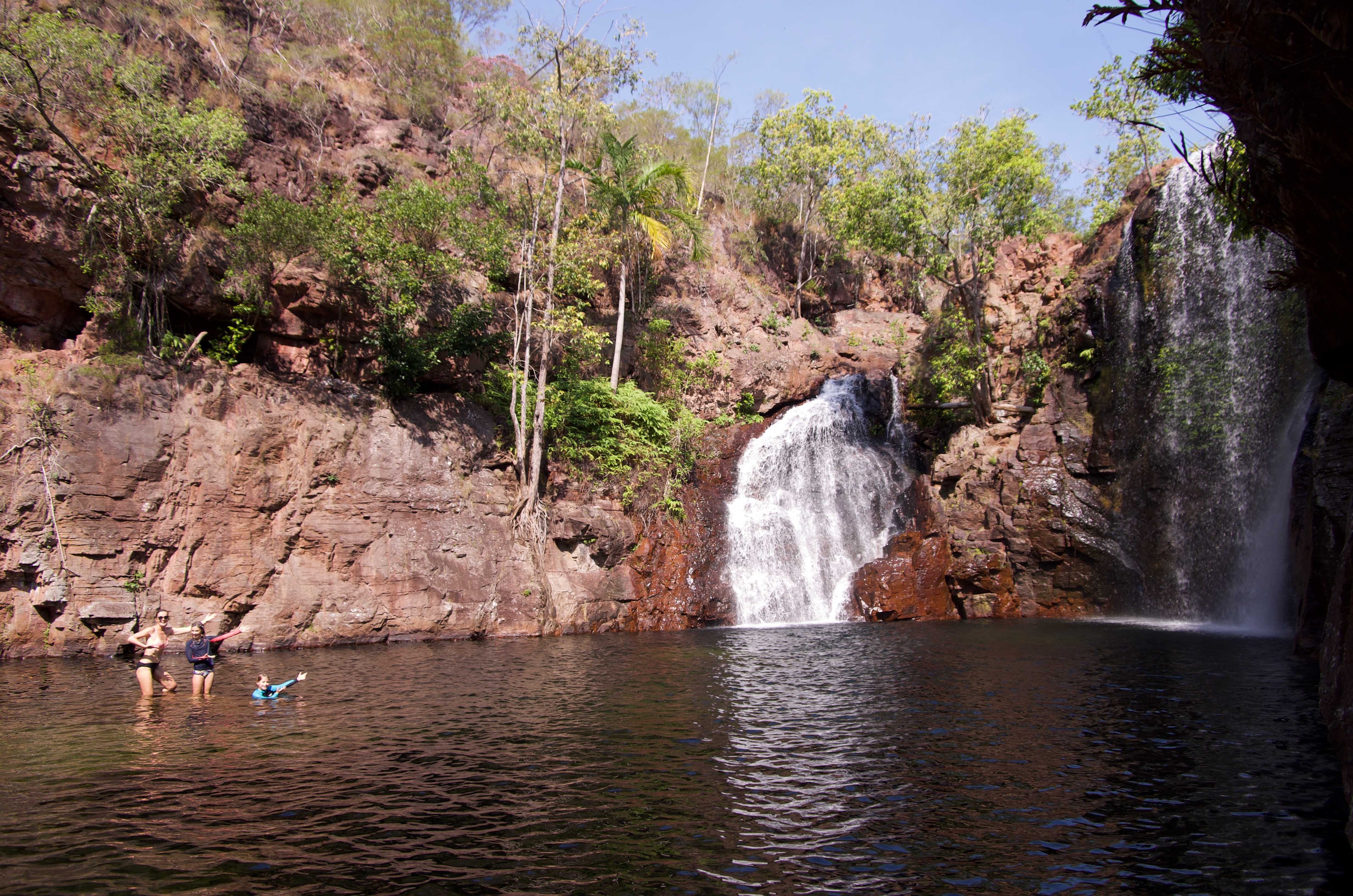 Swimming at Florence falls
The bush up here is very different to bush in the south, the eucalyptus are smaller and scrubby offering much less shade, while the red dirt and rocks lend a warmish glow to the landscape.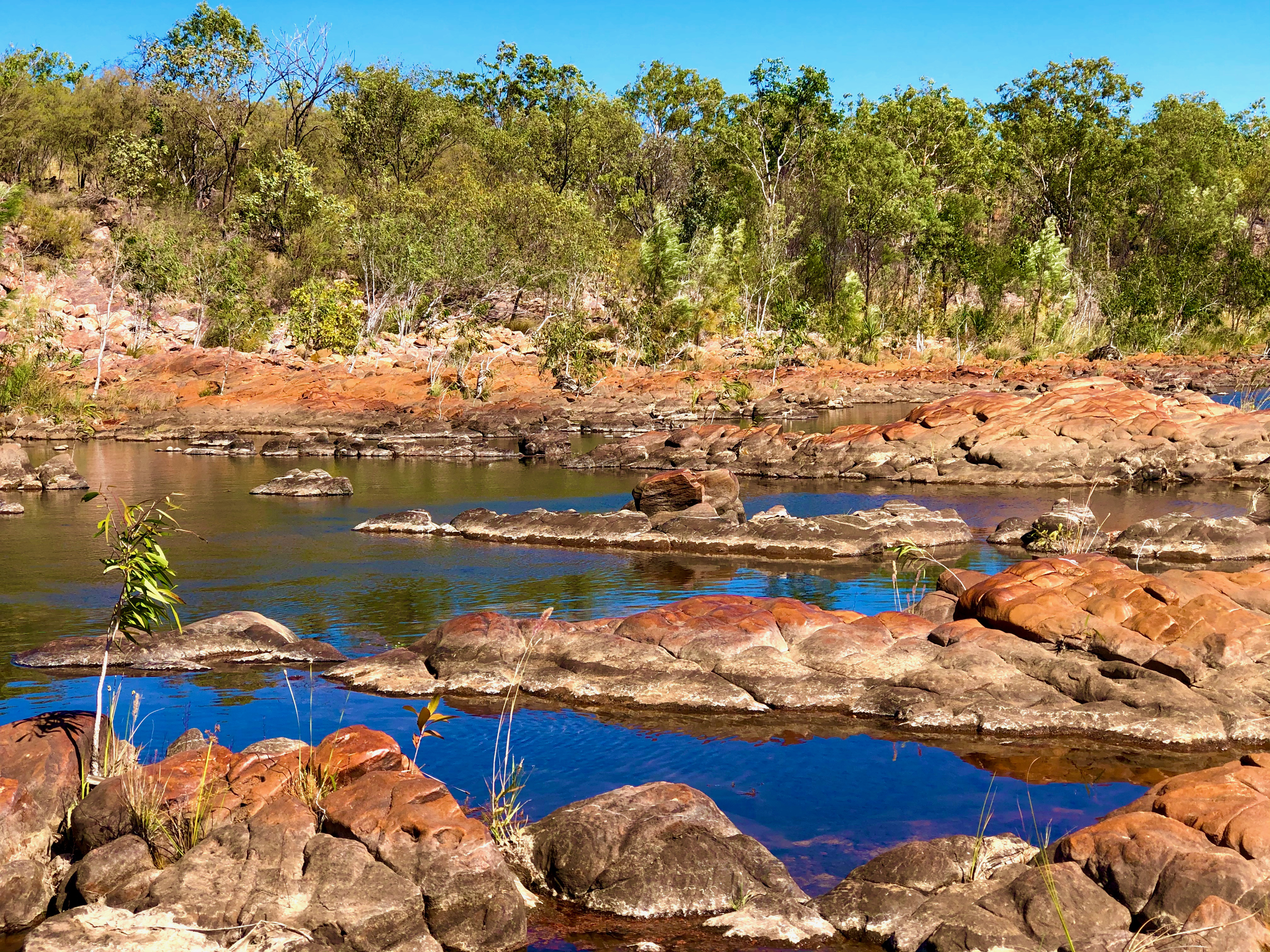 Bush, water, rock - typical NT
Less welcome is the red dust that covers the van from day one and is a constant companion on the trip. As we drive out of the park, huge magnetic termite mounds stand guard, a reminder this is mother nature at its most impressive, and not for the first time I am in silent awe of the landscape here. Just a bit different to island hopping in the tropics!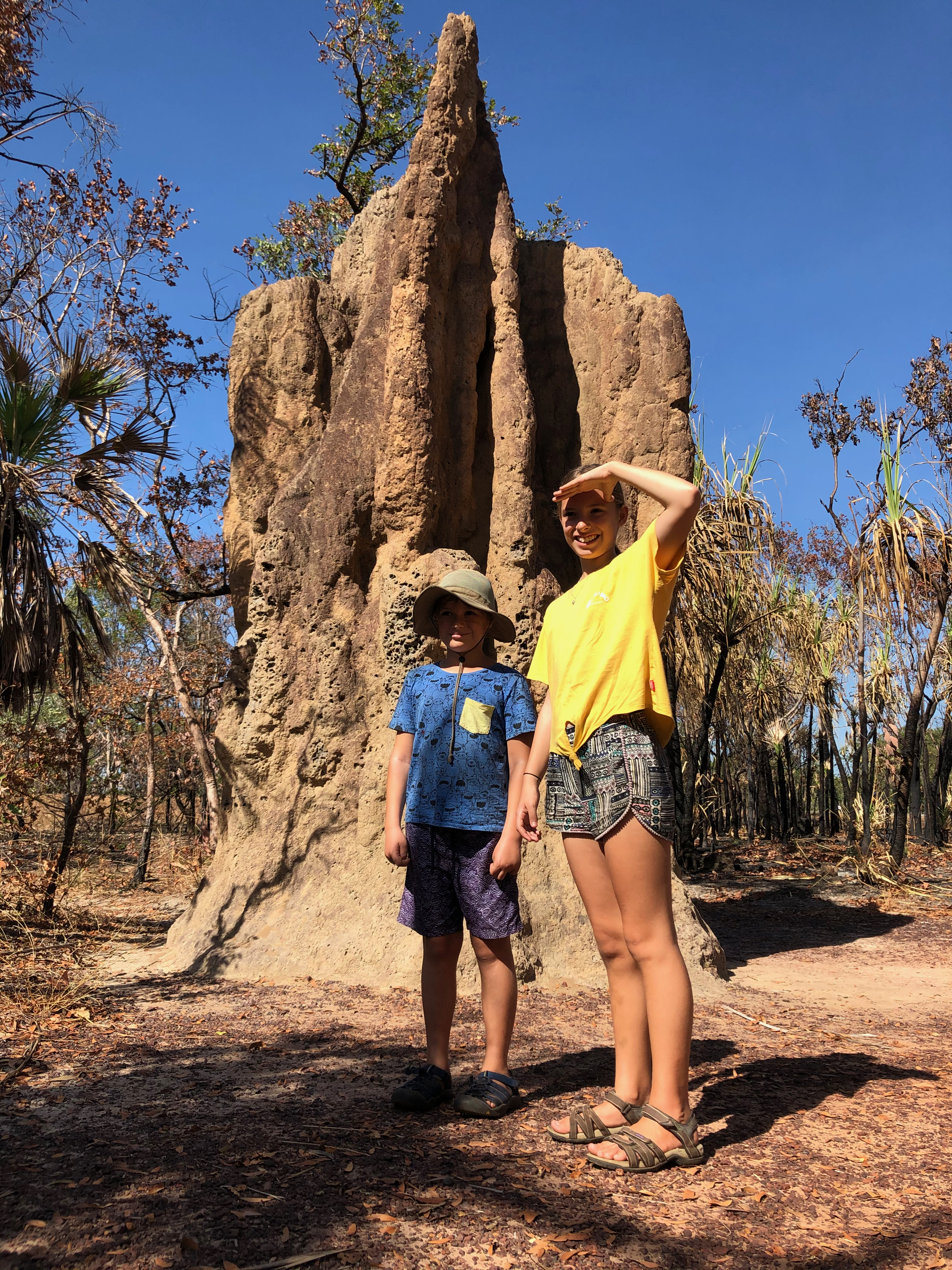 Monster termite mound
Leliyn (Edith Falls) on the western side of Nitmiluk National Park (Katherine Gorge) is next, where we plan to overnight and swim in the paperbark and pandanus fringed natural pool adjacent to the grassy campsite.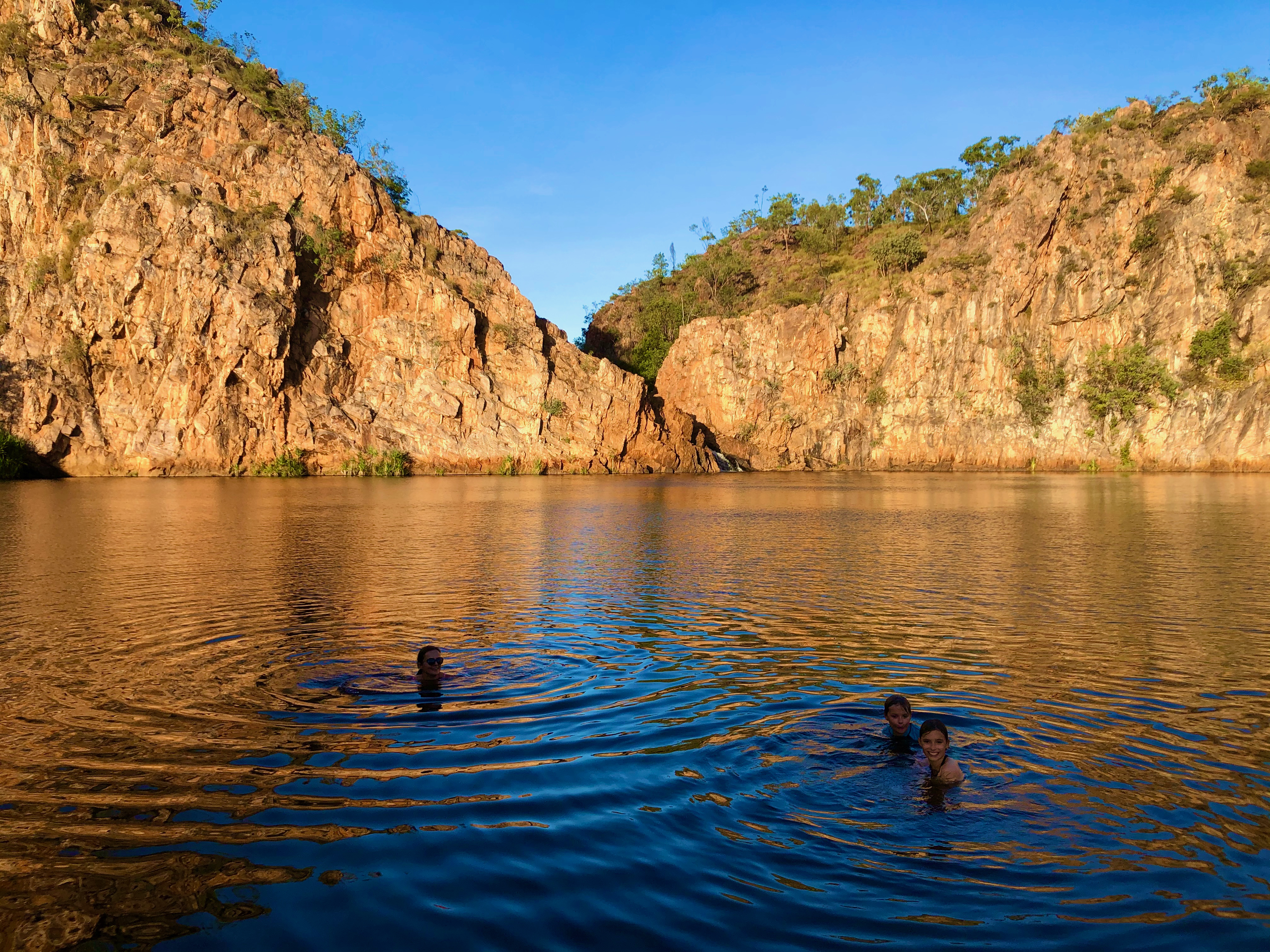 First of many soaks at Leliyn
The place is so spectacular that we spend three days swimming and bush-walking, first to the middle pools surrounded by shiny dark boulders and on our last day manage the 9km return walk to the top Sweetwater pool, where the tranquility is real as we are the only visitors.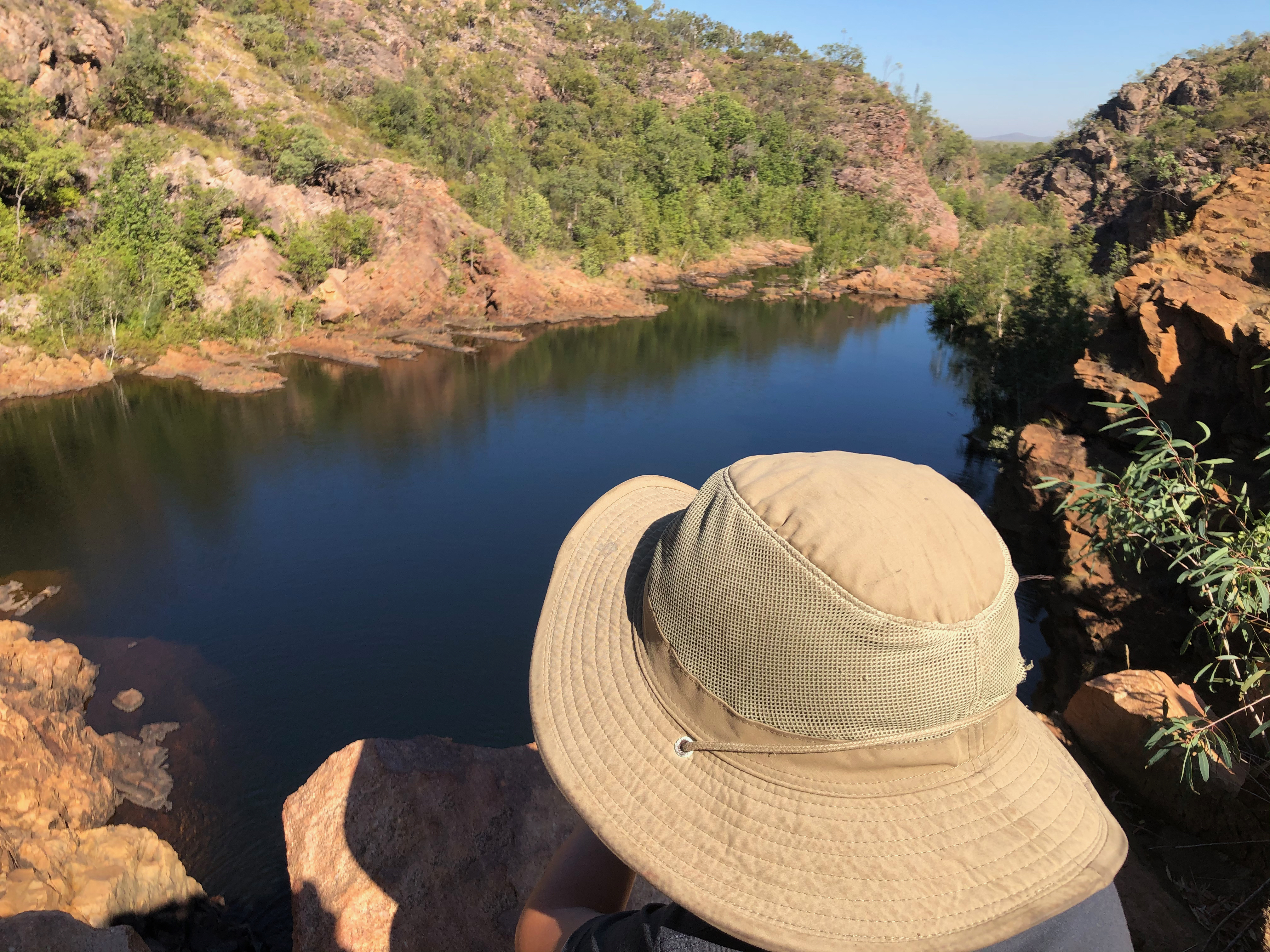 Boy at waterhole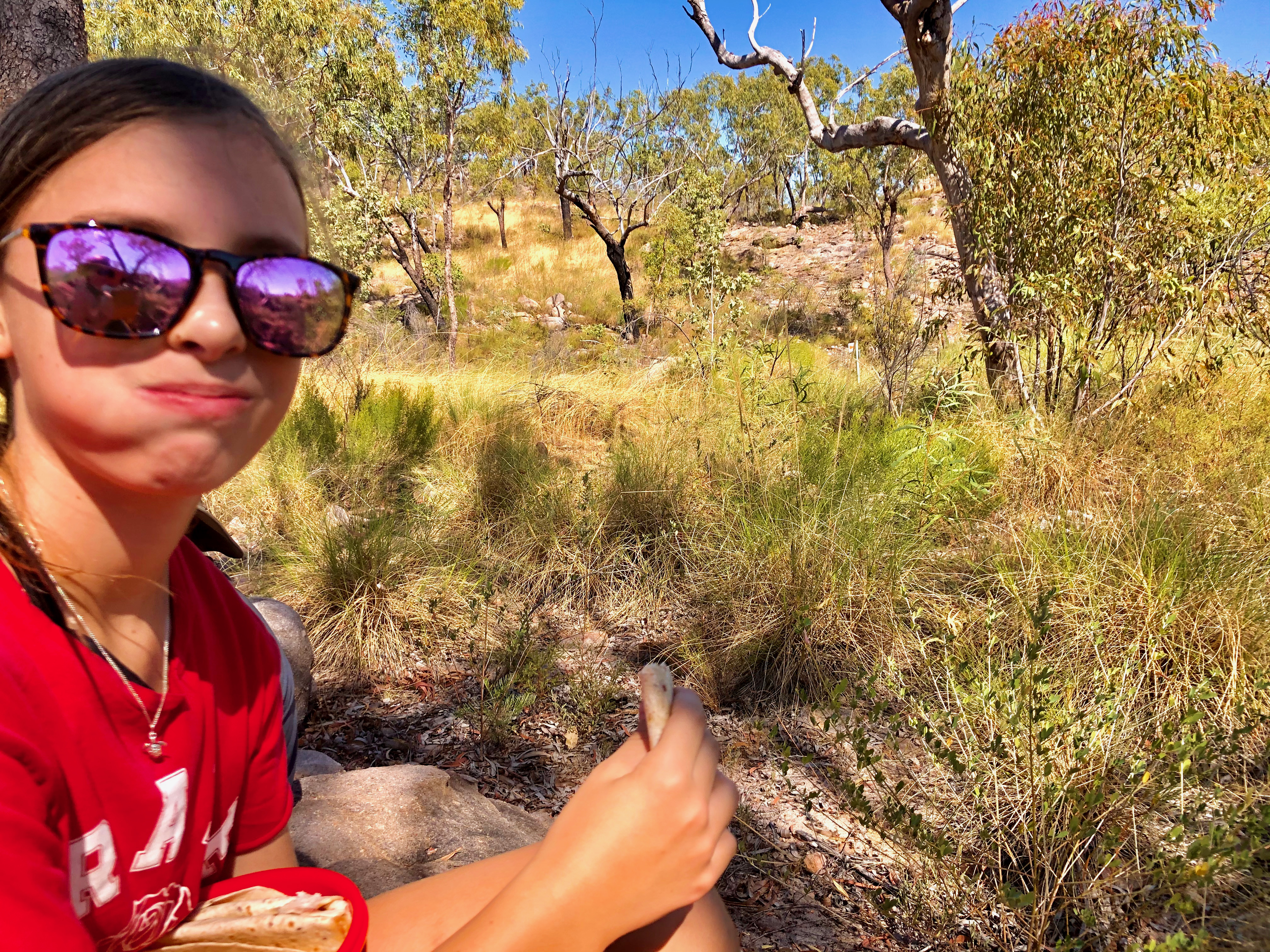 Bush snack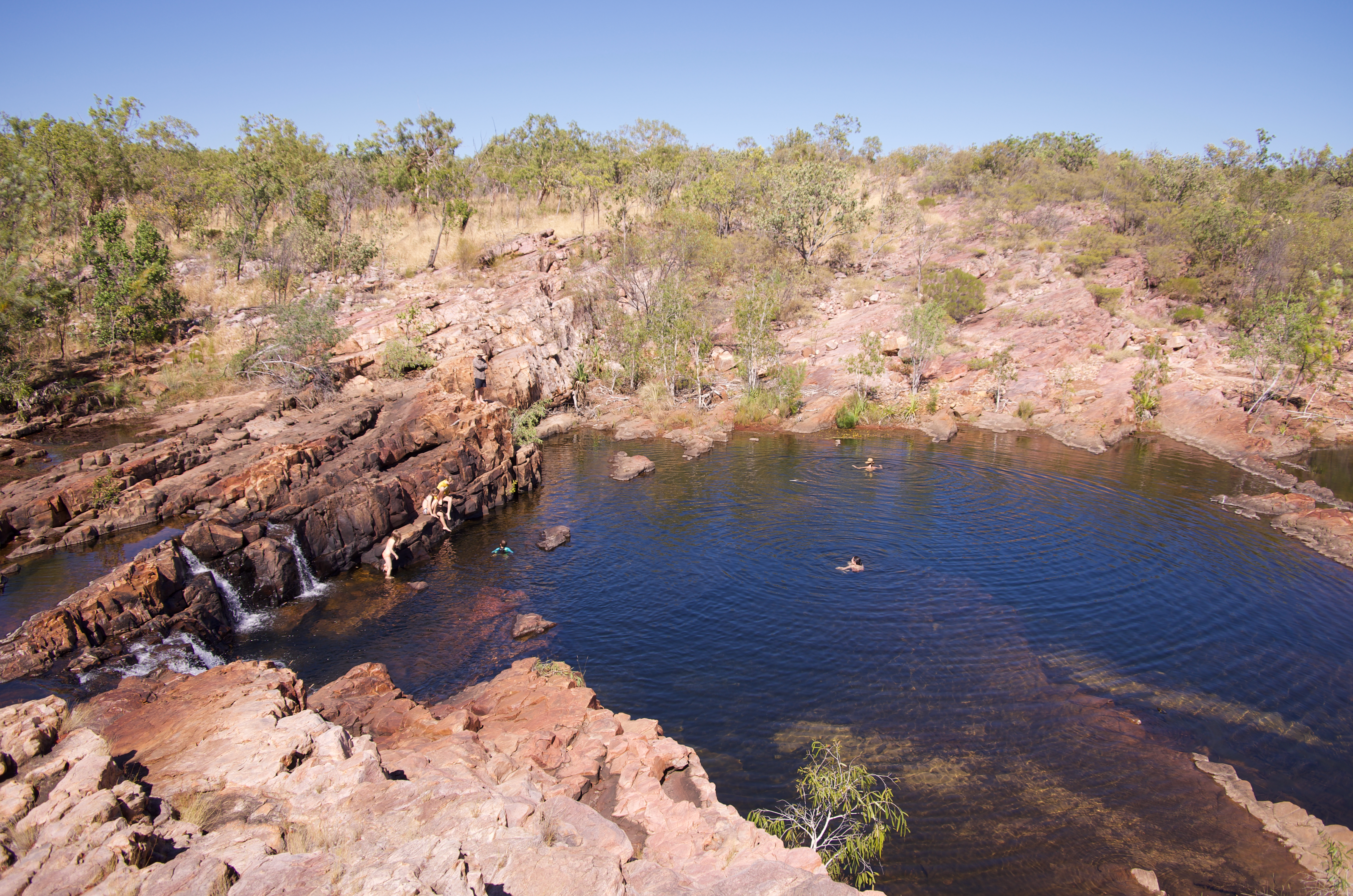 Aerial shot of middle pool
Onto Mataranka it is, where we camp at Little Roper Stock Camp, a family friendly campground where buffalo, dogs and all manner of reptiles are available for patting, depending on your tolerance for such creatures.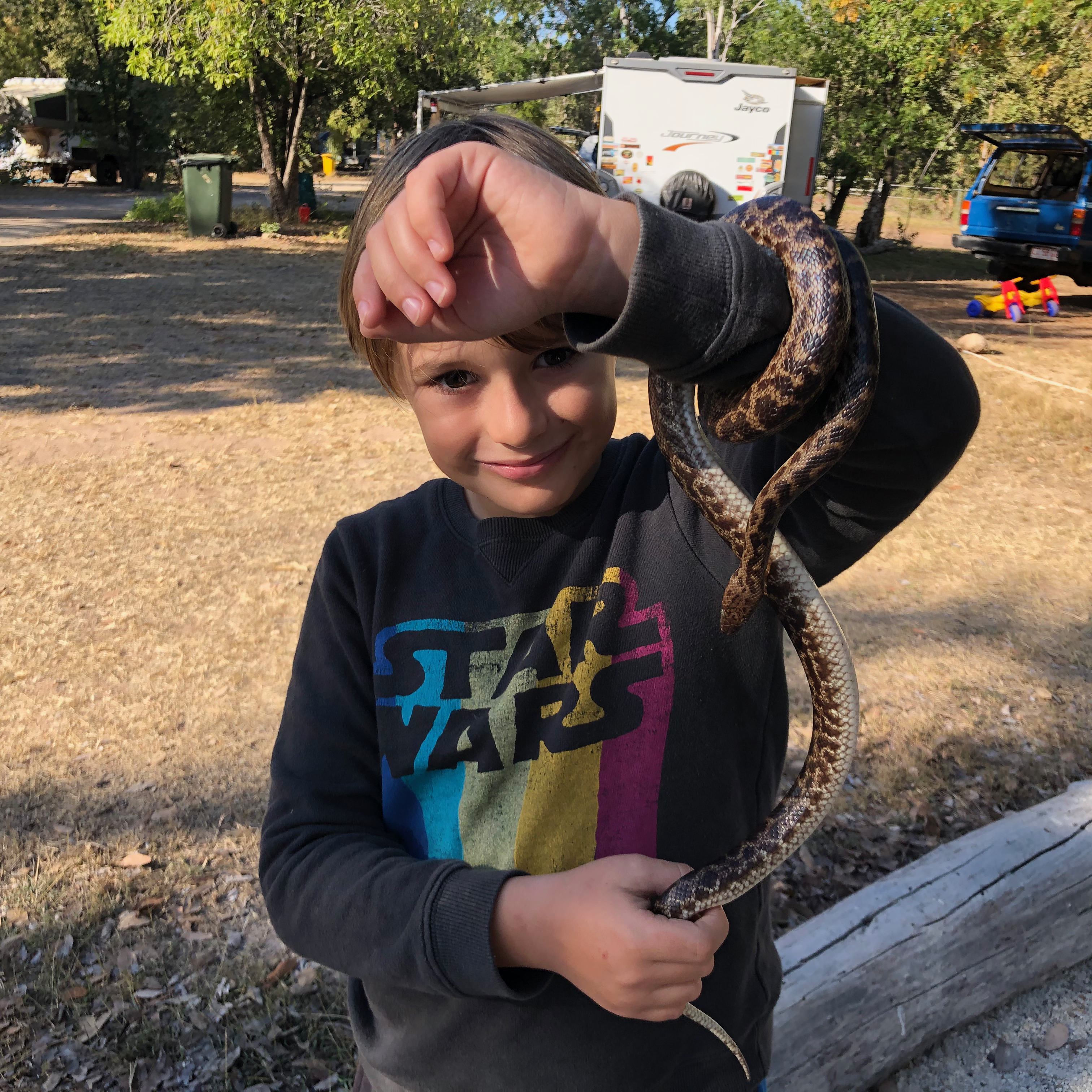 High tolerance here
Even in these covid times, hosts Des and Telka make the place feel genuinely welcoming with their Johnny cakes cooked for breakfast in the communal camp kitchen, while Des' reptile show keeps the kids entertained after. We soak in the nearby Bitter Strings for a day and visit Mataranka springs before we head on south towards Alice Springs.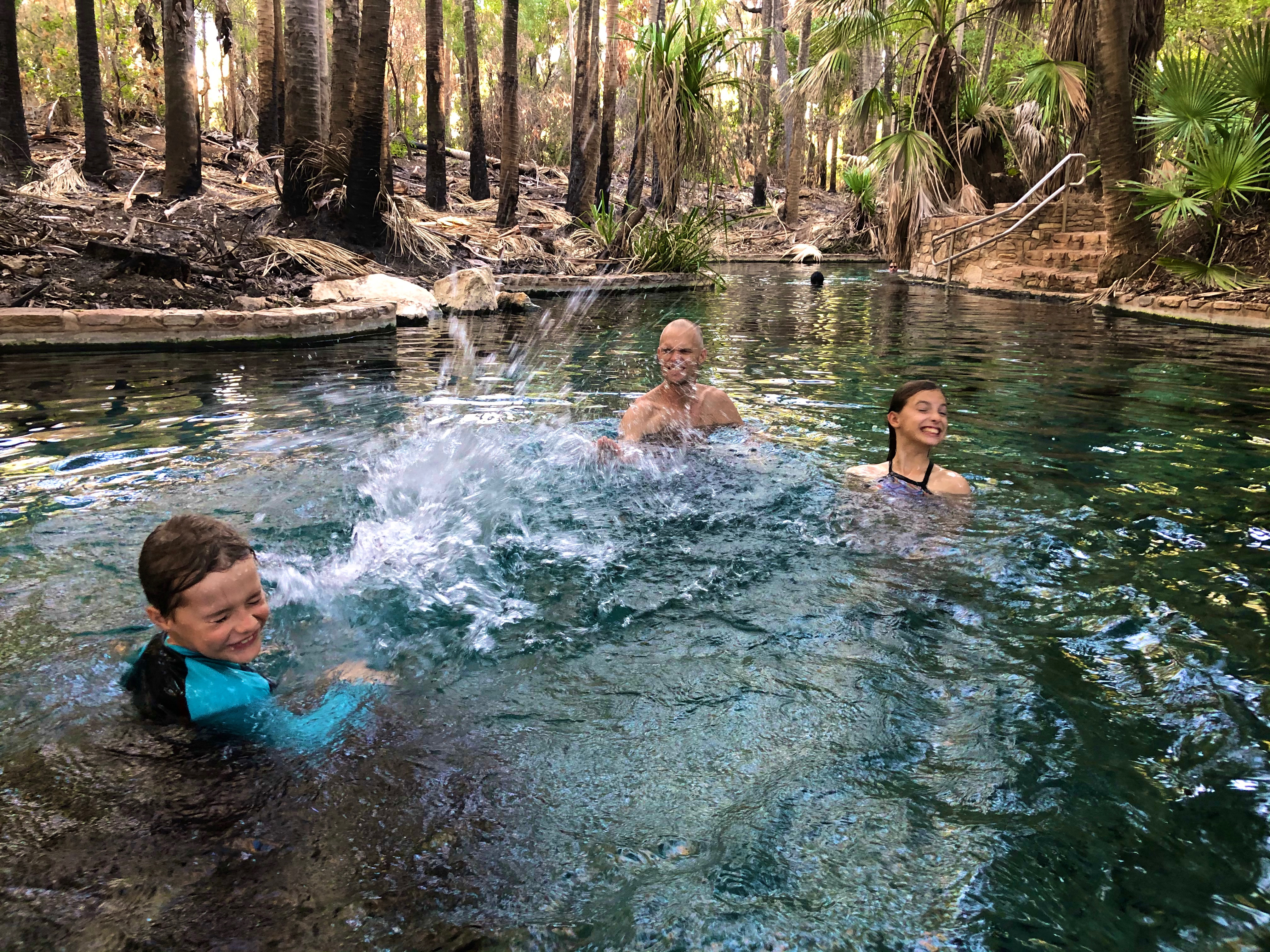 Splashing in Mataranka springs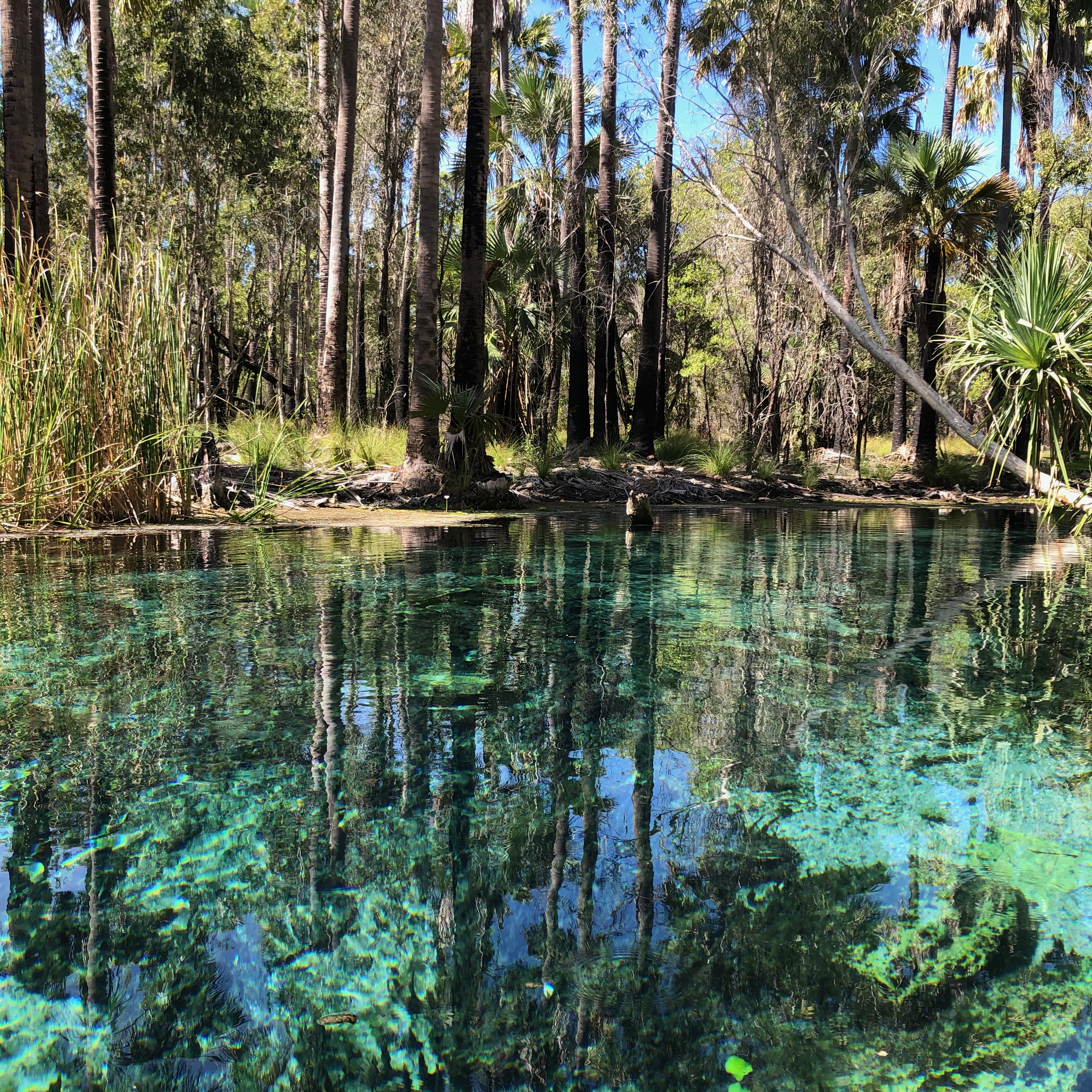 It's all enchantment at Bitter springs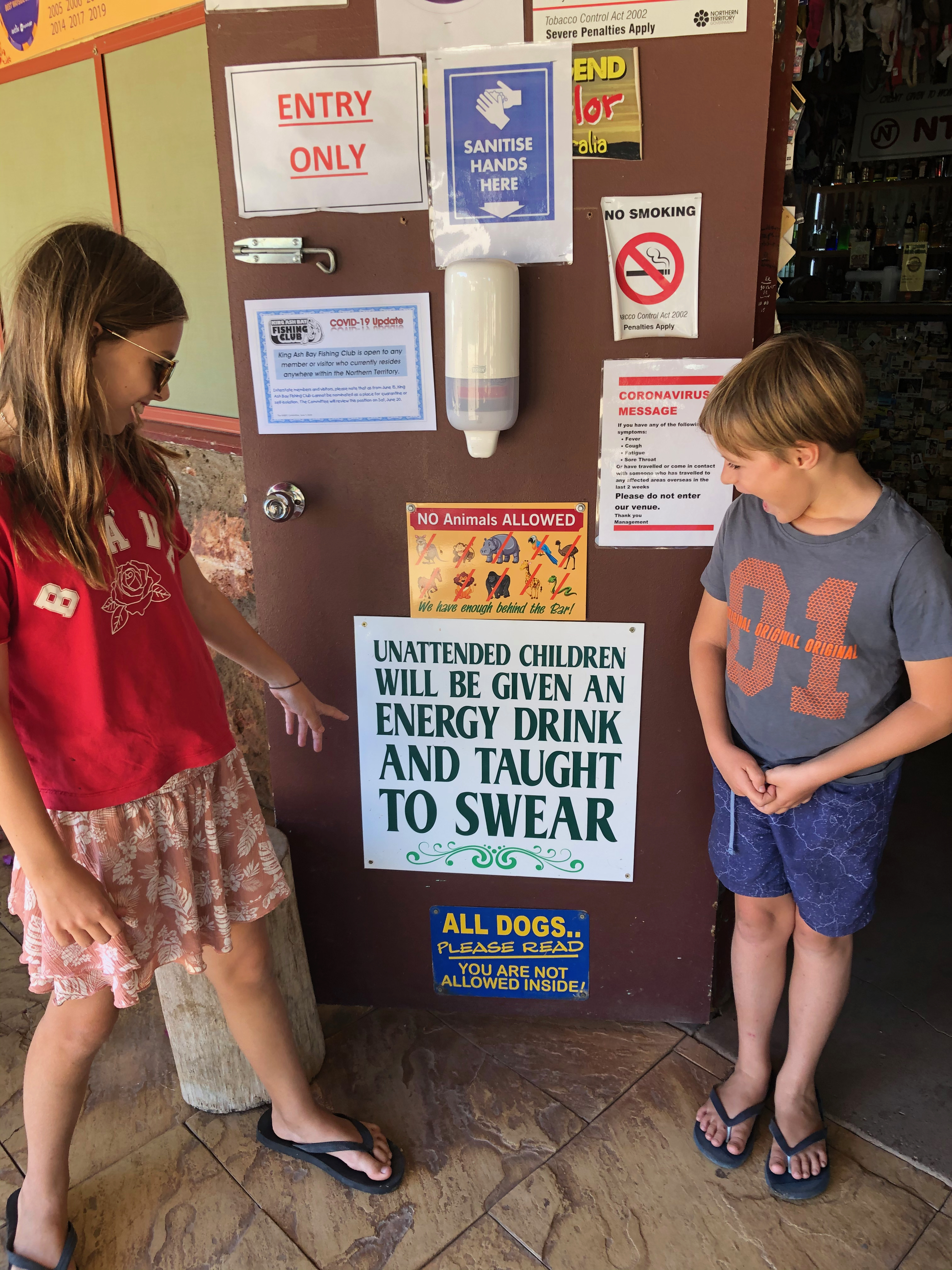 Daly Waters pub signage amuses kids but not parents
Tjoritja or West MacDonnell National Park just west of Alice is where we put our new walking shoes to the test and hit the trails found in the many gorges spread around the range.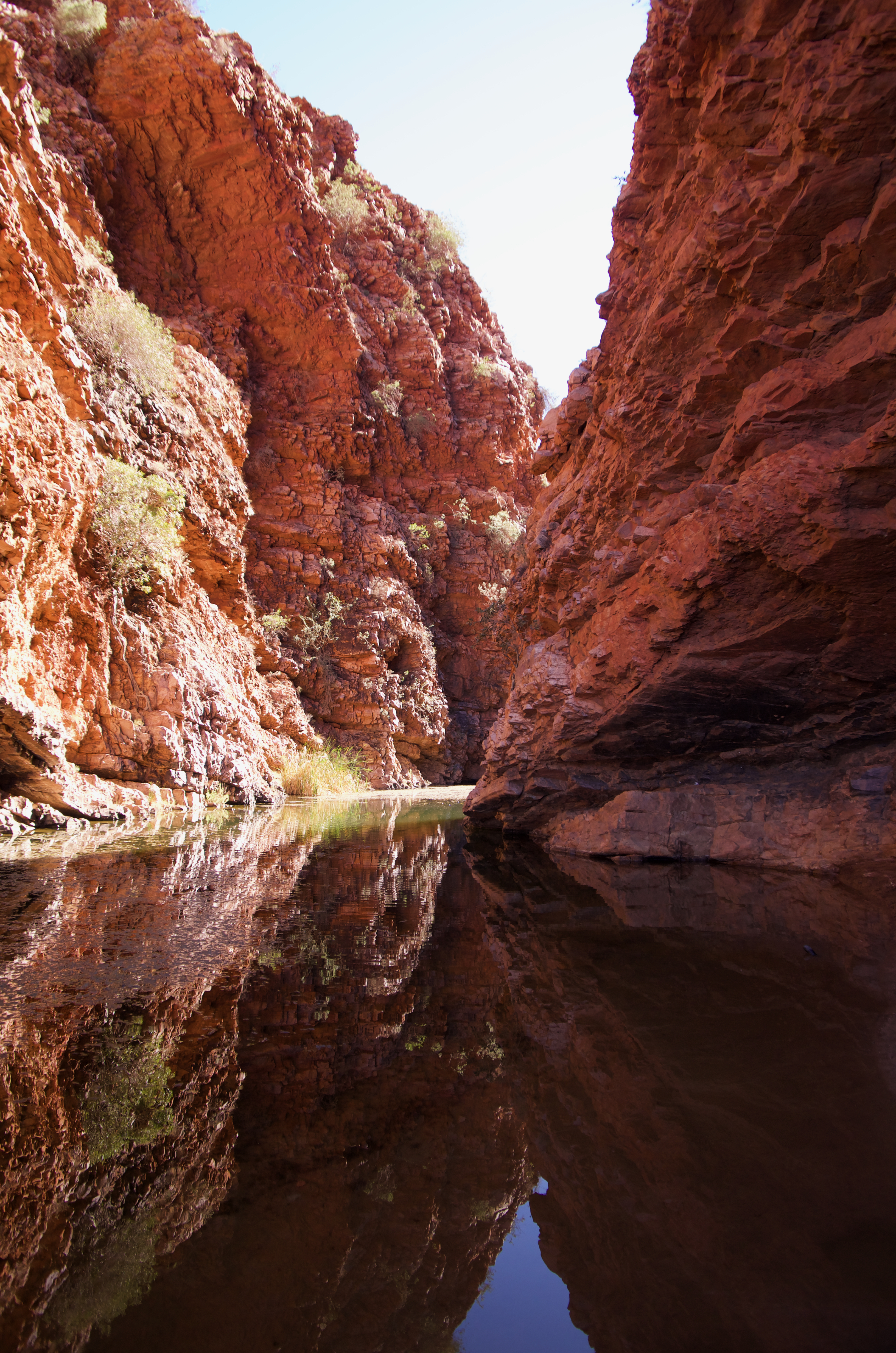 Simpsons Gap
The campgrounds are empty and we have the walking trails to ourselves only occasionally bumping into a ranger or rare traveller.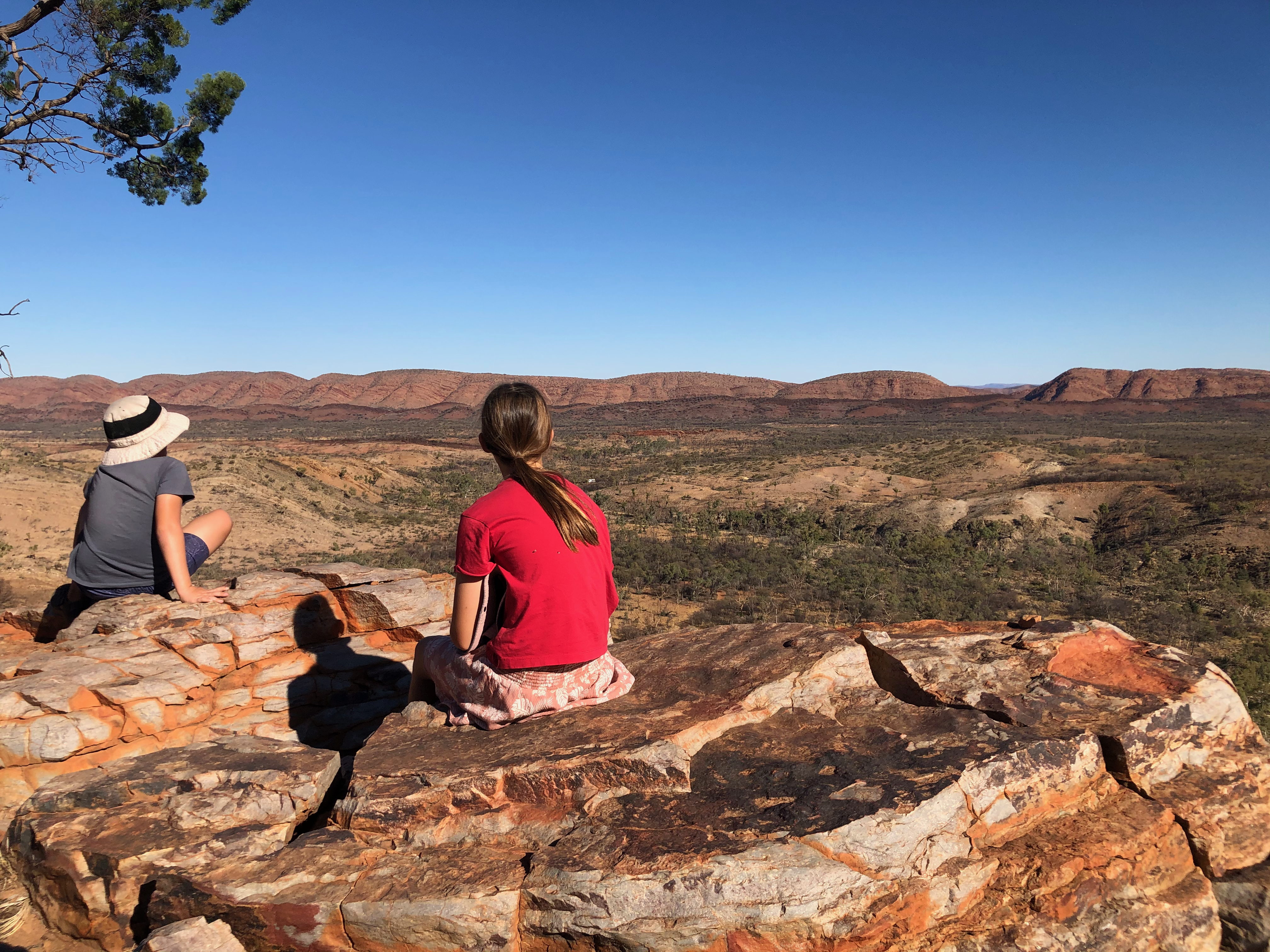 Typical vista at West McDonnell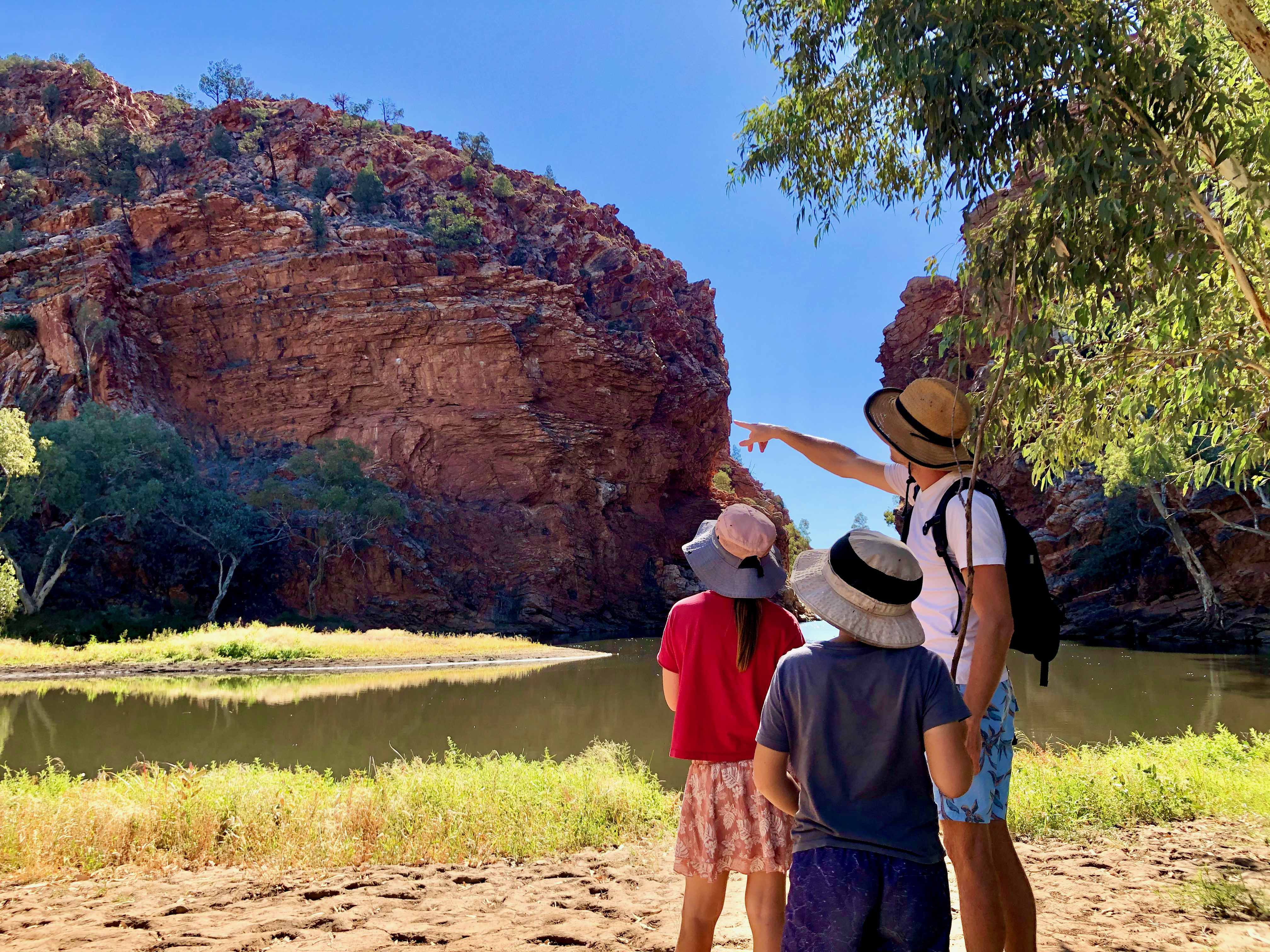 Geology lesson at Ellery Creek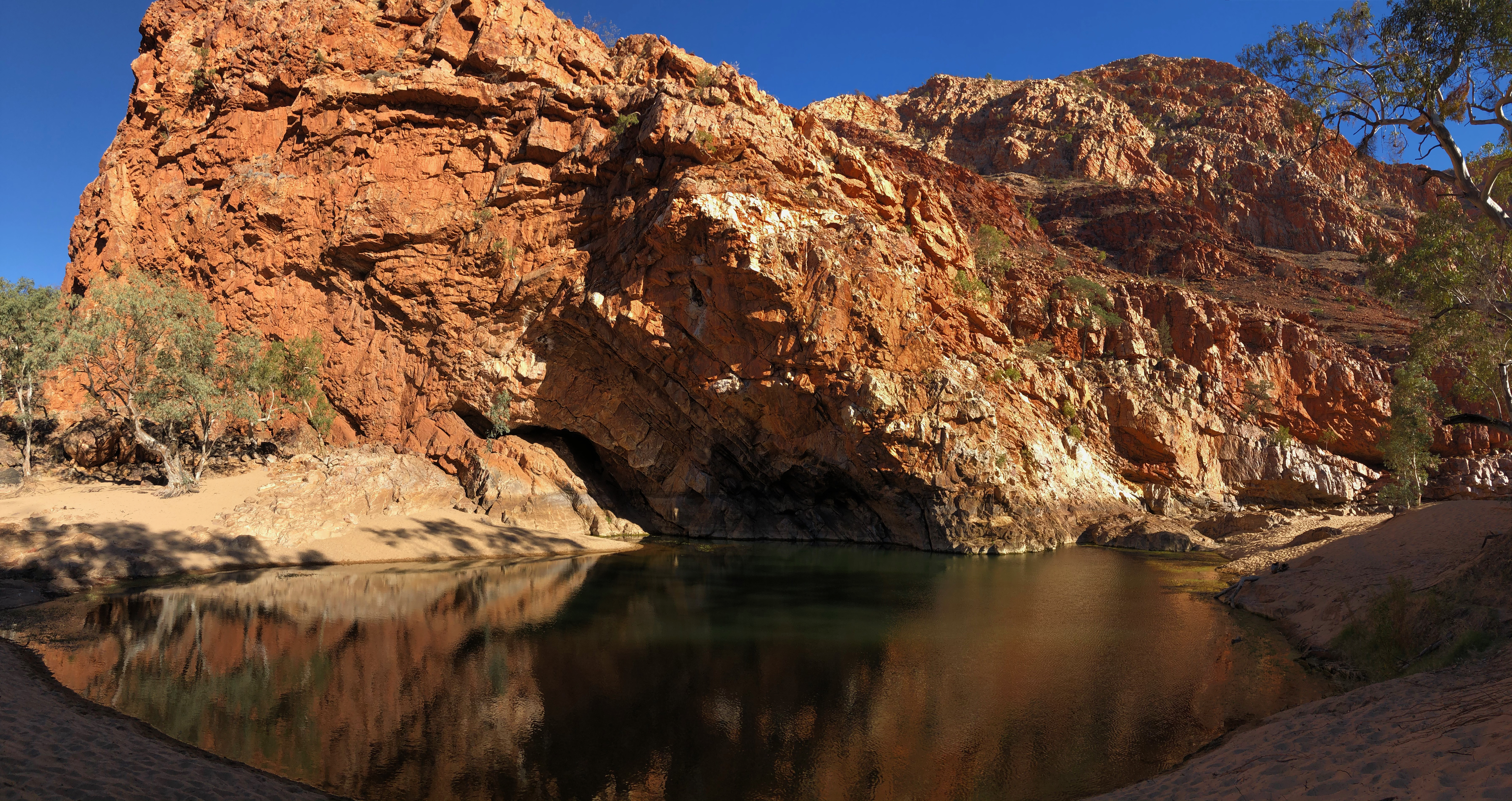 At the bottom of the gorge
We learn very quickly that afternoon walks are not recommended unless you enjoy eating flies but sometimes they cannot be avoided regardless of time of day. I was convinced (not based on any research I should add) that flies are a wet season thing but am soon shocked to discover they prosper in the dry as well. Hundreds of them swarm you in the middle of the day and they are merciless landing on lips, eyes and everything in between. Yuck.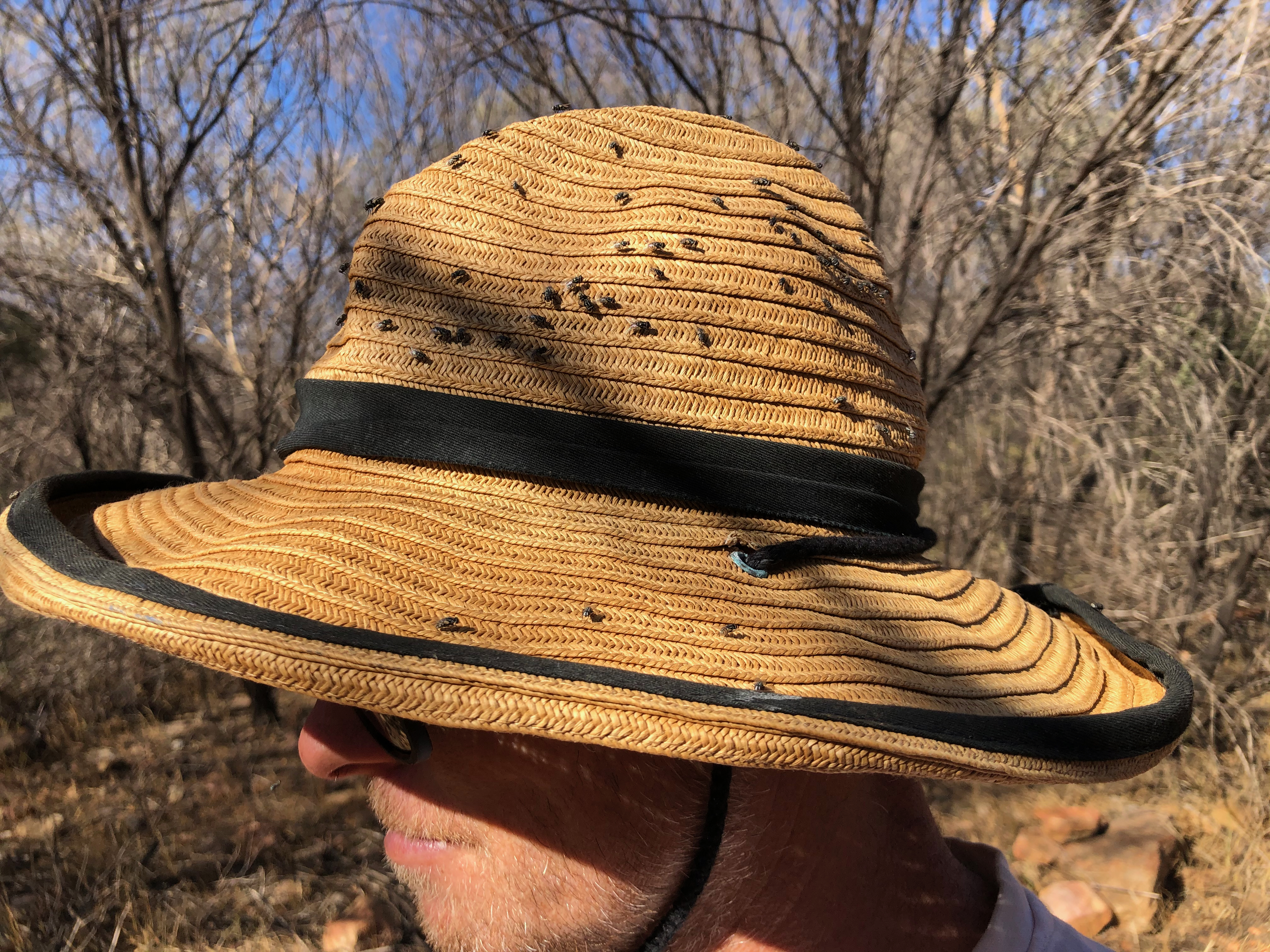 The infestation
After a week of trekking, we are exhausted and head back to Alice for a rest before the kids apply for emancipation. Little do they know, this last week was but a warm up for the main event, namely Uluru-Kata Tjuta national park. The red rock, here we come!